Judge derails expressway plans
The High Court of Karnataka has quashed the acquisition of land for the townships in the Bangalore-Mysore Infrastructure Corridor project, and allowed acquisition only for the expressway itself. With this the controversial project's prospects have been severely dimmed.
January 2004 RBI investigation sidestepped?
Based on reports that finanical closure has been achieved on Mar 12, ESG has to written to RBI that the financial closure is in violation of the RBI Circular of 20 February 2002. In the fact the RBI is already investigating the case against ICICI for potential violation of the Circular, and hence it would have been appropriate that the financial closure should have been kept in abeyance, pending closure of RBI investigations, says ESG in its letter.
March 2003 A 2-lane highway?
According to press reports, the State Cabinet has issued comfort letters to NICE to enable it to achieve financial closure for a revised Rs.800 crore first phase. Under a "revised framework agreement" NICE will construct a 65km 2-lane highway between Bangalore and Bidadi as well as peripheral roads connecting Hosur with NH4 and Tumkur with NH7, in two years. NICE is not taking up township development according the report.
November 2002 Karnataka's chance to shelve the road "Enron"
The Environment Support Group (ESG), a Bangalore NGO, is requesting citizens of Karnataka and the state's NRI diaspora to write to the Chief Minister urging him to put the public interest above all else and drop support for the vexing and controversial Bangalore Mysore expressway project. The state government is expected to take a major cabinet decision on this project in early October
October 2002 RBI to investigate ICICI
Funding of BMIC Project violates norms
September 2002 Financiers, speak up
It is high time financial institutions looked the evidence in the eye
July 2002 Claiming away the corridor.
False claims on the Bangalore Mysore expressway project.
December 2001 A tale of two cities.
Expensive and unviable infrastructure projects are not the answer to sarkari socialism
November 2001 Detailed Representation.
To the Ministry of Environment and Forests, New Delhi.
May 2001 A NICE Fraud.
Did the project consortium given the contract for BMIC ever exist?
April 2001 Information first, infrastructure next
A petition on the proposed Bangalore-Mysore infrastructure corridor.
Aug 2000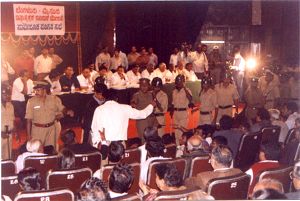 Ignoring the highly viable options of re-developing the railways and existing highway between Bangalore and Mysore, governments have given every clearance in the book to BMIC, an unnecessary and unaffordable project that proposes levying steep tolls on users and threatens to impact nearly 200,000 people, lakes, forests and wildlife habitats.
B'lore-Mysore tolls (Rs)

| | | | |
| --- | --- | --- | --- |
| Buses | 756 | Lorries | 490 |
| LCVs | 294 | Cars | 285 |
| TWs | 112 | Sources | Here |