Who's watching the media?
Sevanti Ninan recounts the first steps of The Hoot



January 2002: Indian journalists have known for some years that there is a lot wrong with the way the profession is practised, but they have not quite known what to do about it. Some years ago Madhu Kishwar of Manushi and I tried to launch a forum that would look at ethical issues in the media; it did not get very far. After a while Madhu walked out saying we journalists were a gutless lot, far too afraid of being victimised by colleagues and employers, far too reluctant to take the bull of corruption in the profession by the horns. To the three or four of us who remained in the ginger group we had formed, this was a dilemma. If journalists do not want to stand up and be counted how do you go about raising the issues which need to be raised? In answer, we thought of The Hoot, an online media-watch portal with a wide-eyed, yellow and gray owl on the masthead, alongside the legend "The more the media matters, the more we need to track what it does." You might ask - why should there be an Internet forum to discuss media practice and media ethics? Because newspapers do not lend their pages to a regular feature critiquing the performance of the print media. In India newspapers have proliferated in recent years, most of them catering to the new, acquisitive middle class. How many newspapers have appointed an ombudsman to receive complaints from the public on the newspaper's functioning? How many have codes of conduct which they actively implement? How many have a firm corrections policy, which dictates fair display for the corrections that newspapers carry after they have damaged somebody's reputation? When I began writing my weekly media column, editors at The Hindu said they would be happier if I did not comment on the print media. Nine years later when I wrote an article for them on the changes in the Times of India, they declined to print it. When the Hindustan Times bought children in Orissa to demonstrate that you could do so, I wanted to write on it; The Hindu once again said please don't. The message has always been the same. News apart, there is need for ongoing commentary on media practice. The issues are many - softening up of journalists with gifts, outright corruption, the provision of government housing or land for journalists and press clubs colour what the media reports. Some media companies have a hands-off policy towards Reliance Industries, which is unquestionably the country's most powerful industrial house. Others, notably the Asian Age, part-owned by Zee TV's Subhash Chandra, attack Reliance with gusto. Some flaunt political alliances; reporting is openly partisan. A major issue today is ethics of what the media devotes space to, and how it allocates its manpower. There are beats for restaurants and fashion, there are no beats in most newspapers for agriculture, labour, education, infrastructure, or health. If education and health are covered, it is usually those aspects which concern the newspapers' middle class readership. As media burgeons, so do its lapses and transgressions. The Hoot was founded in March 2001 under the auspices of the Media Foundation which gives an award each year to an outstanding woman journalist. The Foundation was begun by B G Verghese in the late seventies with the money from his Magasaysay Award. The Hoot received a grant of Rs 46,000 from UNESCO to launch the website, and then wrote to several prosperous media houses in the country asking them to contribute towards a corpus. We drew a blank. One enthusiastic believer in the Hoot suggested a simple plan: if a 100 people contribute Rs.100 a month that will provide Rs.10,000 each month to run the website. And he began with himself. The Hoot has sections on media resources, media watch, media law, media ethics, media research, right to information, and grassroots media. 'For Journalists' The Hoot carries information about scholarships and fellowships, and in time we hope we will have a free jobs database in place. But as important as all of the above is the section entitled "For readers and viewers" which gives consumers of the media a forum to air their views on media coverage. The website also carries a guide for ordinary citizens which tells them how to interact with the media when they need to. The Hoot began with no staff and budget, and still has neither. But money is coming in, in dribs and drabs, and every week an article or two arrives for publication, usually eminently usable, and often written by senior, self-critical journalists. The plan, for now, is to stay open and keep hooting! Sevanti Ninan
January 2002 Sevanti Ninan runs the media watch website, The Hoot. This article is reproduced on India Together with permission.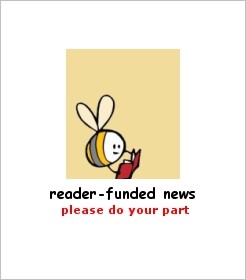 ... contribute by cheque
Write your cheque or DD out to 'INDIA TOGETHER' and either post or courier it to the address below:


India Together
Attn: Reader Contributions
1677, 17th Main Road
JP Nagar II Phase
Bangalore 560078