IN PICTURES : Film : The slow poisoning of India : 26 mins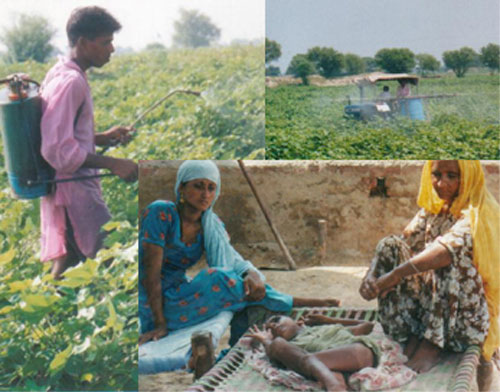 Rural punjab is seeing unusual health complications due to excessive pesticide use
February 2004: "Our greatest weakness may be food, but this mouthwatering meal may have around half a milligram of pesticides in it. If that has to be quantified, it is less than a pinprick. But do you realize that this would mean that you are ingesting pesticide that is more than forty times what an average American would consume?"
The Slow Poisoning of India is a 26-minute documentary film directed by Ramesh Menon and produced by the New Delhi-based The Energy and Resources Institute (TERI). It deals with the dangers of excessive use of pesticide in agriculture. India is one of the largest users of pesticide in Asia and also one of the largest manufactures. The toxins have entered into the food chain and into our breakfast, lunch and dinner.
"The pesticide industry in India is booming. Pests destroy crops around Rs. 15 billion rupees every year in India. To save their crops, farmers use pesticides. India spreads out nearly 90,000 tonnes of pesticides on its fields making it one of the largest users in the world. But most of them spray it in excess hoping it would be more effective. Farmers use pesticides carelessly. Some use the wrong chemical, while others overuse. Many harvest immediately after spraying. That is why there are dangerous levels of pesticide in ladyfingers, tomatoes, cabbage and cauliflower", goes the narrative in the film.
"The Indian Council of Medical Research in a study found large amounts of pesticide residues in fruits, vegetables, pulses, grains, wheat flour, eggs, meat, fish, poultry and milk. The daily breakfast, lunch and dinner we relish could actually be a cocktail of chemicals", the film goes on to disclose.
The film showcases startling case studies from Kerala where villagers in Kasaragod district are paying a heavy price as it has been exposed to pesticide spraying for many years. It talks of the health impacts in other parts of India and also on how the magic of the green revolution in Punjab is fading as land and water bodies have been poisoned.
"Studies have shown that only ten per cent of the sprayed pesticide hits the pests. The atmosphere absorbs the rest. So it goes to destroy land and water bodies. Harmless insects that nature created to destroy pests also die in the process. Farmers do not even take the basic precautions like covering their face and wearing gloves while spraying."
But some farmers are bouncing back into better practices, and this is a silver lining shown towards the end. "Many farmers are now switching from chemcial to organic farming as they see that it is the only way out of getting into a spiralling whirlpool of debt created by the high cost of pesticides. Farmers like Tokia Modu in Warangal are waging a silent biological war against pests and are winning."
"The slow poisoning of India" was telecast on the national Doordarshan TV network on Jan 31. It's production was supported by the Swiss Agency for Development and Cooperation.
Ordering/availability:
Information Dissemmination Services
TERI, Darbari Seth Block
Habitat Place
Lodhi Road
New Delhi 110 003, India
Fax +91-11-24682144/24682145
Tel: 24682100 or 24682111
Email: outreach@teri.res.in

Picture Credit : Ramesh Menon
Ramesh Menon is a journalist and documentary film maker. His previous projects include documentaries on earthquake victims in Latur, the Taj Mahal, and climate change.
• Also see: The slow poisoning of Punjab
• Wash your spinach, twice
• Punjab
• Kerala
• Environmental Hazards
• Health
• Feedback: Tell us what you think of this IN-Pictures article
• Send us your pictures