Creating RAdical changes through EXcellent ideas and NOvel approaches
Phoebe Caner profiles Exnora



Exnora is a broad-based non-governmental organization committed to community service, civic involvement and the environment. Tremendously popular and respected in Chennai, Exnora is extending its philosophy and practices to other parts of India rapidly. M.B.Nirmal, the founder, sacrificed career advancement to create opportunities for people to take direct action to improve their immediate surroundings, starting with himself and his own neighborhood. During the 10 years since its origins, Exnora has grown both in complexity and comprehensiveness of its activities.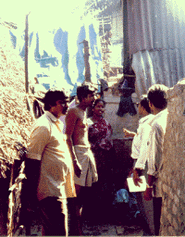 Exnora staff and a UN consultant (second from right) discuss a completed sewage project in Madras.
Specifically, Exnora has taken the lead in various activities - organizing conferences on voluntary reduction of industrial pollutants, coordianting neighborhood tree plantings, promoting sanitation projects, restoring urban estuaries, and encouraging environmental education in schools and colleges. Many large projects to collect and dispose of solid waste are managed by Exnora; besides the obvious advantages of recycling and composting, these have also provided meaningful and dignified employment opportunities for many unemployed poor persons.
These achievements would not have been possible without the central character of Exnora's work - Nirmal's unrelenting belief in the positive potential in each of us and his hopes to see our potential grow to its fullest expressions. Despite the rapid expansion of Exnora's activities, Nirmal's presence at the center of his organization, and the organizational structure which has grown up around his vision, have maintianed a vibrant focus of local communities. His insistent optimism and courtesy have produced a movement which superbly integrates the contributions of people from all walks of life.
No description of this organization can be complete without a few examples of their work. Indeed, India Together is committed to profiling such examples so that communities everywhere may readily adapt them to their own needs. Some members of Exnora contribute without forgoing their regular jobs, by volunteering to teach school children the importance of respecting and preserving the environment. Others live with homeless people by choice, giving them useful advice on improving their conditions within their limited environment, and offering small wages for their help in cleaning up the streets. Exnora is more than happy to include those who wish to participate in such examples, as well as assist anyone who wishes to set up similar projects in her own neighborhood.
As Nirmal points out, "the person without challenges in the most miserable in this world". He sees opportunity in challenges, the possibility that by confronting them we can create inner strength, and convert waste into resources. By giving voice to EXcellent ideas, and trying NOvel approaches, we can achieve RAdical changes, and the fim belief in this has made Exnora an organization to be proud of, and one to be grateful for. While we wait for another Gandhi to lead us into the light, we must not forget the potential in us, says Nirmal. "It took 2,000 years between Christ and Gandhi, and we may wait another 2,000 in vain for another such. But all of us together - we are Gandhi". Together, as Nirmal says, we can make a difference.
Phoebe Caner
November 1998
Visit Exnora on the Internet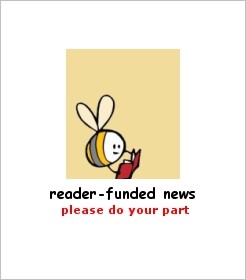 ... contribute by cheque
Write your cheque or DD out to 'INDIA TOGETHER' and either post or courier it to the address below:


India Together
Attn: Reader Contributions
1677, 17th Main Road
JP Nagar II Phase
Bangalore 560078