Opportunities and challenges for women in business
Renuka Vishwananthan



November 2001: Empirical evidence shows that women contribute significantly to the running of family businesses mostly in the form of unpaid effort and skills. The value of this effort is underestimated both by the families that take it for granted and in academic studies. On the other hand, many of the enterprises defined as being run by women (that is, enterprises in which women hold the controlling share) are in fact run in their names by men who control operations and decision making. Programmes meant to reach women entrepreneurs can succeed only if they take note of this paradox as well as of the familial and social conditioning that reduces the confidence, independence and mobility of women.
Programmes for encouraging entrepreneurship among women are doomed to fail or at best to succeed partially when taken up in isolation. This is because entrepreneurship by definition implies being in control of one's life and activities. It is precisely this independence that society has denied to women all along.
Promoting entrepreneurship for women will require an even greater reversal of traditional attitudes than the mere creation of jobs for women would. This does not mean that we should wait for societal change to take place first. But it does imply that the programme should go beyond subsidies and credit allocation to attitudinal changes, group formation, training and other support services.
Training in entrepreneurial attitudes should start at the high school level through well-designed courses which build confidence through behavioral games. This exercise would illustrate practical application of the academic knowledge being imparted regarding management (financial, legal, etc.) of an enterprise. This curriculum should include simple project work designed to give hands on experience of assessing the marketability of a commodity or a service. EDI Ahmedabad appears to be running a programme on these lines in Gujarat which could be replicated elsewhere. While making this compulsory for girls at the high school level, however, care must be taken to ensure quality and the syllabus should be reviewed continuously on the basis of the feedback received using professional inputs.
To release women from the constraints on mobility that society imposes on them throughout their lives, high school girls should be compulsorily taught to cycle. There is proof that increased mobility contributes immensely to raising confidence levels. An additional measure that may increase mobility and confidence is to compulsorily train girls also in the methods and techniques of self defence.
Training in Skills
Skill development is being done in women's polytechnics and industrial training institutes. Under various schemes like the World Bank sponsored programme to upgrade polytechnics, separate institutes have been set up for women. From the inception these should have 100 percent quality hostel facilities with adequate security arrangements, as this is a major cause for poor occupancy and parental disinclination to send their daughters to such institutes. Under no pretext should institutes set up exclusively for women be converted to men's institutes. The course design should keep in mind the special needs of women, such as their preference to work from their homes, which would enable them to also fulfill their household responsibilities. This should not, however, result in mechanically restricting them to low technology linked skills traditionally believed to be suitable for women. Several hi-tech functions with substantial value addition and good profitability could also be undertaken within homes and the courses should be imaginatively and innovatively designed.
The common practice of selecting occupations for women on the basis that women are only supplementary income providers and, therefore, do not require a full day's wage for a full day's work has resulted in their large-scale exploitation. Activities in which women are trained should focus on their marketability and profitability, and not be routinely restricted to making pickles and garments. A high power and professionally involved committee must constantly review the courses and the curriculum on the basis of evaluation studies and market developments. In addition to skill development, these institutes should also provide practical management inputs.

A major hurdle for trained women is the initiation into independent professional work. Families routinely provide financial and emotional support for sons that they would never extend to daughters. Parents and daughters together need to be convinced that the skills learned in the polytechnics could provide them with profitable occupations. In women's institutes, therefore, there is a strong case for introducing an additional year of training when the pupils who have been taught skills are put to work in training-cum-production workshops, whose produce is sold and income earned.

Appropriate training is still the key to a successful programme to develop entrepreneurship among women. There are funds available from several sources; finding effective trainers is the greater problem. NGOs like RUDSET in Karnataka have succeeded in achieving reasonably high success levels, but others including governmental bodies have still not reached these levels. Continuous monitoring and improvement of training programmes should eventually spread the cult of entrepreneurship among young women.

Any programme for women entrepreneurs is vulnerable to abuses by individuals who are not entitled to the benefits. These individuals could exploit the programme by using the truly deserving beneficiaries as fronts for their personal interests. This practice cannot be curbed by exhortation or control; women beneficiaries must themselves be induced to claim greater decision-making authority in family businesses, whether run in their names or not. This can only come from greater confidence induced by greater knowledge and experience of dealing with the external world and from moving with other successful women entrepreneurs.

All this can be achieved in a training environment, especially one in which the woman is distanced from the normal restrictive family environment and is taught to recognise her own psychological needs and express them. To encourage more passive women entrepreneurs whose menfolk run businesses in their names, and to actively involve the women in their businesses, we must aim at covering all the women who claim to run 'women's enterprises' in training programmes. Repeated exposure to women who are successfully managing enterprises might encourage some women who are passive now to involve themselves to a greater extent in the entreprises to which they have lent their name.

The availability of finance and other facilities like industrial sheds and land for women entrepreneurs is often constrained by restrictions that do not account for practical realities. Funding is not often available for activities in which women are predominantly involved. The field of marketing provides an example. Women of all income levels are engaged in marketing activity from vegetable vending to the sale of more sophisticated items. There is no effective institutional channel to make money available for this activity.

A look at the various schemes available reveals that under the Integrated Rural Development Programme (IRDP), finance is not denied for setting up a shop, and the Prime Minister's Rozgar Yojana (PMRY) extends assistance for trading activity including simple trade finance. IRDP is confined to rural areas and PMRY covers urban areas. Both schemes are limited to persons with very low income levels.

The greatest constraint is that availability of funds is very low since the schemes operate solely through banks which are extremely reluctant to extend trade-related finance to small customers because of the risks and operational costs. State finance corporations and financing institutions are not permitted by statute to extend purely trade related finance not linked to asset creation. Women's development corporations, however, are fully aware of the significant presence of women in this area but have only a catalytic role in financing. They must necessarily work through normal channels if they have to gain access to open-ended financing.

Some schemes have tried to get around this problem by offering working capital assistance if it is supported by group formation through NGOs, banks or government. This, however, is limited to very low income groups. That is, a woman or any small business has no access to institutionalised trade finance and must operate only through very expensive informal channels. Yet it is perfectly possible to extend the usual institutional interest rates to this area by taking suitable collateral (after all, the alternative is for loanees to pay exorbitant rates to private moneylenders) or by progressively building up collateral from earnings over time and by initially working in regional clusters to facilitate operations. The effort could yield growth in accounts and deposits and other businesses too. Any move to make banks and institutions enter this area is likely to benefit women more than men.

The teaching profession constitutes a large component of the service sector, and employs large numbers of women. Yet funding is not extended by financial institutions or banks for setting up, equipping or running teaching institutions. Educational institutions can be justified on purely commercial grounds since they have today become crucial determinants in companies deciding to locate themselves in particular places. Software personnel are notoriously unenthusiastic about working in cities where high quality school level educational facilities are not available. It thus makes both economic and social sense to emphasise funding for creating good schools.

Priority to Women

Infrastructure to set up industries is provided in the form of industrial plots and sheds by state run agencies. Apart from allotting units to women entrepreneurs on priority basis, it is desirable to provide amenities particularly required by them in industrial areas.

Easy mobility and closeness to homes and child care facilities are sought by both women entrepreneurs and workers. Regular internal bus services are essential in industrial areas. Common creches run with the involvement of NGOs and industrial area associations must be compulsorily provided as a part of common amenities, since the legal requirement of each unit to provide such facilities is circumvented by keeping the number of women employees below the prescribed limit.

In large cities where land prices have shot up, fledgling women entrepreneurs find it difficult to commute long distances to outlying areas which are poorly connected. There is a case for allotment of space on a temporary basis in multistoreyed complexes to enable such persons to try out their projects. But as such space is in great demand, it must be available only for genuine, serious cases. It would also require strict enforcement of a periodic rotation of its beneficiaries.

As regards allotting sheds or land on priority basis or at concessional rates, in the case of women, the scope for misuse is much higher than in the case of any other disadvantaged group. For this reason, we must be cautious about making special allotments especially in highly sought after areas. If such a scheme is inevitable, precautionary measures should be built in screening committees to evaluate whether the beneficiary is indeed going to be in full charge of the enterprise. (Men should under no circumstances be permitted to appear or represent women before the committee). Training in running an enterprise in quality approved institutions should be insisted upon as a precondition for such priority allottees. (Let us hope this does not encourage the mushrooming of training institutions for women entrepreneurs as a profitable sideline by unqualified and uncommitted persons). The same conditions could be applied to judge eligibility for special investment subsidies or margin money facilities being extended for women.

Financing Difficulties

Credit is available for women through a plethora of schemes but there are still bottlenecks and gaps. The multiplicity of schemes is not adequately listed nor is there networking among agencies. As a result, clients approaching one institution are not made aware of the best option for their requirements. A closely integrated data bank into which all concerned agencies are plugged is a real need. The Karnataka Women's Corporation has plans to set up a resource centre, which apart from acting as a data bank, will also provide counselling and prepare research and evaluation studies.

Group financing is being extended through banks operating with NABARD refinance, under the IRDP and the training and production centre programme implemented mainly through Mahila Samajas of the Karnataka Women's Development Corporation. They concentrate on group formation and extend working capital grants to groups to encourage them to break the exorbitant debt burdens already in existence within the community for the beneficiaries. At the second stage, the beneficiaries move into individual or group activity with bank loans extended on group guarantees. Group formation has proved remarkably successful in empowering women and introducing them to income generating activity, animators and introducing them to income generating activity through bank loans. Such schemes need intensive monitoring and effort at the micro-level and are difficult to replicate.

A widely utilised scheme was the Small Industries Development Bank of India (SIDBI)'s Mahila Udyam Nidhi which covers projects up to Rs 10 lakh and provides 15 percent margin money and a service charge of 1 percent (the promoters' contribution is only 10 percent). This has been supplanted by the liberalised National Equity Fund scheme which covers entrepreneurs, where the margin money component has been fixed at 25 percent. A lower promoter's contribution is not desirable as it will reduce the entrepreneur's commitment to the success of the enterprise. In any case, for loans up to Rs 50,000, no promoter's contributions is being insisted upon.

For larger loans, no margin money assistance is generally available and women entrepreneurs have to follow norms applicable to others, that is to provide between 17 and 25 percent of the cost of fixed assets out of own resources. There is a case for setting up a fund for the purpose since irrespective of the name in which family assets are held (surprisingly, quite a bit of family property is held in the name of women) women do not enjoy the authority to pledge, dispose of or otherwise encumber these assets, and families are notoriously wary of using them to support enterprises for the women in the family. But selection of beneficiaries should be rigorously done with all the precautions listed above to prevent the scheme from being hijacked by enterprises controlled by men.

The same situation applies in the case of collateral. There is a justified widespread demand for a waiver or reduction of collateral for women entrepreneurs because of the above difficulties. This has two implications. A generalised system of exemption of collateral for women entrepreneurs will definitely result in a proliferation of "women's" enterprises to take advantage of the facility. And bankers will find the open-ended benefit risky and tend to restrict financing under this scheme. This would be counterproductive for our purpose. One practice, though not very satisfactory, that has been introduced in the Karnataka State Financial Corporation is again a screening approach through a committee of representatives from concerned agencies to ensure that the beneficiary is indeed capable of running the project and is genuinely in need of relaxation of this condition. But larger coverage is possible only with the backing of a special fund created for the purpose, as done by Women's World Banking for example.

In the area of guarantees, several humiliating habits have become ingrained in financial institutions and banks. They tend to depend on male members accompanying women entrepreneurs for finalising projects proposed by women and almost invariably insist on guarantees from males in the family.

These degrading procedures should be scrapped and guarantees sought for any entrepreneur, male or female, only where the entrepreneur on record is totally unfamiliar with the project (in which case the guarantee of the person with expertise may be taken) or has inadequate net worth.

The second condition will not necessarily affect women alone since it is my experience that assets are often held in the names of women. Repeated gender sensitisation programmes should be held to train financiers to treat women with dignity and respect as persons in their own right.

Confidence in Marketing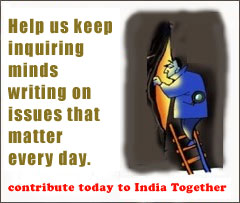 A major area of difficulty for women entrepreneurs is marketing. Several initiatives have been put in place to remedy this defect. At the initial stages women prefer to be locked into programmes which ensure almost total marketing support, since they seldom have the time or the confidence to seek out and develop markets. Even when they are otherwise in control of an enterprise, they often depend on males of the family in this area. Marketing means mobility and confidence in dealing with the external world, both of which women have been discouraged from developing by social conditioning. Women's development corporations try to hold frequent exhibitions and set up marketing outlets to provide space for the display of products made by women. Some NGOs have marketing vans. However, such arrangements are not adequately publicised and quality control is inadequate with no arrangement for adaptation to market requirements or consumer tastes.

The long term strategy should in any case be to inculcate marketing skills in women entrepreneurs to enable them to produce for the market. This means that a market survey to select the product should be made part of all training and advice given to expose enterprises to markets and make them responsive to them. Professional marketing expertise is essential to identify marketing channels for the products made by women entrepreneurs. Industrial estates could also provide marketing outlets for the display and sale of products made by women.

Unfamiliarity with the external world and lack of ease in moving around in it greatly hamper women when it comes to dealing with a multiplicity of agencies in setting up or running a business. It is here that, despite professional competence and training, women are forced to turn to men for assistance.

An experiment that was tried out in the Karnataka State Financial Corporation has received positive feedback. A Women Entrepreneur's Guidance Cell set up to handle the various problems of women entrepreneurs working directly under top management has proved a focal point for monitoring and assisting projects run by women. Similar cells in the District Industries Centres and Single Window Agencies could be extremely useful in assisting women. But they must on no account degenerate into routine departments and should be staffed with the most committed trained personnel and given continuing and total support by the head of the office.

A final area of concern in the case of women entrepreneurs is stagnation in their growth. This is due to various reasons like the demands of household duties, mobility problems and the need to expand space and staff. It is also often due to psychological causes like lack of self-confidence and fear of success (women who succeed often face hostility and resentment within their family circles). The necessary managerial and technical skills are also lacking, which is a barrier to the growth of women's businesses. Training and counselling on a large scale of existing successful women entrepreneurs who seem to have plateaued is a necessity.

Surprisingly, very little attention is being paid to this requirement by any agency, governmental or voluntary. Counselling through the aid of committed NGOs, psychologists, managerial experts and technical personnel could result in the development of appropriate strategies and enable growth.

Renuka Vishwanathan
November 2001

Renuka Vishwanathan is an IAS officer specialising in finance. She writes on women's issues and translates stories from Malayalam and Tamil. This article originally appeared in Manushi, and is republished in India Together with permission.