Reporting on women in Panchayati Raj
The Sarojini Naidu Prize encourages reporting on the emergence of women in the public sphere in India's villages.



December 2002 - "Now, the people's representatives will have to form their own organisation; they will have to fight their own battles" concluded Mamta Jaitly in her award-winning entry on panchayat women leaders. As one read through her piece, the reason for this somewhat alarming statement became clear. On October 2 this year, together with Deepak Tiwari of The Week, Mamta received the Second Sarojini Naidu Prize for Best Reporting on Women in Panchayati Raj in Hindi. Both journalists exposed in chilling detail some of the hurdles and indignities faced by women leaders in Rajasthan and Madhya Pradesh - a counterpoint indeed to the naïve view of many that it's an easy road to women's empowerment. Sponsored by The Hunger Project (THP), the Prize, first instituted in 2001, is awarded by a distinguished jury headed by Mr. Ajit Bhattacharjea, Director of the Press Institute of India. The Hunger Project is a "strategic organisation and global movement committed to the sustainable end of world hunger" and the Prize is a part of its commitment to sustain "a strategic campaign of action for women's leadership" with Panchayati Raj specifically in mind. Of the 456 articles received this year, 156 went to the jury after pre-screening. While commenting on the increase in the number of entries (there were only 166 in 2001), Mr. Bhattacharjea pointed out that the emphasis was on field coverage rather than on "informed essays" as these were regarded as more reader-friendly and authentic. Interestingly, this year's articles dealt more with the problems faced by the women - and these were not only limited to the ubiquitous husband (known now as sarpanch-pati) intruding into the role of his newly-empowered wife. However, as contributions in Other Indian Languages had been disappointing, no award was made in this category. Ten years ago, the Indian Parliament passed an amendment to the Constitution that has empowered over a million women and changed their lives irrevocably; yet, there are quite a few misconceptions - as well as a miasma of prejudice - about the 73rd Amendment that reserves a third of seats for women in Panchayati Raj institutions. Many of these stem from a resistance to accepting the emergence of women into the public sphere as power brokers. For this historic step has interrogated the private/public dichotomy and forced discussion on issues such as women's traditional roles, familial expectations and changing responsibilities. A number of the submissions for the Sarojini Naidu Prize in 2001 were stories of such debuts, of the first tentative coming out. In the article that won him the Prize in 2001, K.P.M. Basheer (The Hindu) reported that one-fourth of the 100 village panchayats in the Muslim-dominated Malarppuram district (Kerala) are headed by Muslim women. He commented "this is remarkable for a community which, not long ago, frowned upon women going to the fair-price shop to fetch their weekly rations" and where, unlike many other parts of the state, women are victims of dowry abuse, low literacy, teenage marriage and adolescent childbirth. When she went to the panchayat office in the initial few months, Ms. R.K. Hafsath used to be accompanied by her husband; self-confidence was rapidly built up and soon as President of the Thripprangot panchayat, she was addressing meetings and handling the outside world with ease. How do women in the panchayats grapple with the nuts and bolts of development at the grassroots? Do their life experiences work against their coming to grips with the issues at hand? Evidence points to the contrary and within a few months of assuming power, a substantial percentage has argued for hand pumps, more schools, Primary Health Centres, stopped child marriages and seen to it that the enrolment of girl children in schools is ensured. But as is inevitably the case, there is a price to be paid for all such going-against-the-grain interventions. In his entry entitled "Electric Chair: Dalit Women Sarpanches are Abused", Deepak Tiwari documented a number of instances of caste oppression of Dalit women in Madhya Pradesh. And here sexual vulnerability comes into play as they are stripped, raped and humiliated by upper caste men. Not afraid to speak of her trauma, Mathurabai, sarpanch of Gaintoli village in Morena district, recounted how she was stripped and beaten up for lodging a complaint against the former sarpanch for not allowing her to perform her duties; he had earlier extorted money from her for a supposed handing that never took place. Worse still, Guddibai from Sinalwalkala in neighbouring Shivpuri was raped by male opponents who had lost the elections. And the local network has it that hers was not an isolated case - only that Dalits are afraid to report. The other winner of this year's award, Jaipur-based Mamta Jaitly who edits Ujala Chhadi, a monthly newspaper for rural readers as well as coordinates Vividha Women's Documentation and Resource Centre, has a long history in the increasingly important genre of investigative journalism. Her insights into the lives of Chhagi Bai who was expelled from the panchayat for developmental activities - including the closing down of a liquor shop - and Looni Devi who came as a refugee from Pakistan and lived below the poverty line for years, are instances of women's indomitable personal courage and tenacity in the struggle for justice. After becoming a sarpanch in Bikaner district, Looni Devi made herself more aware and informed of what was required; it was not long before the ghunghat (veil) was put aside and she was working for tube wells in the village, better training for midwives and of course, for girls' education. When Phooli Devi, sarpanch of the Deva panchayat in Jaisalmer district found that basic medical amenities were sadly lacking, she appealed to the District Collector for help - and came back to the village with a few beds for the new hospital! Undaunted by the lack of space, Phooli Devi requisitioned an unused nurses' quarters, spent Rs. 15,000 out of her meagre savings for its repair and renovation and started a basic medical service equipped now with beds and fans. However, instances of such exceptional women are matched equally by horror stories that speak of torture, extortion and physical abuse of women in the panchayats and their families. Those from the Dalit community are particularly vulnerable, leading Mamta to argue in favour of elected representatives fighting for their rights. On the face of it, this seems like a paradoxical situation for a newly-emergent elite that should have all the power and authority on its side; but then these are women, first generation learners of a different sort, functioning in a hierarchical, basically patriarchal society where the odds are still heavily against them. That the media has a significant role to play in providing information, instances and anecdotes on a subject as vital as women's empowerment has been appropriately recognised by THP through its prestigious Sarojini Naidu Prize. Nor is the Prize an end in itself but an integral component of a "partnership" between a committed international organisation and the media aimed at facilitating a much-needed interface between the latter and these women through workshops and meetings that stress the importance of decentralisation and the role of women in the panchayats. As Rita Sarin, Country Director of THP pointed out, interacting with over five thousand elected women representatives from villages throughout the country convinced the organisers that a tremendous change is underway - where "from being unwanted at birth" and inhibited initially in their new role as panchayat leaders, these women are "taking bold steps to change their immediate environment of hunger, violence and inequity". And it is never too early to reiterate the need for a responsible, pro-active media to highlight these victories as well as the many questions that are being asked about the processes of development, the impact of the market, globalisation and so on, particularly on women and children. Against this backdrop, the elected woman representative from the grassroots becomes all the more crucial, both as a knowledge manager as well as a change agent in this fast-changing and at times confusing environment of competing realities and claims. Malavika Karlekar
December 2002 Malavika Karlekar is the editor of the Indian Journal of Gender Studies at the Centre for Women's Development Studies, New Delhi. This article is reproduced on India Together with permission from The Hoot.org through Space Share, our content-sharing program for publishers of other public-interest content. Click here to learn more about Space Share.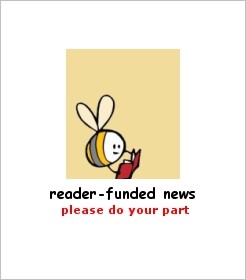 ... contribute by cheque
Write your cheque or DD out to 'INDIA TOGETHER' and either post or courier it to the address below:


India Together
Attn: Reader Contributions
1677, 17th Main Road
JP Nagar II Phase
Bangalore 560078