This traffic does not stop
The bondage of cross-border sex-workers



Lucknow, February 15, 2002: When 12-year-old Rupa, a Dalit girl from a village near Varanasi, said that she had been raped by the landlord's son and friends, the village panchayat (village council) refused to believe her. Instead, the panchayat maintained that she was concocting stories. Rupa's problems did not end here. On the pretext of helping her, Rupa's neighbour offered her domestic work in Kolkata. But instead of taking her to this eastern Indian city, he brought her to Delhi and sold her to a brothel for Rs 10,000 (1US$= Rs 48). According to Rupa, there are many other girls from her village and her caste in this brothel. Like Rupa, 20-year-old Mala was lured to come to Uttar Pradesh from Nepal when she was 10 years old. She was raped by her custodians who held her captive for over a month and then took her to Mumbai. She has been working in this city as a sex worker for the last decade, often servicing six to 10 clients every night This bestial, sleazy world of intra-country and trans-border trafficking in women and young girls was highlighted recently in a workshop organised in Lucknow by the BETI Foundation, UNDP. Trafficking in human beings is more lucrative than trade in arms or narcotics according to Roma Shyamsundar, Vice President of STOP, a Delhi based non-governmental organisation (NGO) actively involved in the rescue of trafficked girls. According to Shyamsundar, a lifelong exploitative situation is established when a woman or a girl is trafficked: she is forced into prostitution and thus begins a vicious cycle of paying the brothel owner for whom she works. Even if she is rescued, her plight does not improve because she is not accepted either by her family or by society. And she has no means of survival. Consequently, many rescued victims have no choice but to go back to sex work. Given the abysmal poverty in Bangladesh and Nepal, the porous borders with India and even culturally sanctioned prostitution like the Devdasi system, the business of trafficking girls has fertile soil on which to grow in the region. Expectedly, it is highest in border regions with high poverty and low women's literacy. The new state of Uttaranchal too is a popular hub, especially along the porous borders at Pithoragarh and Champawat. A 1994 UN definition of trafficking limits it to the clandestine and illegal movements of persons across national borders with the goal of forcing women and children into sexually exploitative situations. Today, this definition in its wider sense also includes internal trafficking through kidnapping, migration and luring women and girls to cities for better work prospects. What is causing alarm both in governmental and NGO circles is the escalation in trafficking of young girls in the last decade. NGOs like STOP and MAITI in Nepal report that most trafficking in India (both trans-border and in-country) is for prostitution. And 60 per cent of those trafficked into prostitution are adolescent girls in the age group of 12 to 16 years. Still more alarming is the fact that the average age of trafficked girls, which was 14 to 16 years in the 1980s, came down to between 10 and 14 years in the 1990s. These figures are corroborated by a study done by the Department of Women and Children in 13 sensitive districts of Uttar Pradesh. It reveals that all sex workers who formed a part of this survey had entered the profession as young girls. Globalisation, professionalisation of trafficking syndicates, feminisation of poverty and rise in sex tourism - all have contributed to an increase in trafficking. This problem is further compounded because of two factors: linkages of trafficking with the spread of HIV/AIDS and the clandestine nature of the activity. Studies now show that while women of all ages are more vulnerable to the infection than men, young girls are even more at risk because their genital tracts are immature. In addition, they have absolutely no control over sexual relations and sexual health. So a physical vulnerability is compounded by a gender vulnerability. Says a Nepali child rescued from a brothel by STOP, "Clients don't like condoms and the owner of the brothel tells me to do what the clients want. If I refuse then the man chooses another girl and not only do I lose out on making money, I am also beaten up." The clandestine nature of trafficking, which is often undertaken with familial consent, means that there are no action plans either at the governmental or the NGO level to deal with the problem. For instance, the study done in 13 districts of Uttar Pradesh shows that in a sample of 1,341 sex workers, brothel-based prostitution was 793 and family-based prostitution came close at 548. However, progress -- though very little -- is being made. Efforts at rescue and rehabilitation of trafficked women and girls have now turned from a welfare to a rights-oriented approach. Interventions are increasingly based on issues like combating stigma related to HIV/AIDS, developing empowering strategies for victims and involving communities in the rehabilitation of rescued women and girls. But there is a lot that still needs to be done. Involvement of communities is of the greatest significance here since it has been seen that rescued women and girls are not accepted by their families and communities. The situation becomes worse if someone tests positive for HIV because she is immediately labeled a prostitute - a perception that creates a complex situation in the rehabilitation programmes. Even if trafficked returnees can avoid such treatment, they have few options for survival. There are very few rehabilitation centres that provide physical, mental and emotional support or legal and literacy expertise. Consequently, many young HIV positive girls and women return to sex work, thereby continuing the transmission of HIV infections. Says Shyamsundar, "We believe that all brothel children have to be rescued. A 10-year-old is expected to take on 10 or 12 customers a day. It is worse than rape." What is needed is a multi-pronged strategy which can help in curbing trafficking and empowering communities and which also has scope for rescue and rehabilitation processes. The task is not just daunting, given the political priorities of most governments it is not given the importance it deserves. Radha Rastogi
February 2002 Radha Rastogi is a Lucknow based journalist with over 25 years experience with mainstream media. She specialises in development issues and has specifically worked in the field of education in the state of Uttar Pradesh. This opinion on India Together is provided by the Women's Feature Service.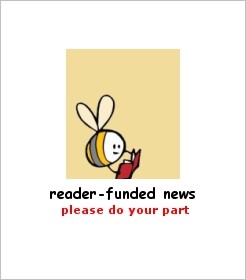 ... contribute by cheque
Write your cheque or DD out to 'INDIA TOGETHER' and either post or courier it to the address below:


India Together
Attn: Reader Contributions
1677, 17th Main Road
JP Nagar II Phase
Bangalore 560078