Women's Empowerment Year
Beginning With a Bang, Ending With a Whimper



January 2002: The Government of India had ushered in the new millennium by declaring the year 2001 as Women's Empowerment Year, to focus on "Our vision in the new century of a nation where women are equal partners with men". So what was the grandiose official declaration all about? A lot of programmes with fancy names: Swashakti and Stree Shakti for women's empowerment; Swayam Sidha to benefit 100,000 women through micro-credit programmes, Balika Samrudhi Yojana for the girl child and some 2,000 other projects, all with unimpeachable good intentions. Grand words and intentions no doubt - if only they had got translated into real and meaningful programmes for women's betterment. To give only one example - by the end of 2001, of the Rs 1,160 million (1 USD = Rs 48) allocated to the Swayam Sidha programme a mere Rs 10 million had materialised. Moreover, the target group of 900,000 in a rural female population of around 300 million works out to under 0.3 per cent. Political empowerment still remains a distant dream for Indian women. The Congress party began the "empowerment year" by lowering its quota for women in the AICC panel, after announcing its allegiance to 33 per cent representation. Reservation for women in Parliament was among the promises made in the ruling BJP's election manifesto. Three years after the Vajpayee Government came to power the Bill still remains in cold storage. "Women's Empowerment Year was announced with much fanfare. But where are the results? Except for organising seminars and making speeches, what has the government done?" asks Rajya Sabha Deputy Chairperson Najma Heptulla. "All three sessions of Parliament are over but the Women's Reservation Bill has not even been discussed. When the government is not ready to give political empowerment to women, how will economic empowerment be possible?" As for the programmes announced by the government, Heptulla feels that they should be considered normal developmental initiatives. "After all, women form 50 per cent of the population so the government is supposed to formulate such programmes. They are not special to the empowerment year." As activist Member of Parliament Shabana Azmi points out, "Change towards empowerment can only come through drastic changes in mindsets." And for that, we need more than seminars and slogans. The number of family courts to help resolve matrimonial disputes, was supposed to be increased from 85 to nearly 500 during the year. That target is nowhere near being met. The National Commission for Women was supposed to acquire more powers during the empowerment year. Nothing has been heard about this, either. A Bill for protection against domestic violence is still pending in Parliament. And another proposed Bill against sexual harassment in the workplace has not even been tabled. And yet, discrimination against women was all pervasive in 2001. For instance, a female joint secretary in the Law Ministry made news with a complaint regarding gender discrimination and sexual harassment. The Central Administrative Tribunal has conceded that her grievance was valid and that she had been denied the promotion she deserved, but the government that has proclaimed its commitment to gender equity has moved the High Court contesting her claim. A cursory scan of the newspapers of the last month of the empowerment year saw reports about an officer of the Indian Police Service and an ex-serviceman arrested in dowry cases. The Dowry Prohibition Act has been in force for four decades, and yet, at the beginning of the new millennium professedly ushering in a new era for women, those responsible for enforcing the law are among those accused in dowry cases. These are not isolated examples but cases that typify the social milieu. December also saw a controversy about the participation of a minister in a mass marriage mela (fair) in north Karnataka where several brides were reported to be under-age. Child marriages, banned by law, continue to take place and get reported in the media. And nothing happens. Whether it is technology or tradition, the female, and the girl child in particular, continues to be treated as a lesser being, even at the end of Women's Empowerment Year. As Brinda Karat, general secretary of the All India Democratic Women's Association observes, "No amount of legislation will be effective as long as the political will to promote gender equity is absent." On the one hand, she points out, the government's globalisation policies are pushing women below the poverty line, and on the other, it announces an empowerment year. Feminist-activist Madhu Kishwar, likewise, strongly decries the gimmicks of announcing new programmes, which merely mean "more money spent on seminars, more paper work and more siphoning off of funds". At another level, the year's pre-budget economic survey was supposed to "take gender aboard", with a gender review chapter. But in reality, this budget had less on women-specific proposals than earlier ones -- less than five per cent of the budget goes for gender-specific expenditure. Credit facilities and economic betterment do not guarantee that a woman's vulnerability to domestic violence is reduced, or that the woefully low rates of conviction in rape and dowry harassment cases (less than three per cent) get addressed. More examples culled from the last month of women's empowerment year show how ineffective these grandiose declarations have been. A leading English newspaper which caused a furore among women's organisations and activists by publishing an editorial in support of an advertisement it carried, for a 'gender selection kit' for couples desiring sons. Given the pervasive socio-cultural preference for male progeny and the relentless reduction in the sex ratio from 972 to 927 per 1,000 males during the century, this justification of an ad for pre-natal selection in the name of "freedom of choice for couples" shows that even senior media persons are not sensitive to the implications of gender inequities. Pre-natal sex determination tests (which facilitate abortions if the foetus is a girl) were prohibited by a law passed in 1994, but the debate generated by the advertisements for the 'Gen-Select Kit' revolved around whether it was "better not to conceive daughters, than to eliminate them through abortion". What kind of empowerment do women enjoy, if modern technology merely provides more alternatives for 'doing away with the female', before or after conception? So much for official enthusiasm and effectiveness in carrying out rules meant to improve the status of women in society. It was left to a non-governmental organisation (NGO) to file a case in the Supreme Court to draw attention to the large-scale illegal sex determination procedures being carried out in different parts of the country. In response, the Court summoned the health secretaries of 11 major states to chastise them for flouting a court order decreeing punishment for clinics that continue to conduct illegal sex determination tests. And finally, we asked 10 women chosen at random from among construction labourers, nurses and office assistants, what the empowerment year meant to them. Seven of them did not know about it, two said these gimmicks would do little to change their lives, and only one thought it was a good idea. This is the crux, and till socio-cultural attitudes are addressed, there can be little meaningful empowerment for gender parity. Sakuntala Narasimhan
January 2002 Sakuntala Narasimhan is a senior, award winning, development journalist based in Bangalore, Karnataka. This opinion on India Together is provided by the Women's Feature Service.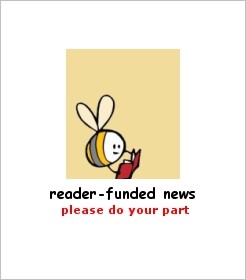 ... contribute by cheque
Write your cheque or DD out to 'INDIA TOGETHER' and either post or courier it to the address below:


India Together
Attn: Reader Contributions
1677, 17th Main Road
JP Nagar II Phase
Bangalore 560078