The call of the small and rural.
A Citizens Jury pronounces its Prajateerpu (People's Verdict) on the development strategy for Andhra Pradesh for the next twenty years.


Andhra Pradesh (AP) is currently re-thinking its approach to farming, land use and marketing. The AP Government's vision of the state's future is presented in its so-called Vision 2020. Whilst fundamental and profound transformations of the food system are proposed in Vision 2020, there has been little or no involvement of small farmers and rural people in shaping this policy scenario. In mid-2001, a dramatic innovation in Indian democracy took shape in Andhra Pradesh. As a means of allowing those people most likely to be affected by Vision 2020 to shape a vision of their own, a a Citizens' Jury was formed and a scenario workshop was conducted. This article is a report on the Jury's verdict - the Prajateerpu - and the deliberations process.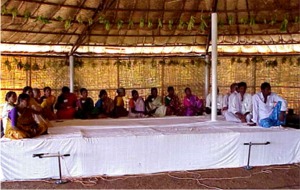 March 2002: The Government of AP has developed Vision 2020 as a strategy for development over the next twenty years. This scenario has been put forward by Andhra Pradesh's Chief Minister and the World Bank and the UK Department for International Development (DFID) are backing it with funding. The Vision proposes to consolidate small farms and rapidly increase mechanisation and modernisation, introduce enhancing technologies such as genetic modification in farming and food processing and reducing the number of people on the land from 70% to 40% by 2020. While these are fundamental and profound transformations of the food system, there has been little or no involvement of small farmers and rural people in shaping this policy scenario. On the other hand, small farmers and rural people harbor considerable concerns over the possible impacts of Vision 2020 on livelihoods security, agricultural biodiversity and the very fabric of local food systems and economies. What's more, AP officials and international donors also point to areas in Vision 2020 that need further public consultation and refinement.

AP farmers pressure UK parliament
---
The UK govt has promised £65 million to Andhra Pradesh for Vision 2020. In March 2002, farmers of AP have started mounting pressure on the UK parliament. Several UK development and environment groups including Christian Aid, ITDG, The Small and Family Farm Alliance, Friends of the Earth and Greenpeace - have joined hands with the farmers in their call for support of sustainable agriculture and an end to UK funding of Vision 2020.

Read more

Prajateerpu ("people's verdict") was devised as a means of allowing those people most affected by the "Vision 2020" for food and farming in Andhra Pradesh (AP, India) to shape a vision of their own. Held between June 30 and July 1, 2001, it used a combination of a citizens' jury and a scenario workshop, supplemented by three video films about three potentially different visions for food, farming and rural development in Andhra Pradesh over the next twenty years. The three Visions were: a) Vision 2020, b) An export-based cash crop model of organic production and c) Localised food systems. Members of the citizens' jury were drawn from communities of small and marginal farmers from all over the state of Andhra Pradesh. Most were either Dalit or adivasi and women were in a majority. The jurors deliberations were informed by their interrogation of a range of expert witnesses including those from the Agriculture Ministry of the Government of Andhra Pradesh, a trans-national agrochemical company (Syngenta), universities, local NGOs, government advisory panels and community NGOs. An oversight panel - a group of external observers, checked the videos that we used to depict the three scenarios. Their role was to ensure that each of the three visions were presented in a fair and unprejudiced way, and that the process remained trustworthy and was not captured by any interest group. The process involved in Prajateerpu has been just as important as the policy recommendations reached by the jurors. Facilitators used a range of methods to give jurors the opportunity to validate their knowledge, and challenge the misunderstandings of decision-makers. Many people arrived at the event not knowing whether they would have anything useful to say and went away having acknowledged that they had important contributions to make. The depth of engagement and insight they achieved went beyond that possible using opinion polls, questionnaires, public meetings or focus groups. For example, rather than hearing arguments about the potential risks and benefits of particular technologies, such as Genetically Modified (GM) crops, participants were able to consider them alongside alternative development models. Each different scenario for rural futures could be seen as an interdependent economic, social and environmental system. The process reaffirmed that citizen empowerment and deliberative and inclusionary processes can enrich democracy and hold decision-makers accountable for their actions. Jurors used their ability to directly cross-examine the witnesses to give illustrations of, or counter-examples to, the evidence they had heard. The participants accounts were in many ways more diverse than those of specialists because they had looser commitments to subject boundaries and, to a certain extent, a more insightful and open-minded approach to the tensions these boundaries can mask. While there was significant diversity of opinion among participants, there was widespread agreement over the key issues of community control over resources and livelihood. That led to the Jury stating the following vision in their verdict:

We desire
Food and farming for self reliance and community control over resources.
To maintain healthy soils, diverse crops, trees and livestock, and to build on our indigenous knowledge, practical skills and local institutions."
and
We oppose
The proposed reduction of those making their livelihood from the land from 70%-40% in Andhra Pradesh
Land consolidation and displacement of rural people
Contract farming
Labour-displacing mechanisation
GM Crops - including Vitamin A rice & Bt cotton
Loss of control over medicinal plants including their export"
The Jury concluded that the potential of Vision 2020 to damage, or improve the livelihoods of small and marginal farmers in Andhra Pradesh is at least as great as other mega-projects such as the Narmada Dam or the introduction of 'Green Revolution' technologies. The Jury urged opinion-formers and decision-makers in India and abroad to respond to the results of Prajateerpu by reviewing the assumptions that underlie their policies for rural futures. Prajateerpu provides a fascinating case study in which an attempt was made for the inclusion of the genuinely poor and marginalised into the policy process. The jury process and verdict will hopefully encourage more public deliberation and pluralism in the framing and implementation of policies on food and agriculture in Andhra Pradesh, thus contributing to democratic governance. Given AP's status as one of India's model states, both the process as well as its outcomes should be of national and international significance. Michel Pimbert and Tom Wakeford
March 2002 Michel Pimbert is with the International Institute of Environment and Development (IIED), UK, and Tom Wakeford is with the Institute for Development Studies, UK. The jury selection process was overseen by a team of participatory researchers at the University of Hyderabad, led by Vinod Pavarala. The national partners involved in this process included the Andhra Pradesh Coalition in Defence of Diversity, The University of Hyderabad, AP and the all-India National Biodiversity Strategy and Action Plan (NBSAP). Funding for Prajateerpu came from the Dutch Government overseas development agency (DGIS) via IIED, the Rockefeller Foundation (via IDS), and the Andhra Pradesh Coalition in Defence of Diversity. The facilitators for scenario workshop were Suda Goparaju, Rural Livelihoods Project, Government of Andhra Pradesh, Kavitha Kuruganti, Programmes Division, ActionAid India and Vinod Pavarala, Reader in Communication, University of Hyderabad. Extensive discussion between partners at the local, national and international level, including community organisations, development NGOs, academics and policy-makers informed the formulation of the methodology for Prajateerpu. Press clippings