I visited Majuli island on the Brahmaputra river which has been severely hit by flood and erosion. I also visited Kokrajhar, immediately after the ethnic clashes that broke out during July 2012, due to which thousands of families have been forced to leave their villages. The local economy, based on indigenous adaptation to the land, has failed due to lack support from the government. There is also very little hope of rehabilitation of those affected by ethnic violence. People are simply moving on, with no other option.
In most of the visited erosion-hit villages of Majuli and in Kokrajhar district, groups of 10-20 young men and women in each village have left for better livelihood opportunities. Agriculture, the mainstay for generations, has either become non-remunerative, or the plot of land available for agriculture has been already lost due to erosion. In conflict affected areas on the other hand, young boys have left their villages mostly for fear of atrocities from both sides - militants as well as security forces, as well as acute livelihood risks.
Indigenous mechanisms for survival have collpased, as circumstances have changed dramatically. In Majuli for instance, the Mishing tribal people, the worst hit by erosion, traditionally have their unique dwelling housing called chang-ghar (house built on a raised platform, ideal for co-existence with flood) This technique has been successful over the years, and even adopted by the some government departments while constructing modern government buildings including hospitals, post offices, and tourist lodges. But for over 2700 families living on embankments of the river, there is simply no more space available to erect such houses.
The situation in conflict-hit areas is different. In Bhumka village in Bismuri area of Kokrajhar, for instance, altogether 10 women aged between 10 and 55 were reported to have been brutally raped by the Assam Police, during January 1988. These rape victims are still awaiting justice, and some have even died waiting. The villagers have had to face unbearable suffering from both security forces and militants during the peak of the Bodo movement for a separate state. Today, the village wears a barren look; most have left the village searching livelihood opportunities in cities outside the state.
"What we get from our little agriculture is not enough to survive. Some of us can produce some surplus food. But it has no market value. The village lacks all the modern amenities including electricity, drinking water, sanitation facility and others. There is no job locally available for the youth. The only option for getting employed is to go to find jobs in cities", says Dubi Basumatari, the village headman.
According to estimates, over 12 lakh have had to face temporary displacement, some of them several times due to ethnic clashes since 1993. Additionally ravaging flood and constant erosion have led to displacement of another 9 lakh people, and 1.25 lakh of them have now permanently settled on the embankments, for want of ay other land to settle on. Even the Chief Minister of the state has expressed helplessness in rehabilitating such a large number of people, providing them land to settle permanently.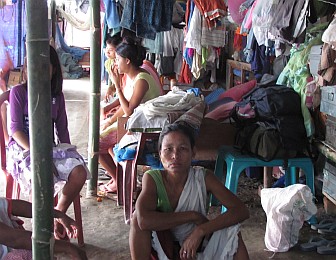 Ironically, the out-migration caught the national attention when thousands of youths from northeastern states began fleeing from distant Indian cities. For the first time, it became evident how many had fled the conflict in their homelands. (Pic: Women displaced by erosion in Majuli at make shift settlement on an embankment.)


• Repeated mistakes in relief
• Swallowed by the river
• Piecing Assam together

Displacement due to ethnic clashes is not new. But the most recent bout of ethnic clash that broke out in Kokrajhar district, the headquarters of Bodoland Territorial Autonomous Districts (BTAD) area during July 2012, unfurled a cluster of hard realities, which had remained unnoticed over time. Out-migration of skilled and semi-skilled youth in large numbers from the state, had been going on in a trickle over years, but until those migrants began thronging railway stations in other parts of India, no one really realised how many had left the Northeast.
The out-migration caught the national attention when thousands of youths from northeastern states began fleeing from distant Indian cities, frightened by rumours spread throughout the country through SMS and MMS displaying brutal torture faced by youths of this region and working in these states as retaliation of the Kokrajhar incident. The rumours of alleged assault on youths of Assam and other northeastern states spread like wildfire, stretching the railway services beyond their capacity, and forcing many state governments to arrange special trains to Assam. The impact of such mass return of youth jeopardised economic life in Bangalore and other South Indian cities, compelling the Deputy Chief Minsiter of Karnataka to visit Assam, urging people to resume work, assuring them full security.
Assam itself was caught unawares by the large numbers, returning from their jobs as security guards, restaurant boys, beauty parlour assistants, etc. The return of such semi-skilled youth en masse also put the state government under pressure, and Chief Minister Tarun Gogoi appealed to these youth to return to their work-places and resume their work following the assurance of political leaders of those states. Special trains were arranged to carry them back to their work places.
The views of overcrowd of youths in different railway stations, panicked and in a hurry to return home for fear of life, exposed the realities of extreme poverty and hunger in Assam. A Planning Commission report, published in March 2012 stated that the percentage of people living Below the Poverty Line (BPL) in Assam had risen to 39.9 per cent in 2009-10, against 36.4 per cent during 2004-05. The report also said that among the casual labourers working in urban areas of the state, the poverty ratio is as high as 89 per cent. The per capita income of Assam during 2001-11 rose at only a quarter of the pace seen in Sikkim, ranking the state 30th among all Indian states.
In such a situation, institutionalised support to ensure food security and to address issues of livelihood risks would have been of a great relief for these people living in extreme poverty. But the statistics of implementation of a number of government schemes to support food, health, livelihood and shelter reveal only a harsh picture.
In Jorhat district for instance, in which Majuli is one of the two sub-divisions, 100 days of work under the Mahatma Gandhi National Rural Employment Guarantee Scheme was provided to only nine families till January, during 2012-13. The number was 275 the previous year, 509 during 2010-11 and 295 during 2009-10 for the entire district.
In four districts of the BTAD area, severely hit by armed conflict and frequent ethnic clashes, the figures for the year 2012-13 (up to January) are as follows: Kokrajhar - 68, Baksa - 79, Chirang - 136, and Udalguri - 36. In fact, the 'guaranteed' 100 days of work under the MGNREGS has been provided to only 1818 families till January, 2012-13. In 2011-12, there were 15,750 beneficiaries, and even that was much lower than the 49,197 beneficiaries during 2010-11.
According to the Annual Health Survey, 2011, conducted by the Government of India in 284 districts of eight states including Assam, the highest Infant Mortality Rate (IMR) in the country was in Kokrajhar, at 76. The Maternal Mortality Rate (MMR) too is very high with 366, while the under-five mortality rate is 103. The MMR in Jorhat district is even higher with 430, with an under-five mortality rate of 71. The IMR of the district is 57. The alarmingly high rate of under-five mortality rate in these districts reveals a high degree of hunger, malnutrition and under-nutrition among young children, as the economy of these areas is beseiged by prolonged conflict, erosion and massive displacement.
These images of Assam come at a time when India has set a national goal to achieve MMR of 109, IMR of 28, and an under-five mortality rate of 42 by 2015 under the Millennium Development Goals to reduce hunger and poverty. Moreover, the Midday Meal Scheme, which has been instrumental in bringing children to school and also help improving their health indicators, have been disrupted by the practice of starting relief camps in school campuses, more or less shutting the school down in the process.
Agriculture is the mainstay of the region, and rice is the staple food, but the state could achieve self-sufficiency in rice production only during 2011-12, with a marketable surplus of 5 lakh MT. However, production isn't the same thing as livelihoods from the sale of crops. The state does not have mechanism to procure surplus food from the farmers. During 2011-12 only 27,000 MT of rice was procured by the Food Corporation of India.
For the current year, although the state government has assured farmers it will procure rice through 18 centers, and fixed a Minimum Support Price (MSP) price of Rs.1225 and Rs.1280 per quintal for coarse and fine varieties, the actual procurement has been very low. Farmers have to sell their surplus rice to local traders, at Rs.600-800 per quintal, and often this is lower than what has been invested in growing the crops.
My visits to these areas also revealed that the system of ensuring food security to people living in extreme poverty through the Public Distribution System is also full of loopholes. Most beneficiaries have to pay more than the fixed price to get their rations, as intermediaries act surcharges such as transportation cost to the final sale.
Lack of a policy
Although large scale displacement due to ethnic clashes has been a reality for many years, and previous indications as well as modus operandi too are similar in many cases, the state government is yet to come up with preventive intervention policies to tackle ethnic tension. It also seriously lacks policies to address the genuine demands of tribes and communities for economic development in different parts of the state. Clashes have not only led to displacement of people for a certain period of time, resulting in breaks in the social fabric, but the entire economy has been damaged by violence - burning down villages, and destroying properties of targeted communities, apart from the killings.
Whenever any ethnic clash takes place, it becomes the priority of the administration to send affected people back as soon as possible to their respective villages, giving them some paltry funds as rehabilitation grants. But livelihood risks, and larger issues of hunger and impoverishment remain unaddressed, pushing people to utter helplessness.
For the erosion-affected areas, although the state government has taken steps for the reclamation of affected land, there is still a long way to go. However, the latest satellite imagery of Majuli (which was reduced from 1256 sq. km. during 1950 to 520 by 2011) has shown an increase of seven square kilometers of its total landmass. Such efforts may improve the situation a little, but without a concrete policy to ensure proper rehabilitation as well as to provide livelihood support to address issues of hunger and impoverishment, it will be a long time before the State can hope for better human development indicators.