For Kiriti Ranjan Patar, a young resident of central Assam's Morigaon town, an interest in ornamental fishes moving inside an aquarium wearing vivid colours was merely fun and a fancy. He was completely unaware of the fact that with its rich diversity of indigenous ornamental fishes, Assam contributes a large share of India's export-oriented ornamental fish trade. The state's rich diversity of fish products includes altogether 217 species of 136 genera.
Patar learned about the business potential in the trade when he attended a training programme in 2007 on aquarium maintenance and creating awareness for conservation of indigenous ornamental fishes. The training was organised by College of Fisheries located in Raha, in collaboration with the Department of Fisheries. The training also taught him one other thing: that traders from outside the state have entirely dominated the export market for indigenous ornamental fishes, due to ignorance of the local people about the trade and its business possibility.
Locals and exporters
The state is blessed with more than 150 indigenous ornamental fish species found in abundance in natural ponds, swamp lands, rivers and rivulets, of which about 50 species have international market value. However, the links to the international market are still largely unexplored by Assam's local traders, and are instead dominated by exporters from Kolkata and Mumbai. Locals also complain that they do not share in the spoils of the true value of the fishes. The out-of-state traders pay them very low wages for catching the fish, and thereafter sell these in the international market at very high prices.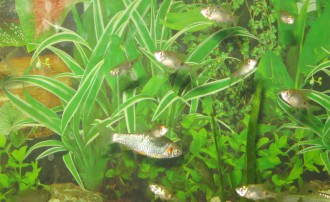 Prabal Sharma, who pioneered business of indigenous ornamental fish in the state in 1984, says the various species of ornamental fish varieties in Assam as well as in north eastern region is yet to be fully explored. The market, he says, will grow much bigger in the future.

Sanjay Sharma, Marketing Inspector of the Department of Fisheries agrees. He points out that some of the fishes have high market value, with every piece fetching between $2 to $5 and sometimes even more, but local traders are paid a paltry sum of Rs.20-30 for each kilogram of such fish. There is a huge gap between the prices the outsider traders pay to local people, against actual price they get in the international market, he observes.
To Kiriti Ranjan Patar, the absence of strong local traders presented an opportunity. A successful contractor, he could foresee a growing market these indigenous living jewels in the state. He did not waste much time to turn his interest in to a new business venture and changing his profession. Last year the ambitious young man, at his own initiative, conducted a survey to determine the availability of indigenous ornamental fishes in his locality and its market potential.
He then opened his showroom Jalpari Aquarium in January this year in his home town, with 40 aquariums of both indigenous and exotic ornamental fishes. His new business has clicked instantly in the domestic market, enabling him to do business of Rs.25,000-30,000 a month. And just five months since starting his business, Patar is now eyeing the export market too, and is all set to begin exporting to Singapore. To realise his export dreams, he is now in contact with the Department of Fisheries, seeking its guidance to get an export trade license. Patar is also opening his own website shortly to attract the attention of international hobbyists to his ornamental fishes.
"This business is more than just about money making. It deals with people's hobby of nurturing living aquatic creatures. I believe the aquarium business is a creative thing and a learning experience at the same time," he says.
More than colour
Sharma notes that about 80 per cent of ornamental fishes exported from India to international market are exported via Kolkata Airport, of which more than 80 per cent is contributed by the northeastern states. Assam's indigenous ornamental fishes have many qualities that catch the eye of international hobbyists. Some species including the unique Bagh-batia, (Batia Dario), never changes its colour in any situation, while some others wear vibrant colour during breeding periods. Again, the movement of some fishes including Darikona (Dario daverio), four varieties of Puthi (Puntius) Baralia (baralius barila) among others, in herds is beautiful.
"It is not necessary that every fish variety should have a bright colour on its body, and attractiveness comes from wide-ranging factors, including body colour, morphology, mode of taking food etc.," Sharma adds. "The international hobbyists are now fed up with already established species of ornamental fishes. They now look forward to more specific features and new varieties, which our indigenous fish species offer. Thus, we can visualise a potential market with high international demand for our locally available ornamental fish species".
Organising the market
To protect this market, however, the traders must evolve better practices. Many now directly catch the fishes from natural waters, instead of breeding them using scientific practices. And indiscriminate exploitation from natural sources may lead to extinction of some of the rarer varieties; a decline in numbers of some species has already been reported. Also, as Sharma notes, "Local traders engaged by outside exporters do not go for scientific culture and breeding, they do not want to disclose facts for fear of any legal action. The department has now been trying to organise the market by formulating certain norms."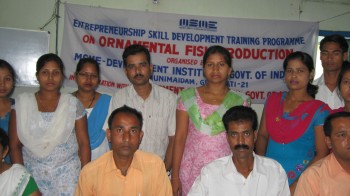 The existing ornamental fish market is highly unorganised, and the government has no statistics of how many people have been engaged and how much money has been involved in the trade. It is trying to rectify this, and also actively involved in promoting an organised market. Above: a picture from the recently held Entrepreneurship Skill Development Programme on Ornamental Fish Production.

Sharma also says that, a few endangered varieties of indigenous ornamental fishes are highly sensitive to conditions in breeding centers, and survive in natural habitats only. The department has been putting its efforts into culture and breeding of such species in breeding centers through extensive research. The NE Regional Center of Central Inland Fisheries Research Institute, and educational institutions including Guwahati University, Dibrugarh Uniersity, College of Fisheries of Assam Agriculture University have been conducting research on conditioning of wild species and laboratory rearing, methods of collection from wild, cataloguing of potential species etc.
The department has drawn up a plan of action for proper intervention that includes motivational programmes, training, financial support and establishing market linkages to local traders. One innovative idea of the department is to develop area specific "cluster projects" giving priority to youths of traditional fishermen community for skill development of both exotic and indigenous species of ornamental fishes. The objective is to develop specific pockets in the state to deal with various activities centered round the aquarium business, including breeding and rearing of ornamental fishes, making and maintenance of aquariums, allied trades including supply of decorative pieces and filters, live plants etc.
In April-May this year, the department conducted its first six-week long "Entrepreneurship Skill Development Programme on Ornamental Fish Production" under the cluster project; the attendees were a group of 20 educated young boys and girls from Hajo area in Kamrup (Rural) district. The programmer was carried out in collaboration with the Ministry of Micro, Small and Medium Enterprises. The group has already begun breeding and rearing indigenous and exotic varieties of ornamental fishes in their fisheries.
"The domestic market has a high demand for varieties like Gold Fish, Guppy, Betty, Sword Fishes and others, and we have already started breeding these species so that we can enter the business as soon as possible. We are also shortly opening a showroom in Hajo, which is a tourist destination; this will have both exotic and indigenous ornamental fishes," says Aparna Pathak, who participant in the programme.
Meanwhile, institutions including Marine Products Export Development Authority, National Bank for Agriculture and Rural Development, and North Eastern Development Financial Institutions have come forward for promotion and development of ornamental fishes and to provide financial assistance to local entrepreneurs.
Coupled to all this is a growing interest in keeping aquariums at home, in public institutions, educational institutions and others in the state, which is being encouraged and promoted by those in the business. The Society for Promotion of Ornamental Fishes in North East Region (SPONER), which was formed to promote market of ornamental fishes in the state and outside, has developed aquariums of various sizes, with prices ranging between Rs.800 to Rs 200,000 each. To make the hobby more popular, SPONER has also organised two state level exhibitions of ornamental fishes during last two years. It has also been trying to develop aquarium related trades with innovative ideas using local technology and utensils, says Chinmay Kakati, president of the organisation.