Nawagarh, in Durg district of Chhatisgarh, is a very small place by any standard. Everyone knows everyone else here, and so it was not difficult to find a local journalist as soon as we reached Nawagarh. We were looking for help to investigate stories of farmers' suicides in the area. A simple enquiry at a local paan shop on the road side got us the address and directions to the most famous journalist in town.
In a town this small, journalists have to wear many hats. Ashish Jain also runs a grocery shop, apart from being a correspondent for a daily from the capital Raipur. A big picture of him with a state Congress leader in his drawing room tells us that he is also active in local politics, apart from journalism and his shop. While waiting to be served tea, I asked him if there have been many incidents of farmers committing suicide in the region lately?
"No, we have never heard of any farmer's suicide here," Ashish said very confidently. Indeed he was quite surprised to hear my question. His brother, who is a correspondent for another daily from Raipur and was in the shop next door while we chatted in the drawing room, overheard our conversation and made a quick call to the police Town Inspector and confirmed that no farmers had committed suicide in the area.
I took out a list provided by the police headquarters in Raipur, and started reading and counting. It had names and addresses of 23 farmers who had committed suicide in the last year and a half within the jurisdiction limits of Nawagarh police station. How far are the villages listed here, I wanted to know.
Ashish took a close look at the list, and said that all the villages in it were within 4-5 kilometers from Nawagarh. But he would still not believe us. He was shocked to hear that according to data provided by National Crime Records Bureau, Chhatisgarh has the highest per-capita rate of farmers' suicides in the country. "I have never read about it anywhere in the newspapers," he said.
"The figure is not only for this year, but Chhatisgarh has remained at the top of the list every year since its inception. 1593 farmers committed suicide in the state last year, according to the data provided by state police to the National Crime Records Bureau," I said. It means 4 farmers die every day by committing suicide. Moreover, Durg is just behind Raipur, which tops the list amongst the districts of Chhatisgarh in this infamous list. Last year alone, 206 farmers committed suicide in Durg.
Ashish was bewildered.
After taking directions from him, we set off to meet the families of some of the farmers from the police list who have committed suicide last year. There was one farmer from Mohtara village, who as per the list had decided to put an end to his life because of a heavy loan. We thought of going to his family first.
"Pardesi, who died"? Yes. "Go along the pond and knock at the last house to your left that was Pardesi Sahu's house", people told us at the village square in Mohtara.
Raju Sahu looks younger than the twenty years he claims his age to be. But he is the eldest in the house now. He needs to take care of sister Rajmati and younger brother Rajesh after father Pardesi's demise. His mother died a natural death 6-7 years ago and his two elder sisters were married before that.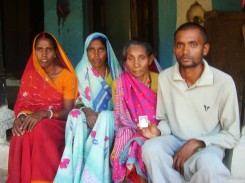 "My father had no loans. He wasted all the money in farming which we had sent home from our labor outside. He died of that guilt."

He has no answer to why his father may have consumed poison and ended his life. "May be he was unhappy with my mother's death" he said. But that was 6-7 years ago. "Then may be he was drinking too much," he answered reluctantly. Sawat Sahu, an old friend of Pardesi, had joined us by this time; he objected to this remark from Raju. "Yes, Pardesi used to drink when he met his friends of that type, but he was definitely not a drunkard".
"How much loan did he have?" I asked
"It was around one lakh" Raju replied.
Who was the loan from?
"We have a Rs.10,000 loan from the bank and the rest was from relatives and friends".
"Did they come to your house to ask for the money?
"Yes, they used to come to our house asking for the return of the loan. But I have now returned most of the loans", Raju said
"You have returned the loans, how?" I asked.
"I sold 55 decimals of land after my father's death to repay the loans to relatives. I have repaid Rs.60,000. But there is another Rs.30,000 still to be paid to Padum Guruji in Jhal and one more relative in Semarsal. I have not paid the bank yet".
"But I would have thought that being your relatives, you can return the money to them later, they would wait, and you would return the money to the bank first," I said.
"No. I did not want the relationships to go sour. My father died in shame that he could not return their loan, so that is the first thing I did after my father's death" Raju said
The story was becoming clearer now. Sawat Sahu, sitting nearby, pitched in, "Though Pardesi had 2 acres of land but he used to take another 4-5 acres on lease every year. He thought he would repay the loans with income from the extra land but the crop failed".
Pardesi's elder sister also had joined in by now. "Many years ago we used to go out to work to other states and had bought this land with the help of that earning. It would have been better had my brother continued to go out to do labour work and not insisted on doing farming. This farming has killed him. Pardesi had sold some land earlier as well, to repay loans in the past. But this time he had only 2 acres left and could not bear the thought of having to sell them too"she said.
It was quite obvious that suicide is such a negative thing socially that people do not want to think about the reason why a family member may have committed suicide. Or even if they think about it, they try to avoid discussing it with outsiders, and it is difficult to get the story out as a journalist, unless one is prepared to be very persistent.
We moved to nearby Ranbod village, where Beturam Sahu committed suicide. He also had 2 acres of land. His wife is sick and weak, and it is obvious that she has not been able to manage to put together enough money even for food. She lives with a small baby in their mud hut next to the village pond. Though the crop is yet to be harvested, this year the elder son Lakhnu has already left for Agra to earn some money by labour work. They have a loan of Rs.30,000 on them.
"The crop is so bad this year, that we will not even be able to save any seeds. There were no rains at all," Santosh, Lakhnu's friend says. "That's why Lakhnu left even before harvesting the crop. There is nothing left to harvest in his land this time. It is all gone. He is worried how will he repay these loans".
Jeevan, a friend of Beturam, says "Beturam died due to loans. He had no fight with anyone. He was also not keeping well lately and burnt himself one day. Here every farmer is in debt. I have 15 acres of land but I too have around Rs.27,000 in loans from the bank".
Santosh, sitting next to him, said "There is a case pending on my land so I can't get a loan from the bank. I have taken a loan of Rs.13,000 from the moneylender. Lakhnu also borrowed from the moneylender because the land is still in his father Beturam's name.So the bank did not give any loan to him this time".
How is it that these obvious suicide stories are not visible to journalists like Ashish Jain, who live so close? Even the state Chief Minister Raman Singh, says, "Not a single farmer has committed suicide due to loans in the state ever". This, despite police records for last few years in Durg district that has 13 farmers listed as committing suicide due to debt. Not only that, 31 farmers are listed as having committed suicide due to 'economic distress'.
To go to the third village Nandal, we needed to come back to Nawagarh, as Nandal is on the other side of Nawagarh. Shatrughan Sahu of nearby Dharampura village was on his motorbike. We flagged him down to ask for directions to Nandal. I also asked him, "Have you heard of farmer suicides in the area?" Shatrughan was the first person we met to accept it. "Yes, farmers are committing suicide here, but [only] all the idiot ones are committing suicide" he said.
Shatrughan has two shops in Nawagarh town. On further enquiry he says "The water level has gone down below 250 feet here. It used to be at 40 feet a few years ago. Most of the farmers here are indebted, and only God can save the ones who do not have a bore well".
We move on to Nandal with directions from Shatrughan.
Teerathram Sahu in Nandal used to work alone on his farm. Both his sons went to work as masons in Pune. He sold half an acre of land to repay a loan few years ago but since his sons started sending money from Pune he did not have to borrow any money. After the father's death the elder son Arjun has stayed back and does the farming. His younger brother has gone to Pune this year too.
"My father had no loan but he wasted all the money we sent from Pune in the farming. He used to take 8-9 acres on lease and thought he would earn handsome amounts from that, but the crop failed. He was sick as well. This year I have taken only three and half acre on lease. There is no profit in farming. All our income from Pune has gone waste in the farming. We have a very small unpaid loan of Rs.2500. But my father died of the guilt of wasting all our earning in farming. We tried for a bore well few years ago but that failed".
It was getting dark now. But on the way back we decided to stop by at Netram Yadav's house in village Bhainsa. Netram (30) attended school up to class 4. He had 3 acres of land and used to take more land for farming on lease every year. His wife can't think of any other reason why he committed suicide. "He was worried about the loan of Rs.15,000 he had taken from the moneylender. There is an interest of Rs.5 per month on every Rs.100 and he was worried how he would repay it. He was a good farmer. He had no fight in the family".
His wife is left with 3 children to bring up. Two of them go to school and the youngest one is too small to go to school yet. Netram had some problem in his eyes, and that was giving him trouble. His brother Santram now goes to work as a labourer in the farms of those from Haryana who have bought huge amounts of land and grow sugarcane. Their land is not irrigated and they can grow only 10-12 bags (of 75 kg) of paddy per acre.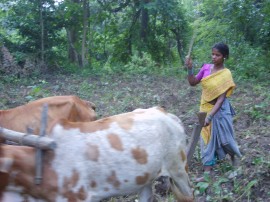 Picture: A tribal woman ploughing the land. The farmer suicide rate in tribal areas of Chhattisgarh is less than half in comparison to non-tribal areas.
Suicides are complicated, and need deeper investigation. A journalistic enquiry can only provide pointers to this problem - to draw the attention of the people who are in a position to study these matters in detail and take appropriate action.
But will anyone heed the pointers that are everywhere? Not only the Chief Minister Raman Singh but the opposition Congress also does not see any farmers' suicide in the state. Some members of the farmer wing of the Congress party tried unsuccessfully to include the subject in the Congress manifesto for the last assembly election. A high profile Congress leader told me righteously, "We also visit the villages. We do not see any farmer committing suicide. So how can we include the issue in the manifesto?"
Maybe the reason no one can see it is because no rich farmer is committing suicide. Who cares for the poor and idiots anyway!