India does not have the best medical research facilities in the world. The medical fraternity in fact, struggle with the basics in numerous government hospitals that await finance for expansion plans. In 2004-05, public spending on health was just 0.94 per cent of India's gross domestic product. Reflecting this, the leading medical journal Lancet recently said that India's health services in the public sector was grossly inadequate. With exploding populations, hospitals in small towns, cities and metros are not able to cope with the pressure of increasing patients and modern complicated illnesses.
And drug companies aren't particularly helping, either. They are raking in the moolah but are not investing very much in research. In fact, they spend more on marketing than on drug development, keeping their short term gains in focus.
Despite all this, Indian doctors are quite respected around the world. They have down the years brought quality healthcare to India with their innovations, some of which are seen as modern medical miracles. Now, with the Central government promising to increase its allocation for health care to two to three per cent of its GDP in the next five years, maybe even more can be accomplished.
Here are some recent developments in Indian surgery, showing that there is no dearth of innovative and powerfully effective practices in the industry.
Robotic surgeries
Doctors at the Medanta Medicity Hospital in Gurgaon on the outskirts of India's capital, for the first time in October 2011, performed a robotic liver transplant surgery. It saved the life of Ziad, a four-year-old. He was suffering from a rare genetic disorder that resulted in liver cancer. Ziad suffered from Tyrosinemia, a disease where the liver is unable to digest proteins. Doctors used the Da-Vinci robot on his 36-year-old uncle Rahmatullah, who donated 20 per cent of his liver to his nephew.
A S Soin, Chairman of the Medanta Liver Institute, who led the team of surgeons, said that robotic surgery was normally performed for operations related to the kidney, heart and other gynaecological operations. He said that by the liver transplant, hopes had increased about its precision and at the same time, also encouraged donors as it cut down on surgery related troubles.
It was veritably a second life for Ziad. His father, Mohd. Zakir Hussain and mother, Mehe Zabinthen, were living in Muscat, Oman, when Ziad was found to have developed rickets. When his liver condition deteriorated, his parents brought him to India. Doctors decided to go in for the robotic surgery and triumphantly performed the first such robotic liver transplant in the country.
Technology is the mantra for these surgeons. They have used machines similar to the ones we often used to see in sci-fi films and dismissed as fiction. Using robots, doctors reached into the intricate parts of a human body and forever changed the way precision surgery is done. Robotic surgeries have transformed healing, and in the years to come, it will revolutionise specialised healthcare in India.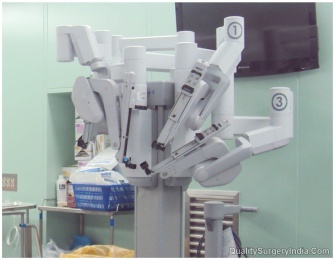 The Central government is promising to increase its allocation for health care to two to three per cent of its GDP in the next five years, a big jump over the past. (Pic: the DaVinci medical robot).


• Healthcare: A policy of neglect

Dr. Naresh Trehan pioneered robotic surgery of the heart in India way back in 2002. He did it at the Fortis Escorts Heart Institute in Delhi. It did not come as a surprise, as he had performed thousands of complicated surgeries including coronary artery bypass grafting, heart valve repair and repairing of holes in the heart.
While robotic technology in India will make waves, it requires doctors to be properly trained. Many Indian urologists have winged to the United States to train in robotic surgery, but many remain abroad as the demand for them there is great. The US has over 400 robots operating today. This kind of surgery is also expensive, and can be supported only at highly specialised hospitals that charge a hefty bill to the patient. But India can hardly afford to ignore the robotic revolution that has punctuated the United States, Europe, Asia and Latin America.
Cuts where needed
Another area of growing surgical capability is in cyberknife surgery. Nearly 75,000 die every year due to cervical cancer, caused by the common HPV virus in sexually active women. Cyberknife surgery makes it possible to precisely target radiation to cancer cells so that healthy tissue would not be affected. The technique uses continual image guidance technology and computer controlled robotic mobility to automatically track, detect and correct the tumour in real time as the treatment goes on. The high dose radiation with pinpoint precision minimises damage to the surrounding healthy tissue. Just as importantly, it cuts out many after-effects that used to be the bane of radiation for a lot of cancer patients.
The Apollo Speciality Cancer Hospital in Chennai was among the first to launch cyberknife technology in India. Pratap C Reddy, who heads the hospital chain says the hospital's doctors will now use cyberknife surgery for lung, liver and prostate treatment as well as head, neck and spine treatments. In the years to come, the technique will surely be widely used - as lung cancer incidence is increasing every year.
Wide awake, and being operated
A team of surgeons at the Wockhardt Hospital and Heart Institute, Bangalore, led by Dr. Vivek Jawali, performed the first minimal invasive coronary bypass surgery without putting the patient under general anaesthesia or ventilator support. Mohan Patel, the 78-year-old patient, a smoker, had multiple complications including diabetes, renal problems and blockages in the carotid arteries supplying blood to the brain. His lungs were unable to tolerate general anaesthesia and the multiorgan dysfunction made him unfit for the heart-lung machine. Therefore, a stay awake surgery was performed. Patel knew that without a bypass surgery he would die. He was awake during the surgery and even spoke while the procedure was on.
A Chinese doctor watched the operation live so that he could get familiarised to do similar surgeries abroad. He spent over three months in Bangalore studying modalities. Dr. Jawali says that the challenge is to operate the patient in the morning and discharge him in the evening using modern techniques of surgery like robots.
Bringing the skills home, and to the masses
Clearly, there is no dearth of innovation, and powerfully effective techniques and methods for saving lives are emerging in the country's leading hospitals. One evident result of such growing competence in the country is medical tourism, the strange name given to the practice of overseas patients coming to India for quality healthcare at much lower prices than in the West. Also, many Indians who would have in the past travelled abroad for treatment now recognise that quality care is available in India itself.
The question before us is: how do we make these capabilities widely available to more Indians, and not just those who can afford them? One part of the answer is to be able to keep more Indian doctors in the country. At the moment, there are over 59,000 Indian-educated physicians working in the United States, United Kingdom, Canada and Australia, and many of them will never return. It almost seems that India is providing doctors to the developed world, while a monumental medical need remains unmet within the country.
Indian policy makers need to imaginatively think of how to create attractive clinical opportunities in India to correct the situation. The faster we realise this, the better it will be for Indian healthcare.