The Bauls of Bengal are a famed ethnic sect of wandering minstrels. who spread their progressive and secular faith through their songs and music. Now, an intriguing documentary titled Khepar Mon Brindabon, produced and directed by Ladly Mukhopadhyay traces the anthropological and cultural history of this mystic cult through the life of one of its original maestros, Gour Khepa.
Gour Khepa who passed away tragically in a car crash in January last year, was perhaps the last of the genuine Bauls who lived, thought and ideologised the principles of Baul philosophy and was proud of being a Baul.
Many documentary films have been made on Bauls and the Baul community. In 1979, George Luneau made a documentary on the wandering performers when they were already established in the European cultural landscape as accomplished performing artists. Mukhopadhyay had helped Luneau when he made this film. More recently, Gautam Ghosh made a fictionalised feature film Moner Manush on Lalon, perhaps one of the earliest Bauls in history.
But Khepar Mon Brindabon makes a distinct, individual and subjective statement from Gour Khepa's viewpoint, as seen and projected by a filmmaker who journeyed with him for 35 long years. It is a film that condenses the director's decades-long journey with his subject, a journey that resulted in 300 feet of film, shot over 12 years, slashed to 90 minutes of screening time. It is a biographical film on a performer who has left his footprints on the sand of time with his courage, his forthrightness, his philosophy and his often-caustic stance on the modern and the postmodern.
The documentary is also informative and educational because it sheds light on a talented artist who died unsung and unwept. Every frame of this ninety-minute narrative is filled with Gour Khepa in his varied moods, talking to the director and to others present.
The aura of an artist
The film opens with Gour belting out Baul Howa Sohoj Katha Noy. Translated, it reads "it is not easy to become a Baul'. Some time later, as the film travels with him and the audience learns to look at his philosophy through his eyes, he says, "'Dive deep. Go to the deep, and then you can become history!'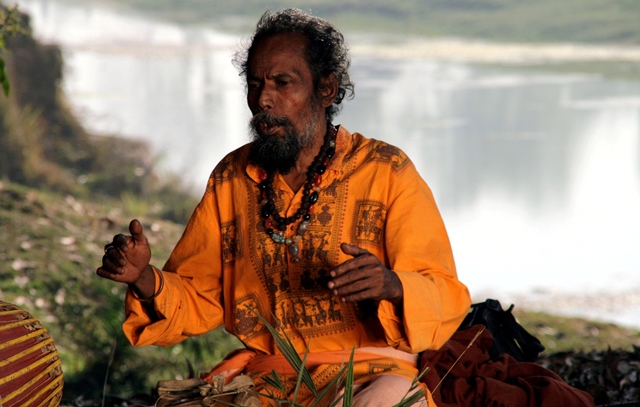 As the film unfolds, Gour Khepa amazes us with his awareness about the changes happening around him, though he is not a part of those changes. He talks about the environment, he pokes fun at the Internet and social networking sites, talks about how the philosophy of the body is important to transcend into the philosophy of the mind and the spirit. His companion sits beside him echoing his comments. His listeners echo everything he says. He ends his one-liners with a question-tag and when this tag is repeated by the audience, it is as if he needs affirmation of what he has just said or asked.
The suffix khepa attached to Gour (and other leading Bauls) suggests that the Baul is wild (khepa); he lives life on his own terms, lives together with his partner sans wedding rituals, never believes in being rooted to a single place and funds his life through alms he collects during his performances. But "the word Khepa also means wise," points out the 69-year-old Gour Khepa in the beginning of this film, smiling widely.
In fact, he is ever-smiling, even when he is making oral mincemeat of what is now known as the Bangla Band – a new class of fusion music created in the late 1990s by young and trained singers who perform in groups (bands), write lyrics themselves, compose the music and also sing these songs. Gour does not like their music at all because he feels the bands are not dedicated to music. Even at 69, he himself sang beautifully, without a single note out-of-tune or a pitch missing despite being addicted to hemp and the bidis he is shown smoking right through the film.
Gour Khepa is revealed to have been worldly wise and widely travelled but this experience did not leave an altering impact on his original music or on his lifestyle. He worked with Jerzy Grotowski, performed with Bob Dylan and was invited by Peter Brooke to perform in his Mahabharat. He declined the offer when told in no uncertain terms that he would not be legally permitted to carry hemp with him into the US!
Candid and caustic, he points out that he liked some of Bob Dylan's music but not all. He had a clear-cut take on traditional folk versus westernised urban music. He also had close links with the urban elite, litterateurs, singers and men of culture.
In the film, Gour Khepa points out the difference between a genuine Baul and a fake one. He emphasises again and again that Baul is not just a folk performance but an entire philosophy, a way of life, an ideology all Bauls live up to and music is just a part of that.
Mukhopadhyay adds, "Gour was a Baul maestro who defined the word 'khepa' in its truest sense, an advocate for 'natural' against 'artificial' and pretentious ways. Bubbling with electric energy and ready wit, he was a person who loved to attract and surprise people with his performance. He enjoyed baffling people with his comments on social situations and life in general, speaking about true and false, natural and artificial, good and bad, purity and pollution."
Indeed, the film belongs entirely to Gour Khepa and is an encapsulation of his perspective on life, on sex, on addiction, on God and one's attachment to God, on music, on musicians and performers and on his experience of interacting with noted music personalities abroad.
At the same time, it is also a journey film because the director and his crew travels the landscape of Baul territory across West Bengal, covering every single Baul fair where Bauls from all corners travel to perform and to watch others perform.Thus, the film travels to Pathorchakuri in Birbhum, Tonkaitola Mela in Birbhum, the Poush Mela in Santiniketan to Nadia district, which is in fact the central hub of Baul culture and practice.
Many of these melas are found to have been commercialised while the Jaydev Kenduli Mela in Birbhum is now dominated by Keertaniyas, a different group of folk performers renowned for their keertans – spiritual songs dedicated to different Gods from the Hindu pantheon.
The inspiration for the film
Ladly Mukhopadhyay honed his skills with documentary films on the Nandigram and Singur upheavals followed by bio-documentaries on Sambhu Mitra and Subal Gosain, who was Gour Khepa's mentor and guru.
When asked what drew him to the Baul culture though he has been brought up in mainstream Kolkata, Mukhopadhyay says that he was interested in folk culture from a very young age. He won a senior fellowship from the Indian Council of Cultural Research, which resulted in two books. One was titled Kholamelar Mela Khela and the other was Udashi Babar Akhda, both on Bauls. During his field research, he happened to meet Gour Khepa and he says, "It is as if my life, touched by a magic wand, changed forever. This was my dream project. The only regret I have is that I could not show it to Gour Khepa."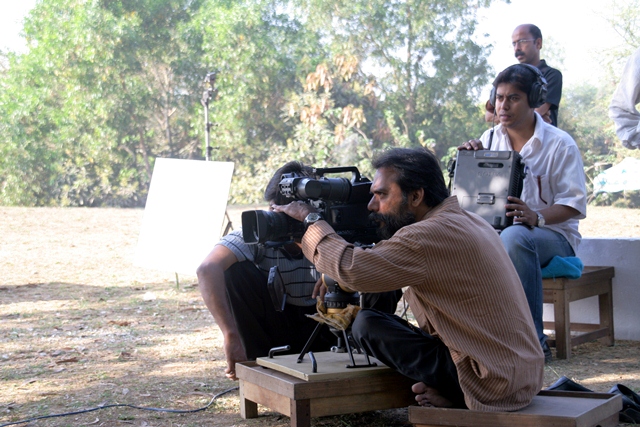 Khepar Mon Brindabon is almost like a musical because it is dotted with songs rendered by Gour Khepa and his chorus group who often stand and dance to their own songs, ektara in one hand, perhaps a dugdugi on the other and dancing bells tied to their ankles. It is a complete performance and not just music.
The lyrics spill over with their philosophy and with comments on life – funny, sarcastic, caustic and critical and Gour Khepa spins them out so beautifully that seeing the same person in every frame for 90 long minutes does not bore the viewer for a single minute.
In spite of his unkempt hair, his dirty robes that need a wash, his constant use of cannabis, his speech filled with four-letter words and other vocabulary that decent civilians scoff at, as the film goes along, you not only begin to look at Gour Khepa with reverence and respect, but you also look at life differently – for as long as the film continues to haunt you. Sadly, since documentaries do not have the space for public viewing in our country, few film buffs are likely to have the opportunity of watching Khepar Mon Brindabon.