Manipal, a small hilltop town in Karnataka, has earned a big name in the country, thanks to its educational institutions. Since 2009, a retired doctor of this town has been silently spreading education in vegetable security. This medical doctor is involved in a different kind of practice now. He grows vegetables and fruits in his kitchen garden. On an average, he spends six hours a day in 'treating the plants.' Result: His family is 'vegetable secure'. Perhaps no other Manipal family is fortunate to have such farm-fresh and pesticide free vegetables and fruits as Dr K N Pai's does.
Kochikar Narendranath Pai, 77, is deeply influenced by this philosophy of Mahatma Gandhi: "I cannot imagine anything nobler or more national than that for, say, one hour in the day, we should all do the labour that the poor must do, and thus identify ourselves with them and through them with all mankind."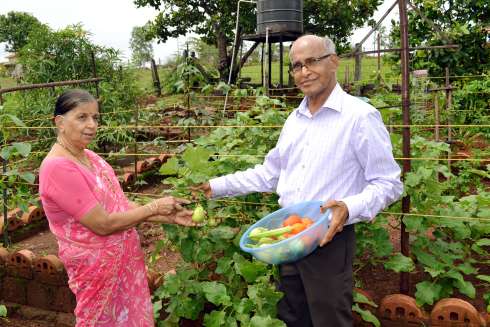 Narendranath & Manorama with a happy harvest of vegetables. (Pic: Shree Padre)
From rose to vegetables
Though he had no farming experience earlier, Pai's heart was green. In the last decade, he was so obsessed with rose cultivation that he had even written a book on the subject. Slowly he realized that raising vegetables and fruits for self- consumption is a noble pastime, especially for senior citizens.
In his triangular land, there is no open space that has not been cultivated. His one-storey house is sandwiched between two green belts, one of vegetables, the other of fruit trees. The garden is not crowded or haphazard. Pai has put a board in front of each plant. Neat layout in the sloping land facilitates visitors to take a round easily.
The vegetable patch has almost all those veggies that are grown in this Malnad belt - amaranthus, brinjal, yam. ladies finger, bitter-gourd, cucumber, chilly, colocassia, drum-stick, cow pea, little gourd, ridge gourd ... the list goes on. The garden also includes most of the local fruits like banana, papaya, mango, cashew, sapota, pine apple, wax apple, guava, cherry, bilimbi, lime, and pomegranate.
"I don't know much about vegetable and fruit growing", Pai keeps saying, though his plants really don't seem to mind the fact. Years ago, to equip himself with farming knowledge, he applied for a postal education course on organic farming by University of Agricultural Sciences, Bangalore. The University had an age limit to admit students for this course. However, sensing the doctor's zeal, they waived this for him.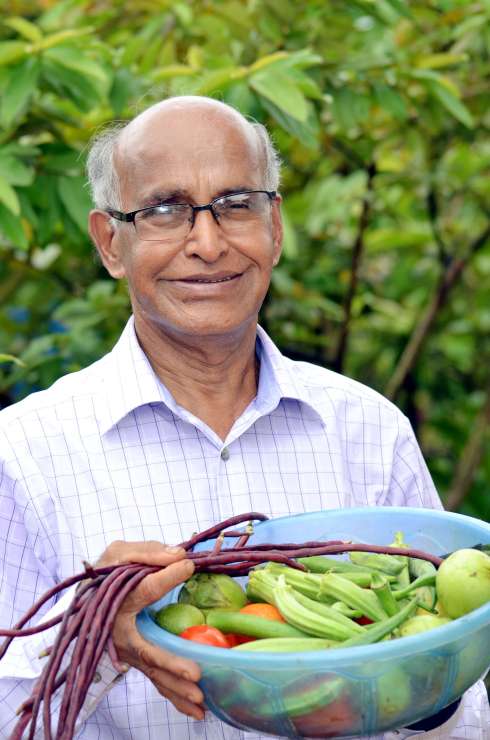 Pai has a seed bank storing all the vegetable seeds he grows. He happily shares a few sample seeds with interested visitors. In a small shed, he keeps seedlings of fruit and vegetable plants ready for distribution. "Pick your own seedlings, it's free", a nearby board assures visitors. (Pic: Shree Padre)

Fully Organic
Common sense and reading habit has enriched his basic knowledge further. Whenever he finds anything of educational interest, he cuts the newspapers and makes a file. He has a big heap of clips on water, manure management, fruit cultivation, soil etc.
Pai has a helping hand, Puttu Naik, who works part-time with him. He collects dry leaves and cow-dung from the nearby areas where a herd of cattle visit at night for resting. All the biomass available in the compound like old banana leaves and inputs from the neighborhood are stored in a biomass chamber. This is added to kitchen waste and composted in another smaller bed. Once a while Puttu Naik brings some wood ash from his home. "Except this, we don't buy any chemicals, either fertilizers or pesticides," Pai points out.
Aren't pests and diseases a headache? "No. In fact good sunlight, air and soil and nutrients ensure healthy plants. Not that we don't get pests or diseases at all. But it is negligible. Neem-based readymade spray Nimbicidin and the age-old fungicide bordo mixture are two plant protection solutions we use very rarely."
Pai's wife Manorama is a good cook. Every day she uses ample quantities of vegetables. "But how much can two people finish? We never sell the excess. We select one neighbour or the other to present our excess vegetables. Sometimes we give it to our old neighbours in the nearby apartment, where we lived for five years before coming here," says Manorama.
Pai has a hobby of reading and writing. He has written many educational articles on health and gardening. He had been practicing medicine at Sagar, a taluka town in Shimoga district for 37 years. Prior to retirement, he had developed a back-ache that bothered him very often. "After I started this kitchen-garden and manual work for that, the ache vanished slowly," he recalls "because my life earlier was sedentary. Now I had to bend my body, sweat and exert myself physically." He is of the opinion that gardening is a better physical exercise than walking. One of his pet quotations is this: "Gardening requires lots of water and most of it in the form of perspiration."
This green doctor has displayed small boards in his garden carrying a few golden edicts that he believes in. Some of the picks:
"Don't throw out any bio-mass. Rather, convert it into rich organic manure by composting."
"Grow food only organically. No to fertilizers and pesticides." "Utilise every inch of land at your disposal."
"Man is a born Gardener."
"Rainwater harvesting is the need of the hour. Try to do this to your best."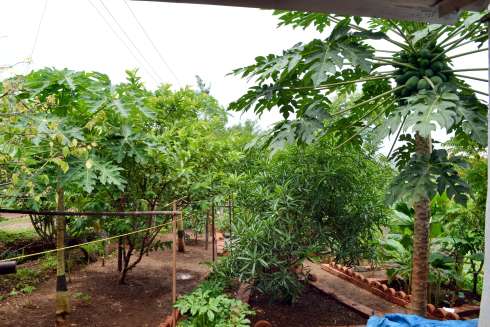 A nose-like, narrow area fully utilized by growing fruit plants. (Pic: Shree Padre)
Rainwater Harvesting
Ten years ago, after buying this land, the first thing Pai did was to dig an open well. People in the neighbourhood discouraged him saying that only a borewell would give him water. But Dr Pai knew what he was doing; he took the open well to a depth of 75 feet, where he finally got water.
But it would go down during the end of summer though there was hardly any water usage. After the house was constructed, this proved to be a source of anxiety. Without delay, he resorted to rainwater harvesting, about which he had acquired good knowledge by reading. The roof water was diverted to a 10,000-liter cement tank. Two holes in the bottom ensured that the water percolates down. In addition, he dug two rain-pits nearby.
"The soil here, laterite, is very porous. So, what you are doing, unfortunately, is a futile exercise," a good number of visitors warned him, hinting that the water stored would simply go off elsewhere. However, the doctor has statistics to show that whatever others may have said, he benefitted well from the measures. Now, every day, they pump a thousand litres for the kitchen garden use only. Despite this, the late summer levels remain six to seven feet. "If I get success, others too should," he quips smilingly. A board near his rain-pit, says: "Both thief and rainwater have to be arrested."
One magnanimous gesture of this elderly couple is that they welcome visitors to see their kitchen garden. Pai knows grafting. In fact, on a few occasions, he has visited nearby schools and taken sessions to teach young students grafting and encouraged them to do kitchen gardening. Now, on weekend evenings, a good number of students come here as do citizens from nearby areas, who are attracted by his magazine articles on gardening.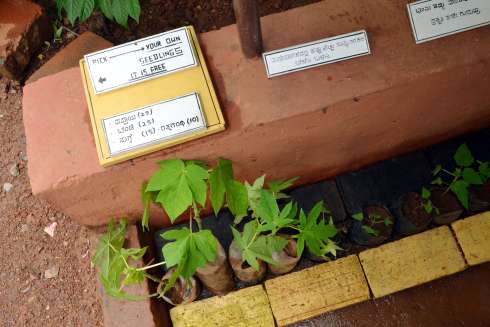 Seedlings for gifting to students and visitors. Pic: Shree Padre
Spreading the message
Pai has a seed bank storing all the vegetable seeds he grows. He happily shares a few sample seeds with interested visitors. In a small shed, he keeps seedlings of fruit and vegetable plants ready for distribution. "Pick your own seedlings, it's free", a nearby board assures visitors.
A good number of people now come asking for seeds or plants. "Since they come on their own," hopes this master gardener, "they must be giving good attention and raising a few plants. He also gives a print-out to those who show a keen interest in kitchen gardening. Apart from the principles he follows, he hands out valuable advice: "Retired persons should develop a good kitchen garden in available ground area. That brings good physical health, mental peace and spiritual progress."
Doesn't this family part with any money for vegetable shops at all? "It is not like that," Manorama explains, "Once in a while, we do buy tomato, potato or carrots. Earlier our weekly spending on vegetables and fruits were Rs.200. Now, the maximum amount we spend would be a hundred rupees a month, for the ones we aren't able to grow here."
However, it is not financial savings that is the concern of this retired couple. Says Pai, "Kitchen gardening drives away the feeling of being alone. At this age, we need a good pastime. I don't like gossiping at all. As such, we find great pleasure in farming."
"That's not entirely true," teases Manorama, "he spends good time gossiping with his plants."
All three children of the Pai couple are successful doctors. While two daughters are in Manipal, their only son practices in the US. The senior doctor's next plan is to construct a tiny poly-house to be able to cultivate all vegetables at all times and to ensure higher success with grafting. This former distant education farming student of UAS Bangalore has today achieved a lot more than many professors and even practicing farmers - through kitchen gardening.