He has had myriad associations in the minds of Calcuttans – as one bearing the legacy of what is often referred to as Bengal's first family, as an internationally recognised historian and author, and a mentor of the Presidency University – but Harvard professor Sugato Bose's plunge into mainstream politics still came as a surprise to many.
Not that it should have, for Bose is not only the great nephew of Netaji Subhas Chandra Bose but also the son of respected parliamentarian Krishna Bose. But what makes his foray into electoral politics remarkable is perhaps the fact that he is leaving behind a cushy job in Harvard to tackle the grime and dirt of the campaign trail in West Bengal.
Bose is contesting the key urban constituency of Jadavpur in Kolkata on a ticket from the ruling Trinamool Congress under Mamata Banerjee. With 42 Lok Sabha seats, West Bengal could well play a key role in the formation of a government at the Centre in the event of a fractured mandate and the Trinamool Congress is expected to garner a significant share of the seats in the state.
A historian with a PhD from the University of Cambridge, Bose taught at Tufts University from the mid-80s before he joined Harvard University in 2001. He is also the author of His Majesty's Opponent: Subhas Chandra Bose and India's Struggle against Empire (2011).
In an exclusive interview to India Together, he talks about why he decided to contest the Lok Sabha Elections as a Trinamool Congress candidate and how he plans to bring about change.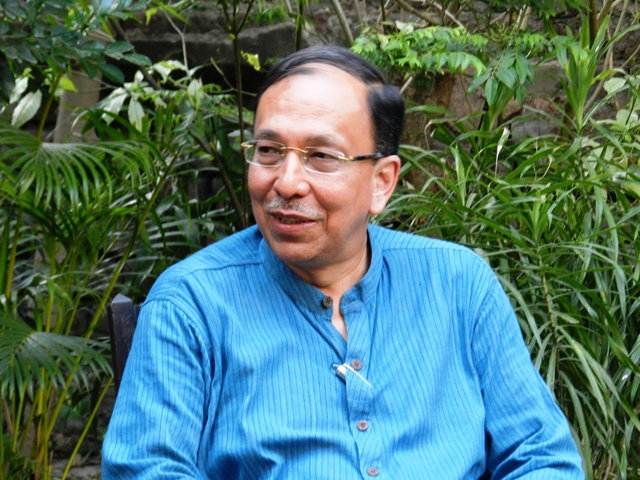 Why did you decide to take the plunge into politics?
I was invited by the Chief Minister of West Bengal Mamata Banerjee to contest the elections. I decided to take the plunge because I feel the election this year is going to be a historic one, and will decide how Indian politics shapes up in future.
The Congress is sinking and the Left is in disarray. Some of the parties in northern and western India are siding with corporate interests. It is only some of the regional parties in the East and the South who are coming up and working for federal unity. I felt if I am being given an opportunity to be a part of this historic process, I should take it up.
Being a teacher in Harvard and a Trinamool candidate at the Lok Sabha Elections in Kolkata – surely, the two worlds are poles apart?
Of course, the two worlds are totally different. Teaching my students in Harvard and interacting with party workers or the people in my constituency are two different things altogether. In the current pre-polls phase, my days start really early as I spend long hours campaigning in different parts of my constituency and listening to the issues faced by the poor. Thanks to my research on agrarian problems, I think I understand their issues better.
Also, my mother Krishna Bose was a parliamentarian from the same constituency and I have been around with her many times. So this world and this work is nothing new to me.
When my mother contested the elections for the 12th Lok Sabha in 1998 as a Trinamool Congress candidate, I managed the entire election. She has done immense work for development of this constituency by ensuring drinking water facilities, providing electricity and setting up schools for the children. Wherever I go today, people talk about my mother's contribution. Some people are so specific they can even give the exact number of electricity posts my mother had arranged to be set up in one particular place during her tenure.
It is clear that your mother has influenced your political career. But what about Netaji Subhas Chandra Bose, your great uncle – how has his ideology influenced you?
There is one ideology that Netaji believed in and I think that is even more relevant today - that is the unity of all religions. In recent times there is a tendency to fragment people on the grounds of religion. But when Netaji founded Azad Hind Fauj he included people from all religions, who lived and ate together and shed their blood together for the freedom of the country.
He also believed in the capability of women and more power to them. I believe and follow both his ideologies.
Is the Bose surname a burden or an advantage?
I claim no special privilege because I belong to Netaji's family; I only follow some of his ideologies. I think voters should view the candidates as individuals and see if they are well-equipped to make any positive contribution. It is important to look at the individual and arrive at a judgment. Yes, it often happens that people shower me with affection because of my surname, and then I believe I should have the courtesy to accept that affection.
You mentioned that you believe in the empowerment of women. But women's safety is one of the key issues in your constituency. How do you plan to deal with it?
The first thing I am going to do is take this issue of women's safety out of the political quagmire. While addressing this issue, often politics is played at different levels. It is important to crack down hard on the perpetrators, deal with it as a deep-seated social problem and encourage self-defence strategies for women. It is necessary to deal with it with a multi-pronged strategy.
But your leader Mamata Banerjee does not accept that women's safety is an issue in Kolkata. In fact, the Trinamool party leadership is often viewed as dictatorial. Sometimes logical reasoning has to take a back seat in the face of the party diktat. We have seen it happening with Dinesh Trivedi during his railway budget or even with your predecessor, Kabir Suman. How will you deal with it?
Mamata Banerjee is an extremely intelligent leader who is aware of the ground realities. Coming to the first part of your question, I would say that when some of these incidents happened, she felt that there was a deliberate attempt to blame her government. I am sure she is aware of the real situation and her priority is to make West Bengal safe and secure.
Coming to your second question, I have known her for three decades and I know for a fact that if you talk to her honestly and give her unvarnished advice, she is willing to listen. She always listened to what my mother had to say. I think I will be able to persuade her or convince her of my views. I believe there is a way of doing everything. What Kabir Suman did was not right. Running to the press at the drop of a hat is not a solution.
Academics, legislation and local development – how will you balance these as an MP?
I am going to take public service leave from Harvard and discontinue taking classes. But I will continue writing and accept invitations for lectures. I am an academician and I can't cease to be one because I am contesting the elections.
As for legislation, I plan to take an active role in the parliament. We must fight for a re-negotiation of our federal equation. It is important that a stronger voice is given to the states in decision making. We need to re-envision the federal centre so that the central government becomes the head of a circle of regional governments.
When it comes to local development, sadly, drinking water, road and electricity still continue to be the key issues in my constituency. I would have to take those up. The only difference has been in education. My mother brought about substantial improvements in education, and now people are demanding education. I think that is a very positive change.
What issue would you want to take up at the national level?
Education is always my top priority and I would want to concentrate on that. It is important to focus on primary education, because it plays a major role in ensuring the progress of a country. Small schools and madrassas need our contribution and encouragement because these are doing a lot for grassroots development.
There is a common perception that if an academician belongs to a political party, then he would only include party members in his scheme of things. All his actions, even on issues such as education, would be politically hued. What happened during the CPM era is also responsible for creating this perception. But when it comes to academics, individual credential is the most important thing to me.
Having said that, I would also like to mention that I have seen when influential political figures take an interest in educational development, it does more good to an institution than harm.