A hidden secret of Jhunjhunu town in northern Rajasthan is its syncretic culture. Better known for the Rani Sati Temple, built to commemorate the death of a woman who flung herself on her husband's funeral pyre - and which became the centre of controversy when the once dead tradition of sati came alive again in 1987 - Jhunjhunu is unexpected in more ways than one.
A district headquarters town, Jhunjhunu lies in the Shekhawati region of Rajasthan, and can boast of several things. The district is home to many of the best-known business houses in India, local residents who are multi-millionaires. The big names include Birla, Piramal, Modi, Singhania, Goenka, Poddar, Kanodia etc. The original havelis of these business families - many are repositories of original Shekhawati art - are still used by the families and also open to the curious tourist.
Jhunjhunu is also known for having sent up a large number of its men into the armed forces, many of whom died in the different wars. Locals will tell you the city has more "martyrs" than any other in the country.
What comes as a surprise is the tradition of Hindu-Muslim cooperation in Jhunjhunu. This history centres round the beautiful Dargah of Kamaruddin Shah, set on a small hill from which you get the best view of the town. According to the local people, the Khadim of the Dargah and the Mahant of a temple at the other end of the town, the Nathji ka Tilla, have maintained a tradition that goes back eight generations. The two religious leaders participate in each other's ceremonies and mark each other's festivals. For instance, during Diwali, the Dargah is lit up, and during the Urs in March, qawalis and bhajans are sung in the Dargah. An estimated 30 per cent of the town's population is Muslim. There has been no trouble between the communities despite tensions in other parts of the State and elsewhere in the country.
Visitors to Jhunjhunu are also surprised to find it a place where local people are involved in civic issues. Indeed, it stands out as an example of an engaged citizenry and a responsive civic administration.
With a population of 100,485 (Census 2001), Jhunjhunu is classified as a Class I city. It has a municipal corporation, but the mayor is not directly elected by the citizens; instead he is indirectly elected by the 35 elected ward councillors. The city has benefited from the generosity of its millionaire residents who have built schools, colleges and hospitals. The city exudes an air of prosperity compared to other cities of a comparative size.
Engaged citizens
The air of well-being is also, in a large part, because of its citizens. When organisations like PRIA (Participatory Research in Asia) and other local groups began working on urban issues and set up mohalla samitis around five years ago, essentially to deal with the problem of solid waste disposal, they did not expect that this would evolve into a pattern that the municipal authorities would adopt.
The mohalla samitis took up the task of garbage collection. Residents were expected to contribute money so that there could be door-to-door collection of garbage. In the middle class colonies, in particular, there was a good response and residents were pleased at the cleaner look of their colonies. In some areas, residents raised their own funds to clean up open plots that had been turned into garbage dumps. They converted these into gardens that serve the need for open space for the locality.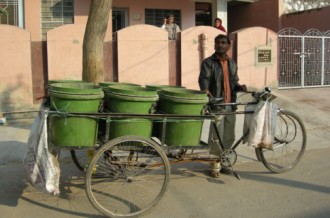 The city has benefited from the generosity of its millionaire residents who have built schools, colleges and hospitals. (
Above: Garbage collection in a middle class nieghbourhood
).


The municipality built on this initiative and today there is door-to-door collection of garbage in 12 of the 35 wards. The residents now do not have to pay anything extra for this. Some middle class residents are not entirely satisfied with the municipal system and continue to take their own initiative to keep the drains clean in their neighbourhood by hiring a sweeper for the job. In the Housing Board colony, for instance, where most of the residents are government employees, families pour buckets of water into the drain and get the sweeper that they have hired to clean them. They say that otherwise the municipal sweeper never comes often enough to ensure that these drains are kept clean.
The municipality has also responded to the initiative of residents who have created parks from garbage dumps. It now has a scheme where it contributes 70 per cent of the cost and expects the neighbourhood to raise the remaining 30 per cent to convert such empty plots into gardens. As a result, Jhunjhunu is full of gardens, many of them named after secular heroes like Bhagat Singh and Netaji Bose.
Apart from gardens, these local committees have also worked to create infrastructure that their neighbourhoods need. For instance, in one area, a marriage hall has been built as people expressed a need for one. The brain behind it is Vijay Gopal, owner of a stationery store who has lived in the town for 35 years.
"We had no place for weddings in Ward 7," he says. "In 1992, we got this land from the Rajasthan Government for a token amount of 1 rupee. We then formed the Jhunjhunu Jilla Awasi Kalyan Samiti. We went from house to house to collect a minimum of Rs.1100 and collected enough to build this place. We rent it out for Rs.2100 for the whole place, which includes 16 rooms, 10 latrines and six bathrooms, one kitchen and one hall. Electricity charges are separate." Gopal says that people of all communities use the hall and the rent pays for the permanent staff and maintenance. Emphasising that no one is given any special preference, he says, "Here the system is first-come-first-served."
Best left to the citizens
Even as these steps taken by individual residents of Jhunjhunu demonstrate what people can do, when popular initiatives of this kind are formalized, they can fall apart. Durga Dutt Dahil of the Housing Board Vikas Samiti is a retired senior accounts officer with the National Mineral Development Corporation (NDMC).
"We had a big problem with waste," he says. "We surveyed the area and asked people what should be done. They said they would pay but wanted cleanliness. We thought we would engage a rickshawalla to collect the garbage. But the Rajya Sabha member who was present at the meeting said that that we could get this done by the municipality free of cost."
He says that at first the municipality agreed "but ultimately didn't do anything. They only gave one rickshawalla when we need at least four to collect from 800 houses." As a result, people continue to throw garbage in empty plots or in places allocated for shops. "If instead we had our own plan of payment, we would have been better off. They didn't let us do it. Nor did they do it", complains Dahil.
The dargah of Kamruddin Shah.
Growing worries
Another need that residents expressed was for underground sewerage. Despite its size - and it continues to grow as it has become an important tourist centre - Jhunjhunu has no sewerage system. "There is no development plan for Jhunjhunu. I am concerned that as it grows there will be problems. There is no underground sewerage. Everyone has septic tanks", says Rajesh Babal, a first time councillor who entered politics through the local student union.
The need for a sewerage system is evident in many localities where the dirt from the drains, even where it is cleaned and flushed out, has nowhere to go. One such area is that of an elected woman representative, Sudha Panwar. She has actively worked to keep her mohalla of around 2000 houses clean and her ward also has a mohalla samiti. But a special problem she faces is that of families who keep their own cows and buffalos. They do not trust the local milk supply, she says, and prefer to have their own source. But as a result, the system of collecting garbage from each house is rendered impossible, as sweepers with wheelbarrows cannot collect animal waste. Much of this lands up in the drains that get blocked. Panwar has worked out a system of cleaning the drains and hiring tractors to remove the waste before taking it to a garbage dump. Like many others you meet in this town, she is proud of it and says, "I feel my town is even cleaner than Jaipur".
Jhunjhunu's example is one that can be emulated by other towns of this size. The work of the local groups has been institutionalised. This has inevitably led to a lowering of standards, as residents pointed out, with municipal workers not coming as regularly as required. At the same time, the process of mobilising people continues to pay dividends. Regardless of what the municipal authorities do, residents have seen the benefits of local initiatives. They continue to monitor the work of the local urban body and take the initiative to improve their own areas.