Hunger dehumanises, and so does the corrupt system. Ever since the worst floods in recent memory left them homeless, thousands of victims in Koppal and Bellary districts are battling against corruption, shoddy rehabilitation, and harassment from the officials concerned. All this after they lay marooned for over 24-30 hours without food, hung on grimly under the pounding rain, and watched helplessly their houses and crops being washed away by the floods.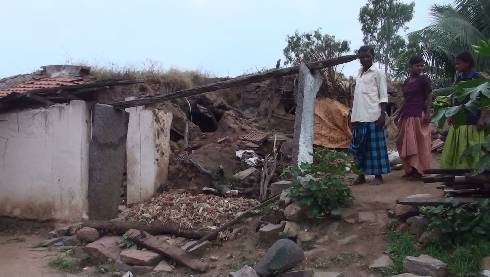 Malleshappa Hugar of Hiresindhogi, Koppal district, in front of his collapsed house. Pic: Savita Hiremath.
It all began on September 30 and went on till October 2 with torrential rains leaving North Karnataka and Andhra Pradesh devastated. In North Karnataka alone, over 229 people lost their lives and thousands are now seeking shelter in relief camps. The Karnataka government sources say that 6.55 lakh houses have collapsed; 7,882 livestock perished; 4,292 villages have been affected in 75 taluks across 14 districts, of which 346 villages need complete rehabilitation. In all, 4oo schools and 1,050 anganwadis have been washed away, and 3,000 more schools severely damaged.

According to the Karnataka Agriculture Department, it was a double whammy as some parts of the north Karnataka were reeling under drought prior to the floods and sowing could not be undertaken in 1.66 lakh hectares (only 69.68 lakh was sown as against 71.34 lakh hectares last ear). Now, the region has lost standing crops in 22 lakh hectares of land to the floods. As far sugarcane, one of the main crops of the area, the loss is estimated to be worth at least Rs.500 crores (Business Standard, Nov 03).
As an emergency relief measure soon after the floods, the state government announced 25 kgs of rice, 10 kgs of wheat, 2 kgs of pulses and 5 kgs of sugar, and five litres of kerosene and edible oil to each affected family and also promised to relocate the 346 submerged villages to safer places.
Yet, the worst is far from over.
Relief operations gone haywire
Listen to a frustrated Ubalesh, 28, Shridharagadde of Siruguppa taluk, who now lives with fellow-villagers in a shifted plot dotted with 230 sheds, his account of the tragedy tells you what a travesty of justice this entire relief operation has been turned into.
"The district commissioner had assured us enough rice. But most often, only some of us get it and the rest return empty-handed. The local officials say that they are rationing out all the rice they have in stock systematically. The government has ordered that three meals a day be given for three months. But the ganji kendra (gruel centre) was shut down right after 15-20 days. We now get one meal a day from the midday meal scheme on first-come-first-serve basis. If we lag behind, we are sure to go hungry."
Having witnessed the destruction firsthand in Bijapur district, Basavaraj Kowtal, convenor of Human Rights Front for Dalit Liberation-Karnataka (HRFDL-K), argues that the state government has completely failed to put in place effective measures to ensure proper relief operations. He blames it on its "poor commitment and ill-preparedness". "The government is saying that 11,000 gruel centres have been set up - it's all a lie. In many cases, there was only one centre for 2-3 villages. The government even announced a milk powder sachet worth 2 rupees a day for children and that has not been implemented either."
Fixing and distribution of relief funds has been so arbitrary and ham-handed that only a few have received over Rs.25,000 as compensation while the rest have to be content with Rs.5,000-7,000. Many more who are being fobbed off by the officials. People in Hachcholli of Siruguppa and Hiresindhogi of Koppal district say that although the money is supposed to be withdrawn without any hassle through a no-frill account, the officials were demanding bribe ranging from Rs.150-1,000 to process the cheques.
"There is neither a scientific approach nor social concern or justice in planning the operations. Some have got relief as low as Rs.1,500 and others Rs.37000…. Even with this amount, how are they going to build a house? They will need at least Rs.1.5 lakh to build a decent mud house," adds Kotwal.
Conflicting statements from officials
Admitting that "some level of funds mismanagement was going on", Koppal Taluk Tahsildar P N Lokesh, who is personally overseeing the relief operations in the worst-affected Hiresindhogi, rules out large-scale corruption. "I am aware of such mismanagement and just now booked a criminal case against a village accountant who had cheques drawn in his wife's and children's names."
Lokesh adds that such bungling happened in the beginning but has been under control ever since a four-member team was set up to monitor the relief efforts. However, when mentioned that people themselves were unaware of any such survey and that no such official was seen during this writer's visit to Hiresindhogi in the second week of November (almost 45 days after the floods), he sticks to his guns saying, "The survey has been going on and we are now distributing Rs.37,000 to each such house-owner."
Sirupuppa Tahsildar Geetha N R, who assumed charge only in the third week of November, too has booked a case against a village accountant on similar charges and adds that she opened a separate counter for those people who complained of improper survey and received 16,000 fresh applications in a matter of two weeks. "But we have to verify if these cases are genuine and then the DC has to approve them."
Conversely, Koppal Deputy Commissioner Sathyamurthy brushes aside any allegation of corruption. "People are misleading the media and the district administration as well", he counters. "Every time they say the survey is wrong which is incorrect. Instead of one, I have constituted a team of four senior officials…. Based on their survey, cheques worth Rs.48 crores have gone to the deserving people."
When told that his statement contradicts the Tahsildar's admission that village accountants and panchayat secretaries are indulging in blatant corruption, the DC says: "They have been threatened of severe punishment. The press, the Lokayukta, and the senior officials have pulled them up them so badly that they have had enough of it."
When reasoned that there was no question of censuring them unless they were in the wrong, Sathyamurthy reply turned evasive: "We are doing our best to ensure that compensation goes to rightful people. See, people aren't that easy. They will get all wrong things written by you."
When I visited Hiresindhogi, Kakkaragol, Halegondabalu of Koppal district and Shridharagadde, Hachcholli, and Kudadaral in Siruguppa taluk of Bellary district in the second week of November, complaints over bribing the officials for each 'favour' were common. Incidentally, not even one village accountant or panchayat secretary was available for comments.
The worst-hit got the least
Says an eloquent Shamil of SC/ST colony, Hachcholli: "Those who suffered the worst were given only 5,000 rupees. But some rich landlords whose houses are intact got 30-35 thousand rupees. Some houses have even received 4-5 cheques. It's all because of political pressure. The entire relief operation has been so disorderly. Those who could force their way in got everything and the rest have to fend for themselves."
The situation in Hiresindhogi, which Chief Minister Yeddyurappa visited, is no better. Hanumavva Shahapur in her late 70s says it's been the worst crisis of her life: "They want a cut in everything - be it kerosene, rice, relief material, or compensation amount." Her neighbour Yamunappa is still angry that they took back his cheque worth Rs.4,500 and issued a new one after deducting Rs.1000.
Crop insurance
While the hapless victims starve and tax is being laid on the urban population to shore up funds, the entire relief operation is at the mercy of these few officials and their whims.
Malleshappa Hugar, 50, says the officials walked around casually on his damaged cotton, rice, chilli, and maize fields and handed over a cheque amounting to Rs.800 for each acre. "The government order says that each farmer be given Rs 2,000-2,500 as relief per acre. When we raise our voice, these officials tell us to meet higher officials. They spend thousands on food and liquor in restaurants and dole out only 800 rupees for all the work I have done with my wife and children for months."
Tahsildar Lokesh once again admits that the officials were inexperienced to assess the crop damage and hence says, "We have requested our higher officials to delegate this work to either the agriculture or the horticulture or the watershed department".
Ration cards
That they are alive even after the evil tidings ruined their houses is no small a miracle for these people. Their first terrified impulse was to grab whatever they could and run for cover. Yet, when they knock on the fair price shop for rice and oil, they are told to show their ration cards. Manjunath, 15, studying 10th , Hiresindhogi, says: "When we tell them that the ration card was washed away in the floods, they say 'what can we do? If you want rice and kerosene, you have to show the card'."
There is not a single row of house that has not been ruined by the floods. However, none of this seems to prick the conscience of the babus. "We are aware that crores of rupees have been set aside for relief operations. But if these officials can't even understand how much we need for rebuilding our houses, it's as good as we are dead," adds Malleshappa.
A thousand little cuts
The conflicting official statistics and statements contradict the victims' versions and the first-hand accounts of the outsiders. But one thing stands irrefutable: that it's the responsibility of the system to set things right and no amount of subterfuge can ever conceal it; that such a system robs people off their finest human qualities and lets them die by a thousand little cuts.