"Devastation" and "destruction" are realms words can't enter but it is these same words thrown around effortlessly these days. To know what it really means to be destroyed; one needs to only listen to the anguished outpourings of those left homeless and famished by the October floods in North Karnataka.
Not that life has been rewarding for a majority of the population here - a region which politicians of all stripes remember only for its backwardness. But the floods have wiped out even that semblance of life established over generations. In the midst of it all lay mutilated hopes and dogged attempts to resume life.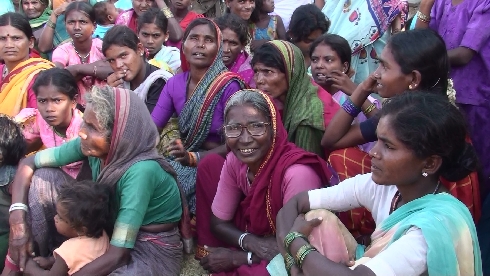 These Dalit women from Hachcholli taluk of Bellary district have an endless litany of woes, but nobody to listen. Pic: Savita Hiremath.
Yet, there's one persistent thread that somehow holds on silently no matter how many skies have fallen - woman. She is scrambling around hungry with the torment of how to feed her children wearing her skin thin. Although she is the one picking up scraps left behind by the ravages of the tragedy and putting them together to call it life, she has remained invisible to policy-makers.
When I visited flood-hit Hiresindhogi, Kakkaragol, Halegondabalu of Koppal district and Shridharagadde, Hachcholli, and Kudadaral in Siruguppa taluk of Bellary district recently, it didn't take long to realise how a single tragedy can affect different people differently and how women almost always suffer multiple blows.
Whether it is Pavithra (Hiresindhogi) who is into her last few days of pregnancy putting up with her mother who has been reduced to penury, Rangamma of Shridharagadde who is tired of chasing cattle out of her brother's fields, Gangamma (Hiresindhogi) who tries to pacify her infant clutching him to her breasts and complaining of displacement, or a homeless Sarojamma out on the streets with her two young daughters - there seemed to be a painful realisation running through their veins. That no matter how irreversibly and completely the tenor of their life has changed in so short a time, much of it remains the same.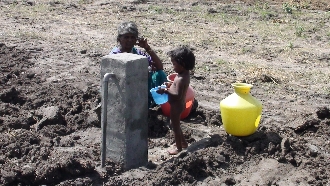 Only hard impotable water runs through this tap. Life is beyond any reasonable endurance at these sheds near Shridharagadde of Bellary district where potable drinking water, power, basic amenities like toilet and bathroom are a luxury. Pic: Savita Hiremath.
"Namma hanebaraha namge (our fate is ours). Our house collapsed and I have to cook in someone else's house. Even after all this, the men in our house want their food right on time," complains Somavva, 63, of Halegondabalu.
"The situation of women (in India) is bad as it is; it has not changed a bit even after the floods. They were the ones doing all the work - salvaging things from fallen houses, collecting bits and pieces of wood, cooking and feeding their children. Menfolk were not to be seen at all; they were out on some pretext or the other," says Prof T R Chandrashekhar of Hampi Kannada University.
He led a team of seven members to the flood-hit districts to understand the nature of floods, the consequences, how people faced it, and finally, how the government responded to the crisis and how it is formulating the relief operations. "All this from women's perspective," he adds. Sponsored by the Women's Studies Department, this extensive study spread across eight districts and carried out by intellectuals, social activists, and research assistants has been encapsulated into a comprehensive report.
No bathrooms and toilets
"They could not bathe for days, they had no privacy. This has affected them both physically and psychologically. They are being stuffed like cattle into the sheds and quite a few families are living in one shed."
"Dalit women suffered even more. They were not allowed to enter temple or school premises to take shelter during floods."

The team met Hungund (another worst-hit taluk) tahsildar Jayashree J and complained about the absence of basic amenities including bathroom and toilets. "She told us that it was not a question of funds or space but that they never felt it was necessary (to build bathrooms and toilets). This is the attitude of the bureaucracy…. Sheds have been constructed but women's interests have not been taken into account. Behind all the designging, planning of the relief programmes, women never even constituted a part."
Basavaraj Kowtal, convenor of Human Rights Front for Dalit Liberation-Karnataka (HRFDL-K), who toured the worst-hit Bijapur district, lays bare how traumatised women and children are. He feels the government should have at least released the cheques in women's names to prevent men from squandering it away.
"They could not bathe for days, they had no privacy. This has affected them both physically and psychologically. They are being stuffed like cattle into the sheds and quite a few families are living in one shed. Dalit women suffered even more. They were not allowed to enter temple or school premises to take shelter during floods."
Nine families stuffed into one shed
While half of Karnataka was witnessing this "unprecedented tragedy" (click here) as the government itself admits, the dissident faction of the Yeddyurappa government was busy with what is now being termed "resort politics". Not even a few weeks into the floods, the ministers were holed up in resorts in Goa and Hyderabad fine- tuning their political strategies.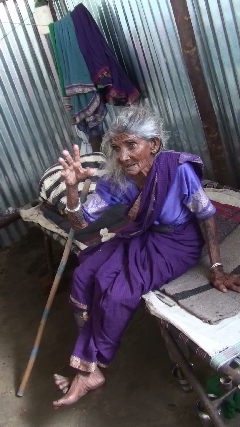 Hanumanthamma in her early 90s, who lost everything to the floods, describes what it takes to living in this shed which turns into a hellhole the moment it rains at Shridharagadde. Pic: Savita Hiremath.
For once, the government statistics do not belie the reality. Claiming "swift relief action and massive reconstruction" in its Report to People-1 - "Unprecedented Floods" - dated December 6, the Karnataka government says 34,821 sheds have been set up to shelter 3 lakh families. That means nearly nine families are living in one shed and if each family has a minimum of five members, it is roughly 45 members including elderly people, women, and children.
Describing the situation, Ramesh, member of Bijapura Shoshithara Abhivriddhi Vedike (a newly constituted forum to fight discrimination against flood-hit Dalits), regrets how 500 families are forced to live in 110 sheds near Bijapur following the demolition of a Dalit-dominated slum by the district administration. "Nearly 4-5 families are living in one shed. We are being stuffed into these sheds like cattle. We have no privacy. No life. One short circuit and we will all perish. There is no solace outside as it gets really hot here and there are no trees, no shade. No grocery shops either."
Prof. Chandrashekhar's team met with harsher reality once again when it presented its report to the government at a meet in Bangalore in November last. For what it's worth, State Nodal Officer on Flood Relief S M Jaamdar termed it 'partial' as it talks about only half the population even as he admitted that he had not read the full report.
Prof. Chandrashekhar regrets how he made "a light comment" and stormed off the meeting in a huff. "In our report, we are not asking for anything much - but only what the government is supposed to give. We have not given room for any bias; we have worked very hard to be as objective as possible."
In a world bereft of toys
Shridharagadde is no more, but only its starved people and their maimed spirit. A little away from where the village existed till recently, the recent rains had brought in dampness and even the hot sun seemed to be soothing. But once I walked up the paddy fields leading to rows of sheds - 230 in all, I was confronted by a good measure of quiet, but a sinister quiet. The entire area lay as under some dread enchantment - one that doesn't spare even the children.
A group of children in tattered clothes were huddling together and their chatter didn't betray the character of childhood. A quick glance and you know it's a world bereft of toys. Up until you visit these shacks, you would believe if someone said "children have no sense of loss". Maybe, that phrase belongs to another time, another world. But here, you'd see this hopeful observation on child psychology turned upside down. The wretched look on these children's faces speaks of the loss they have suffered at such a tender age. While they walk around the sheds starved and naked, everything stands violated - their right to home, right to safety, and right to heal.
No special programmes for children
Somshekhar of Every Child, an NGO fighting for children's rights, visited migration-prone Surupur and Shahapur taluks of Gulbarga district and also Havinahal which was completely submerged. He says the officials promptly distributed books to some kids here as the CM's visit was round the corner. No books were given to the neighbouring Haldaal kids which was also submerged. No officials were visiting it either. "We have been talking to officials including the DDPI but no one seems to have any clue about the children's schooling, their welfare in general."
Similarly, Prof. Chandrashekhar regrets lack of any special programmes like crash courses and extra hours of teaching and counselling for the traumatised children, especially those in Std X. He adds, "it's not just flood relief problem. Basically it's a developmental problem - how we conceive development and what we mean by it. The officials have to put people in the centre stage and design the programmes. They can't do it so mechanically as if they are some inanimate, taken-for-granted things."