On 28 July this year, Farrakh Bukhari, an 18-year-old student of mass communication was watching a televised cricket match in his home in Kreri, Baramulla district of North Kashmir, when his father mentioned there was some kind of protest going on in the market. Farrakh stepped out to investigate. That was the last his family saw of him.
Fourteen days later his body was found dumped outside the Chaura police station - no flesh on the face, one hand amputated. Hospital sources at the Kreri block hospital where the post-mortem was conducted told me they could not make an official statement because the report for viscera examination was awaited but the body did bear signs of torture.
Two Kashmir-based journalists and I visited Palhalan and Bukhari's house immediately after the 35-day-long curfew in the area was lifted. On a day when winter seemed to be nudging closer with pastoral scenes of avenues of willows, people gathering apples and the occasional horse-drawn carts, all of which belied the turmoil and violence the region has witnessed.
Bukhari's father, an imam, chronicled the sequence of events. "We learnt that a protest rally of boys from some 22 villages went through Kreri unhindered but at Chaura the police opened fire. Some boys were injured and we were told 40 had been arrested. Later the figure was given out as 39." When his son's name did not figure on the list of those arrested, Basheer Ahmed Bukhari, approached the DSP of Pattan who asked him to check the hospitals. Rounds of all the hospitals did not yield any information even as the police kept insisting his son was among the injured.
The family then learnt that a woman in Uri had discovered a body in the graveyard that appeared to have been hastily buried. The Bukhari family was denied permission to view it, and police claimed it was that of a foreign militant. However a boy, who saw the body, told Bukhari that the face was unrecognisable but the clothes matched those of young Farrakh. On 11 August, the same body was found dumped outside the Chaura police station, the family identified it and it was taken for post-mortem. The police have promised an inquiry, but the Bukhari family shrugs its shoulders in helplessness when asked what the next step is.
"What can we do?" asked an uncle. "He was our hope, the one we saw as the breadwinner," he added as he pulled out a recently purchased book on mass communications that the aspiring teenager had bought, and opened a cupboard to display his clothes.
One family's grief in a small village in Kashmir. One more number in the interminable list of custodial deaths, disappearances, torture. But this microcosm of tragedy exemplifies the rights abuse in a state where the Public Safety Act and the Armed Forces Special Powers Act have enabled the police and security forces to act with impunity and total lack of accountability. Their "licence" to operate extends from picking up youths to beatings to rape and killings.
The most recent turmoil in the valley has raised these transgressions of human rights to a new crescendo. At least 110 people have been killed since 11 June. There are at least 1500 cases of firearm/teargas shell and pellet injuries and at least 500 cases of assault and beatings. Pellet injuries are sustained when a gun is operated through a hydraulic mechanism and is ejected in scores. It poses a particular challenge to the medical fraternity because it affects large parts of the body necessitating the presence of several doctors in attendance for a single patient. Another difficulty is that the entry wounds are not clearly visible.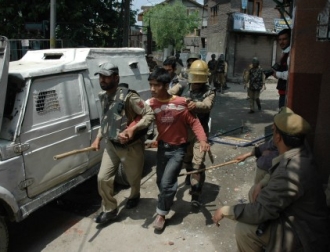 The most recent turmoil in the valley has raised these transgressions of human rights to a new crescendo. At least 110 people have been killed since 11 June.
(Above: A protestor is taken away by security forces - Picture by Dilnaz Boga)
.


• The truth about encounters
• AFSPA: Between battle lines
• Wake up, New Delhi

Significantly many of the injuries sustained by patients admitted to hospital were in the head, abdomen and chest. Another matter of serious concern was the number of injured people who suffered serious eye injuries and blindness because the CRPF reportedly used slingshots and marbles. Most victims were in their 20s and 30s. According to a hospital source there was one case of assault involving a boy who was only 12 years old. There is also the bizarre case of 10-year-old Danish Nabi, nicknamed Brett Lee for his passion for cricket, who has been listed as a most wanted stone-pelter and who, according to his parents, has been forced to go underground because he fears being arrested.
The intimidatory tactics by security forces have spared no one. Not even doctors and hospital staff who found their curfew passes being dishonoured as they tried to go to work. Ambulances were stopped and drivers beaten up by security personnel. A senior resident at the Sher-e-Kashmir Institute of Medical Sciences revealed that his curfew pass was on two occasions not honoured by CRPF personnel and that he narrowly escaped being beaten by CRPF personnel near Saura as he attempted to come to work in his own car.
He says he has heard of an incident in which a senior police officer denied doctors the right to board a special vehicle bound for the hospital with the remark, "Bas meri marzee" (Because that's how I wish it). He also corroborates the incident in which security personnel barged into the emergency room of a hospital.
Yunus (name changed), a youth from Palhalan says he was forced to hide when security personnel stormed into a North Kashmir hospital and severely beat up his other friends who had brought in two injured persons. Rameez and Fayaz (names changed) say they are routinely harassed and risk beatings whenever they venture out on the roads. "We show them our identity cards. We are forced to address them as 'Sir', but even that is not enough."
In the rural areas, there is far greater repression - the CRPF has reportedly gone on a rampage breaking and vandalising homes. A doctor from SKIMS said that two of his sisters living in different villages had experiences of CRPF personnel storming into homes using crowbars to break the doors and windows. There was no question of filing any FIR, he added. The fear of retaliation is very strong. Moreover, the AFSPA provides that the state government cannot prosecute law enforcement agencies without sanction from the federal Home Ministry.
For civil society the task of addressing human rights concerns is immensely challenging, but one young man who has begun taking steps in the direction is civil engineer Umar Qadri. He grew up in what he describes as an environment of "crackdowns, disappearances and arrests," and believes there cannot be any kind of development as long as one has not resolved concerns of the Kashmiri people and their history of suffering. Qadri has begun documenting human rights violations at the Centre for Law and Development.
One particularly brutal episode he has documented concerns three men who were picked up in Islamabad (Anantnag) district after an incident in which the army had been fired upon by militants. All three were innocent but were put through rigorous interrogation. The service personnel burned one of the men alive. A second man was then told to pick up the dead body and throw it into a raging mountain stream, but as he attempted to do so he was gunned down. The third man, who was also told to get rid of the bodies similarly, managed to escape by jumping into the stream and swimming away. He then sought refuge in a village cowshed and then went back home.
Thereafter, says Qadri, the third victim tried unsuccessfully to register an FIR against the concerned army officials. Chillingly, the man added that such incidents were not exceptional in his district, but in fact happened regularly.
Another case yielded some small recompense. A woman who was raped by a constable in Nowshera in 2008 was given Rs.1 lakh as compensation by the State Human Rights Commission. However although the National Human Rights Commission asked for dismissal of the constable, no action was taken against him.
For Qadri, perseverance in the face of such odds is necessary. He feels a huge sense of responsibility in his endeavours, and quotes what the late human rights activist Ram Narayan Kumar once said. "It is shocking that Kashmir could produce one lakh militants but could not produce 100 human rights activists to record the abuses." He hopes civil society will take the initiative to change this, and that one can be "hopeful amid a state of desperation."