When Gulabrao Gawande found a village talati who had acquired 14 plots of farmland in a single day, he knew something was wrong. The talati is one of the lowest links in the chain of the state. How a petty official like him could "buy" over 40 acres of land worth millions of rupees in 24 hours was a mystery.
"He had simply stolen it from farmers in debt," Gawande, a former Minister, told us in Akola district. "Now when you borrow money, you sign a deed saying you have 'sold' your land to your creditor. This deed is authenticated at the district deputy registrar's (DDR) office. The off-the-record deal is that when you repay your loan, your creditor tears up the document. In fact, he does not. And you find you have been robbed of your land."
New deal
Mortgaging your land to tide over the credit crunch is passé. Land grab is the new deal for farmers struggling in debt. And deeds of sale are the preferred route to land grab. This process involves a whole range of predators, not just the usual suspects. Sure, the traditional sahucars are there in strength. But so are talatis, panchayat employees, and even school teachers (including one winner of a national award). Debt-driven despair has seen many Vidharbha farmers trapped in such deals.
"Somewhere, there is this naïve belief that the creditor will tear up the sheet," says Gawande. "And people like the talati are well suited for this game as he is a fellow with access to the land records." But there's worse. "At least two murders have occurred in this Barshitakli tehsil alone when people have tried getting back their land."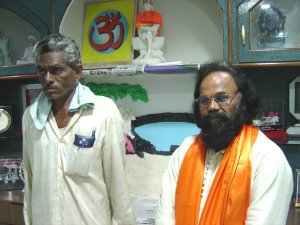 Kailash Wankhede (left) a farmer from Washin district whose land has been grabbed by a sahucar using the 'sale deed' method. With him is Gulabrao Gawande, former minister and now MLA from nieghbouring Akola district, who is trying to help Wankhede get his land back. (Photo by P Sainath)
Like Santosh Sontake who lost both his land and his father as a result of this racket. His father Gopal "mortgaged" three and a half acres in this fashion in Janunagaon village. "He borrowed Rs.20,000," says Santosh. That from a school teacher who was also a big landowner. "The land is worth about Rs. 5 lakhs. He bluffed my father into signing that deed and even into staying with him for a while. When I made my father see what was going on, the trouble began."
Gopal Sontake was murdered by hired killers. "And I was arrested," laughs Santosh. "The effort was to frame me for killing my own father." However, the case collapsed when one of the hired killers was caught. "He confessed he had taken Rs. 50,000 for the job." But the sahucar is still free. And Santosh still needs to get that deed of sale scrapped. "I was paying him two and a half times what my father borrowed. He refused it. Why would he accept Rs. 50,000 when the land he's stolen is worth Rs. 5 lakhs?"
"In just two or three tehsils, we have verified over 900 acres stolen in this fashion by some 20 sahucars," says Gawande. He insists it is only the tip of the iceberg. As the MLA from this region - from the Shiv Sena - he has been flooded with petitions from over 200 farmers who have been duped the same way. Even as he spoke to us, more farmers streamed in to complain. "I have lost three and a half acres," says Kailash Wankhede of Savargaon Jire village in Washim district. "My sahucar has done this to seven others like me."
"This kind of land loss is also a factor behind some of the farmers' suicides," says Gawande. Like Ram Krishan Tharore who took his life in Paravbhavani village. Tharore even left a note naming the sahucar who had done this to him. But the latter, a panchayat samiti member, is out on bail. The villagers believe he paid the police a Rs.2 lakh bribe to wiggle out.
Farm suicides in the troubled Vidharbha region have been mounting. In less than nine months this year, their number has crossed 200. Most of them debt-driven. Farmers have been hit by both skyrocketing input costs and the collapse of formal credit. Those who have seen successive crop failures are the worst off. In no state to repay their bank dues, they cannot get even the most modest crop loans. The Cotton Federation offers them little hope despite a promised support price. "If we go the Federation," say the farmers, "they cut our bank dues. And they pay us in instalments over a long time. How do we feed our children? In instalments?"
Caught between a rock and a hard place, the farmers turn in despair to private money lenders. This means selling their crop at way below the market rate. With hungry families they are unable to feed, their debt burden sharpens. It also makes them easy prey for a number of exploitative scams. Including this form of land grab.
"My brother was murdered," says Meera Jadhav of Janunagoan in Akola. Her father Motiram had borrowed money from the same sahucar as Gopal Sontake. "He signed away two acres, believing the sahucar was a man of his word. Then when he died, my brother took over." The farming crisis was deep and "he parted with the rest of our land the same way. There was no other means of raising money. Now all our five acres were gone." Soon after he began trying to get his land back, her brother was murdered.
Strong-arm action by Gawande and his supporters saw the return of the land to her control. Now the situation is odd. "The land is in my possession, but the deed is in the sahucar's hands," she says. "This whole game feeds off farmers' distress," says Gawande. "Their pathetic state is an invitation to such racketeering." He counts 138 acres that have been returned to their owners after his intervention.
He has also raised the issue in the Maharashtra Assembly and says the Chief Minister did respond. "Now there will be a committee in every district to whom such cases will go. This includes the Collector, the SP and the deputy registrar. If their enquiry finds there was land grab, the land transfer will be reversed." That won't be easy as those in charge of land records at the ground level are themselves into the game in a big way. But it is a start. Just one that comes too late for Gopal Sontake and Motiram Jadhav.