The votes from Manipur in distant northeastern India might not determine which party comes to power in the forthcoming Lok Sabha elections. But one thing is certain. The women of Imphal, its capital, are clear what must happen if any party wants their vote. "We have had enough. If the Armed Forces Special Powers Act (AFSPA) is not removed, we will not vote", said an impassioned 78-year-old Ima K. Taruni.
Taruni and dozens of other elderly women, the Meira Paibi or Torch Bearers, were waiting quietly and patiently outside the Jawaharlal Nehru Hospital in Imphal on March 7, expecting Irom Sharmila, the iconic human rights campaigner who has been on an indefinite hunger strike for eight years, to be released from the security ward of the hospital. Sharmila and the Meira Paibi, who were also on a relay hunger strike, have one demand - remove the AFSPA. They hold this draconian law responsible for the insecure lives they lead in their own State as over 55,000 members of the Indian armed forces are granted total immunity for any of their actions.
Still in place
Despite Sharmila's eight years of fasting - and being force-fed through a tube inserted in her nose - the AFSPA remains in place. But Sharmila will not give up. On March 7 she was released, and received by her "mothers" who tended her as they would an exceedingly brave daughter. But two days later, she was re-arrested, on charges of attempting to commit suicide, and sent again to the security ward to be force-fed.
The Meira Paibi will also not give up. Amongst those who waited for Sharmila's release was a smiling 58-year-old woman who looked older than her years. Ima L. Nganbi, a mother of four children, felt no sense of embarrassment in telling me that she was one of the 12 women who held the dramatic,naked protest in July 2004 in front of Kangla Fort, an area occupied by the security forces in the heart of Imphal. The photograph of these women holding a banner that said, "Indian Army, rape me" sent ripples around the world. It drew attention to a State that has lived under the sword of terror - from the security forces and from multiple militant groups - for decades. And a State where people, and especially the women, are not willing to take it anymore.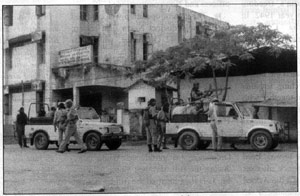 In 2004, the Manmohan Singh government in Delhi promised it would remove the AFSPA and as a first step the municipal limits of Imphal were placed outside it. Yet, it continues to prevail in the rest of the State till today.


• Special powers, mixed results
• Documenting violations
• When the media are silent

Ima Nganbi is the Vice President of Apunba Manipur Kanba Ima Lup or Mothers' Association to Save Manipur. The naked protest was sparked by the arrest and subsequent murder by security forces of Manorama, an activist. "We wanted to say this openly - come take our prestige, rape us, take our flesh", says Ima Nganbi. They could not sit back and be silent any more after the Manorama incident. They felt there was no purpose to life if they had to live "without prestige" or respect. "We can't live like this. All of us women in Manipur are mothers of women who have been raped by security forces. We want to fight to protect our prestige and the removal of black laws like the AFSPA", she says.
But Ima Nganbi and her colleagues are glad that their protest had some impact. It led to the opening up of the Kangla Fort to civilians. This vast area, surrounded by a moat, was once the palace of the Manipuri king. In 1891, after the Anglo-Manipuri war, the British Army occupied it and after Independence it was taken over by the Assam Rifles. On November 20, 2004, after 113 years, it was handed over to civilian authority and opened up to the public.
That year, the Manmohan Singh government in Delhi promised it would remove the AFSPA and as a first step the municipal limits of Imphal were placed outside it. Yet, it continues to prevail in the rest of the State till today. The central government also appointed a five-member committee headed by Supreme Court Judge B.P. Jeevan Reddy to examine whether AFSPA was required. The Committee, whose report was never made public, was unequivocal in its recommendation that AFSPA should be withdrawn and pointed out that the Act, "for whatever reason, has become a symbol of oppression, an object of hate and an instrument of discrimination and high-handedness". The government has neither accepted nor rejected the report. It has been silent.
Justified anger
For those living outside this beautiful State, one might wonder why people feel so strongly about the Act. Spend a few days there and you will realise why. In early March, Imphal was under curfew from 5 p.m. to 5 a.m. following protests over the brutal murder of a young Manipuri civil servant by a militant group. At 4.30 p.m. all the main roads in the city were jammed with buses, cars, autos, tempos, rickshaws ferrying people desperately trying to get home before the curfew hour. You could sense the fear, and the frustration and helplessness. There was nothing you could do. You could not question the logic of the imposition of curfew. Nor could you risk defying it with streets crawling with heavily armed members of the security forces. So the Meira Paibi chose the only way they knew - to protest silently, without violence, by sitting all day and night in tents in different parts of the city, fasting to show their revulsion of AFSPA and registering their demand that it be withdrawn. And reminding people that every citizen has the right to demand basic human rights.
What makes these brave protests by the women even more poignant is the fact that despite the leadership they have shown, in their homes they continue to function in a highly patriarchal structure. Meitei women, belonging to the group that occupies the valley in Manipur and is dominant in Imphal, acknowledge that although they run the main market and are visible in public spaces, they have no right to inherit property, the dowry system still operates, women's literacy levels are substantially lower than those of men and very few of them hold public office.
Denied basic rights
These are problems that they will deal with, as some of them already are doing. What is outside their control is the impact of laws like AFSPA that make a difficult existence - where even in Imphal there is electricity for only four hours a day as well as acute water shortage - virtually impossible when your rights as citizens can be denied at will because your state is deemed a "disturbed area".
In the run-up to the elections, only the dominant voices from "mainland" India will be heard. But we need to listen to what the women and men, living at the edges, the margins, of this country are saying. We should all be disturbed if Manipur is disturbed.