On November 7th 2012, Mangalore-based television reporter Naveen Soorinje was arrested by the police after a local court issued a warrant against him in the infamous 'homestay' attack case.
Soorinje has been charged with being an accomplice to the attackers, provoking them, and directing them to lift the faces of the girls who were being attacked, so as to get a clear shot of their faces on camera. The chargesheet, filed on September 20th 2012, also accuses him of broadcasting graphic visuals and sharing them with other media.
Naveen Soorinje is a journalist with Kasturi News, a Kannada TV channel. Pic source: Anisha Sheth
For this, Soorinje has been charged under several sections of the Indian Penal Code (IPC) including rioting (Section 147), criminal conspiracy (Section 120 B), and voluntarily causing hurt (Section 323) among others. He has also been charged under sections of the Prevention of Destruction and Loss of Property Act 1989, and the Indecent Representation of Women (Prohibition) Act 1986.
How did a journalist, who covered the attack for the media organisation he works for, end up in jail with serious charges leveled against him?
In an attempt to answer this question, an India Together investigation stumbled upon facts that include a significant illegality in the very basis of the police's case. In turn this potentially exposes a massive flaw in the legal system.
Police wrote their own complaint
On July 28th 2012, just hours after the attack took place at the 'Morning Mist' homestay in Padil, outside Mangalore city, Vijay Kumar, 23, and his other friends who were attacked, were asked to submit a formal complaint at the Mangalore Rural Police Station. Kumar and his friends – all youth, who included girls – were celebrating a birthday at the homestay, when a large group of men barged in and attacked them.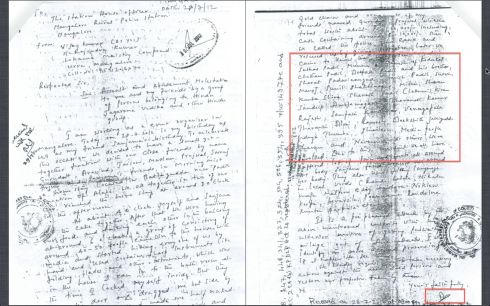 The complaint attached to the FIR lodged by the Mangalore Rural Police Station. The complainant Vijay Kumar says in his press statement that he signed on a blank paper and did not write this. His original complaint did not have the names of the attackers nor those of media personnel who where present. Click to enlarge.
Kumar wrote a complaint explaining the incident, that "…all off (sic) a sudden 50 to 60 people from Hindu Jagarana Vedike attacked all the girls and boys…". He went on to write that "…They simply involved the media and gave fake news that we were doing rave party and Muslims are involved. Where as (sic) nothing as such happened. We were all Hindus and Christians in the homestay and no Muslims were involved…".
Kumar says he did not name any individual in his complaint, a copy of which is with India Together. He only mentioned the name of Hindu Jagran Vedike. Neither did he accuse any of the media persons who videotaped the entire incident. He merely mentioned the media presence in his complaint.
A police official at the station took that complaint and reportedly told him that's not how a complaint is written. Kumar says he was then made to sign on a blank sheet of paper. Having spent several hours in the police station, he did as was told after which the police wrote their version of complaint themselves on the sheet signed by Vijay Kumar. This is the complaint that appears in the First Information Report (FIR) signed by M Neelakantan, Sub-Inspector of Police, Mangalore Rural Police. (See photo)
Kumar was not given an opportunity to verify the contents of this complaint, which was written under his name.
This 'complaint' names more than 20 people including Subhas Padil, Chethan Padil, Deepak Padil, Mitun, Sharath Padil and others. It also says "…Media people Sharan and Naveen and others were involved…"
The police version of the complaint goes on to say "…It is a pre planned attack by the above mentioned culprits with the ulterior motive of getting publicity and mileage out of such attacks. I will identify the above accused persons in future if I happen to see them…"
Kumar confirms to India Together that he did not write the police's version and that he did not know the names of any of the attackers. He also says that he and his friends never accused any media person.
In a press release issued on August 11th 2012, Kumar and his friend Gurudutt Kamath (another victim of the attack) said that they never gave any statement against the media. "When we were at the Pandeshwar Police Station, we know that the police registered the complaints against the attackers only by following the developments through the media. The police got us to sign on blank sheets of paper and included the names of mediapersons in the complaint. Therefore our appeal is that the names of the mediapersons who supported us should be removed."
Kumar also confirms that the signature towards the end of the complaint in the FIR is in fact his.
Journalist accused of dacoity, criminal conspiracy among other charges
As the Mangalore Rural Police filed the FIR with the fabricated complaint, Soorinje's name invariably wound up in it. On September 20th 2012, a chargesheet was filed against Soorinje and the 43 other accused.
The charges made against Soorinje, who was present at the scene of crime in his capacity as a television reporter, are the same ones made against the attackers from Hindu Jagran Vedike. These include dacoity, criminal trespassing, criminal intimidation, and unlawful assembly, among others.
Soorinje's Mangalore-based lawyer Satish Bantwal says he has submitted to the local court that the victims made no statement against him.
Meanwhile, a petition has also been filed by Soorinje represented by S Balakrishnan in the Karnataka High Court challenging the lower court for having taken cognizance of offence. Soorinje's lawyers say since he is the whistleblower, he should be made a star witness in the case instead of accused. The matter is currently being heard.
The 'common' practice of signing on blank paper
However, the complexity of this case lies in its roots - the complaint in the FIR.
Whether it's the motive behind the attack, the moral brigade, the arrest of a journalist, media ethics, social responsibility and even communalism, this case and its developments are likely to go down in the annals of India\'s legal and media history.

Let's assume for a moment that Vijay Kumar himself wrote that complaint. If he did, how would he know the names of all the attackers within a matter of hours of the attack taking place? How would he know the aliases of some of the attackers' names?
Bantwal asks these very questions. Legally, however, he says his focus now is on seeking bail for his client.
The fact standing out is that the police version of the complaint, based on which the FIR was registered, is invalid. Kumar was made to sign on a blank sheet of paper. On this sheet, the police wrote up a complaint as if Kumar was writing it, and included Soorinje's name.
Mangalore Police Commissioner Manish Karbikar, who took over the post on September 19th from Seemanth Kumar Singh (who was the commissioner when the attack took place), says it is difficult to discuss these issues at this stage. "It should have been brought up before the appropriate authority. For me, it's difficult to say anything. The chargesheet was ready when I joined. These issues may or may not have been addressed at that time itself. The whole case has been thoroughly scrutinised by our legal team", he says, washing his hands off.
Ask him what evidence there is against Soorinje, given that the victims have publicly acknowledged the support of the media, and he simply says, "There is evidence. Somebody would say they have not given any statement. That's for the court to decide."
Kumar's lawyer Dinesh Hegde Ulepady says signing on blank paper is quite common in India. Former Karnataka Lokayukta Justice Santosh Hegde, who is also a retired Supreme Court judge, says he has heard of such cases during his tenure as a judge. "I have come across this. I cannot generalize and say it is common. It's most often done to take advantage, to either include or exclude some information."
Dr Rajvir P Sharma, Additional Director General of Police, Bangalore Metropolitan Task Force, says it would be an exaggeration to say that this is a common practice. He says he has never come across an instance of a policeman getting a complainant to sign on blank paper. In this homestay attack case, Sharma questions why the complainant did not approach any authority regarding this matter.
Ulepady offers an explanation. He says the victims in this case were initially treated like they were the accused. "Victims and witnesses must be offered protection. There is a major lacuna in the system. The problem lies in lack of police training". This is also a reason why the victims and their families haven't been too keen on pursuing this case, he says.
While Sharma finds it hard to believe that a young and educated citizen signs on a blank sheet of paper, he does add that there is a need for improvement as far as supervision, sensitivity and transparency goes in law enforcement.
But when such a concocted complaint appears in an FIR, how do senior police officials not spot something amiss? To this, a senior police officer, on condition of anonymity, says, "Intellectual integrity of senior police officers is declining."
Soorinje accused of provoking attackers
Another criticism on Soorinje is that he did not inform the police when he received information about the possible attack. While Soorinje has said that he did try contacting a police official of the jurisdictional police station and that he did not receive his phone call, the argument also is that there is nothing legally binding on the media to inform the police in such instances. It is not clear at this stage whether Soorinje tried texting the police or calling 100, instead of a local police station landline or cell number. He is in currently in jail awaiting bail proceedings to complete.
Editor-in-Chief of Kasturi News (the Kannada news channel for which Soorinje works), Manoj Kumar says that while every reporter has a responsibility to society, there is no law that says that the media should call the police. "Our reporter did make that call. The police did not receive. Several such attacks have occurred in Mangalore. At that time the media did not inform the police. This is a deliberate fitting to our reporter because he has reported against the RSS (Rashtriya Swayamsevak Sangh)."
Manoj also asks why only Soorinje is being targeted and not reporters of other news channels who also reported on the homestay attack.
When asked about the contents of the chargesheet that says Soorinje provoked the attackers, Manoj asks what evidence there is to prove this. "The victims themselves have said that if the media were not present that day then the girls would have been raped. Soorinje is being made a scapegoat because of his secular principles".
Soorinje's lawyers are also questioning the charges against him under the Indecent Representation of Women (Prohibition) Act 1986. Their argument is that he is only a correspondent and not the final authority in the channel to decide what is to be aired.
Loose ends
In sum, there are still several open ends in this homestay attack case. The fact that the police got the victims to sign on blank sheets of paper, is one such. It is not clear how this will this stand in a court of law.
Then there is the arrest of Soorinje. What evidence is there against this 28-year-old television reporter that he has been charged with dacoity and criminal intimidation? Why have the police not yet been able to arrest the other mediaperson, Sharan, who is also accused in this case? Mangalore Police Commissioner Karbikar says he is "untraceable".
And coming to the attack itself, it was said to be an act of 'moral policing', with the Hindu Jagran Vedike admonishing the mingling of Hindus and Muslims. There is no information to suggest that there were any Muslims at the homestay. Kumar says his friends present there were Hindus and Christians.
This case has raised several questions, many of which are yet to be answered. Whether it's the motive behind the attack, the moral brigade, the arrest of a journalist, media ethics, social responsibility and even communalism, this case and its developments are likely to go down in the annals of India's legal and media history.