Pick up any book on the history of Delhi, and places like Chandni Chowk and Qutub Minar are surely scattered all over. It is hardly ever documented, however, that Pahar Ganj was one of the first few areas in present-day Delhi inhabited by isolated Muslim nomadic groups skilled in various traditional crafts. Cattle-rearing, pottery, utensil-making, basket and cot-weaving, and gardening were typically practiced by these groups. The belt from Chandni Chowk down to Lahori Gate, Ajmeri Gate and Pahar Ganj was thickly populated even about a century ago. The main reason for the area's population was of course its proximity to the Mughal seat of power. This also led to a predominantly Muslim population in the region. Today, however, the Muslims comprise less than 1% of the population of Pahar Ganj. During partition, a majority of the Muslims fled to Pakistan and many of the houses vacated by them were occupied by refugees from Pakistan.
Over time, many famous shops came up in the area, which also somehow disappeared. One of the most famous sweetmeat shops was that of Ram Prasad Halwai. Culinary skills and reputation nurtured for over a century in an area of 6 X 4 sq. m. were washed away in an instant as the shop was sold for Rs. 1 Crore to a budding hotelier.
Suraj Bhaan Stone Merchant, perhaps the only one selling stone in this area also had a similar biography. This shop once employed its own artisans to sculpt marble figures. Again, people desperate to reap huge profits that a hotel in the long run would bring, did not mind paying a lofty sum to get hold of a piece of land.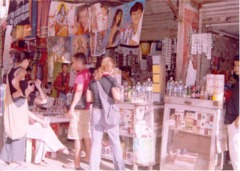 Not only did the traditional crafts and skills of the area gradually recede into nothingness, hotels sprang up like frogs during the monsoon. There is as little wrong per se with people selling their land for want of profits as there is with people buying that land in the hope of setting up a hotel. However, a majority of these hotels are unauthorized concrete structures, supplying their often windowless, claustrophobic chambers with stolen water and electricity connection. And these mind you, are the 'first class luxury suites.' Yet, Pahar Ganj remains the heart of budget tourism in Delhi with the orientation of the whole market shifting to tourists' demands.
But how are we to reconcile the vast tourism and commercial potential of this area with the signs of its becoming a commercial disaster with highly unsustainable land, skill and resource use? Pahar Ganj witnesses unregulated commercialisation of residential areas with little transparency in assigning licenses and pieces of land to hotels Bringing some order would imply that the municipality, excise, sales tax and other officials think of the area assigned to them and not of their own profit. Great expectations, ugh?
While on the one hand the area seems to have great commercial, tourism and historical significance, it is also a horrifying example of unplanned and unauthorized resource use and development.

The above notwithstanding, the 2000 - 4000 hotels offering 'homely comforts – traditional hospitality' contribute greatly to the commercial significance of Pahar Ganj. The hoteliers have cashed in on the location of the area to make it the (unacknowledged) hub of economy tourism. According to Virendra Parashar of Hotel Gold Regency, Pahar Ganj is a favorite with economy tourists mainly due to its proximity to the New Delhi Railway Station (NDRS), its central location, relative closeness to other monuments like India Gate, Red Fort etc. and of course its throw-away prices. "Our hotel, however, counts among the relatively expensive ones as we are licensed. We provide restaurant, discotheque, bar and internet facilities," maintains Parashar.
Words like discotheque, bar and hotels should not conjure up images of vast boulevards with classy buildings and luscious grass-cover. For those uninitiated in the lanes of Pahar Ganj, the area gives you a feeling that anything might happen anytime and the dilapidated structure of shops and houses on, over and under other shops and houses might just tumble down like a house of playing cards. Cattle, billboards, shops, Appetite German Bakery, Sam Café, pavements dwellers, dung, beggars, bands, stench, drug addicts, firangs and touts – the area is perhaps a sociologist's treasure.
Nora from Minnesota, USA does not mind the filth on the streets for "this place is at the heart of everything. That kind of compensates for everything else. Anyway I do not plan to stay in Delhi for very long. I need to go to Shimla, Agra etc. and plan to use the hotels here just as brief halts." Christian from Metz, France, is here to get to know Indian culture better. He stays with Indian families or institutions, offers his services like teaching free of cost, accepting food and boarding in return. "Oh, Pahar Ganj is so dirty but I have no choice. I have very little money. Moreover, this place is so central, I save a lot of money on transportation as well. But I wish something were done for the roads here. The roads in Sawai Madhavpur are so clean in comparison. It is sad that some tourists go back after having visited only Pahar Ganj in Delhi. This is the image of Delhi they take home."
So, is anyone listening? According to Mr. Vijay Goel, Minister of State, Sports and Youth Affairs and also Member of Parliament, Chandi Chowk constituency, "The re-development of Pahar Ganj sounds impossible. The MCD, police, excise, food and sales tax officials have colluded massively to reduce Pahar Ganj to its present state. We know that this area is deteriorating very fast. But who would allow development in that area? There are enough forces to counter any development efforts."
Put the above together with the need to preserve the bazaar as indicated by Peter from Czech Republic. Peter met a German tourist on his way back from Manali who recommended him Hotel Vivek in Pahar Ganj. "From all the guide books which I read, I got the feeling that Delhi has many beautiful places but Pahar Ganj is the place where Indian life seems to be running. I was curious and I am not disappointed after coming here. Of course, I know there is much more to life in India than what one sees here, but for us Europeans, bazaars such as these are living examples of a different world. The boulevard from India Gate to the President's palace is indeed pretty but it is not as interesting as this bazaar. It lacks the life one sees in Pahar Ganj. I do not mind the hotels here. In fact, I prefer to stay in this area. I know Delhi has Taj and Hilton but for that I don't need to be in Delhi. Hilton is Hilton even in Prague."
A by-lane too narrow to even deserve the epithet gali is pompously called 'Furniture Market' (with no furniture shops in sight, of course) and caters almost exclusively to tourists from Israel. Tiny shops are loaded with parcels about to be transported "quickly and reliably by land, sea or air". A rickety, corroded board announces (hopefully) the same thing in Hebrew. The front-desk officer of Hare Rama Guest House offers a credible theory. "The tourists here usually belong to the lower middle class. After working for a year or two they save about $5000 - 6000. With that much money, they cannot afford a great holiday in America or in Europe but can do so in India."
Identifying the dichotomy of the situation does not require knowledge of convoluted logic – while on the one hand the area seems to have great commercial, tourism and historical significance, it is also a horrifying example of unplanned and unauthorized resource use and development. That a sizeable number of the ancient pockets of metropolitan cities are fast succumbing to apathy, commercialism and pollution is no news. What often remains unobserved is that there is selectivity even in degradation. Places like Qutub Minar, Red Fort, Chandni Chowk and Lodhi Garden are chic. They're glamorous and trendy. Much money is invested in the upkeep of these obvious halts in a tourist's itinerary. The area in front of the Red Fort has recently been converted into green lawns on the pattern of those at India Gate and received a glittering mention even in Prime Minister's Independence Day speech. The Qutub Minar is touched up every now and then. There has been planned development of visitors' facilities at shrines and places of pilgrimage.
But names like Pahar Ganj, Nabi Kareem and Ram Nagar do not have adequate USP. They might have their own historical and commercial significance but today they are nothing short of being commercial and environmental disasters. Is Vaishno Devi just luckier to have had a Jagmohan?
Yes, Mr. Minister, the redevelopment of Pahar Ganj does indeed sound impossible. But this mission impossible might never be attempted if not now. The area grows by many one-room lodges or hotels every day. While shifting the shops and hotels already existing might be unrealistic, unauthorized growth can certainly be checked. Owners of residential houses should be penalized for covertly converting their chambers into hotels. Housewives might be granted licenses for running bed-and-breakfast facilities along the pattern of European pensions. This will also ensure sustainable self-employment and income-generating opportunities for the women in the area. All shops more than half a century old (and one would be surprised at their sheer number) might be given a 'protected status.' The flavor of the area could be brewed up by encouraging tour-guides to conduct walking tours of the galis and their tributaries linking historical and commercial foci of the market. Squatters and encroachers (after being accepted as modern-day urban reality) could be allotted space in a more organized manner, for instance only in the weekly bazaar.
Still, the development of an area depends just as much on the citizens as it does on the 'authorities'. The hotel and traders' association of the area should perhaps jump out of their letter heads and undertake some form of civic engagement. The blame cannot be passed off to those in power if the citizens themselves are unable to overcome their inertia to make the process of development more synergetic and collaborative. If the citizens of Pahar Ganj would be participants in the cause of their area, instead of recipients or bystanders, more could happen.
The popular Lonely Planet guidebook on Delhi lists all the hotels in Pahar Ganj under the budget category. Perhaps Pahar Ganj should be listed under the category of one of the most visited yet the most endangered places in the capital. Many invisible monuments like this vivacious bazaar might just go down in the history of our rambunctious capital as urban disasters of untapped potential. Unless of course, all stakeholders realize that now is the time, more crucial perhaps than any other, to wake up and synergize piece-meal and half-baked efforts.