Kamakshi Vidyaakar is a quiet and industrious girl who has been with Udavum Karangal from her infancy. She completed her schooling at Ramakrishna Vidya Niketan and trained as a nurse at Jeevan School of Nursing. She has been handling various challenging assignments on her own.
The phrase Udavum Karangal means 'Helping Hands." It is not just a metaphor. For Vidyaakar, who founded it, it is the one principle that he has lived and breathed during his chosen life. His are the 'helping hands' for the thousands of children – young and old, man, woman, child and infant, the dying and the destitute -- for whom he is the father and who are all named after him.
His real name is Vidyaakar, but he is now Pappa Vidyaakar for all those children who have felt the touch of his helping hands. Vidyaakar himself calls all his children 'the children of God'.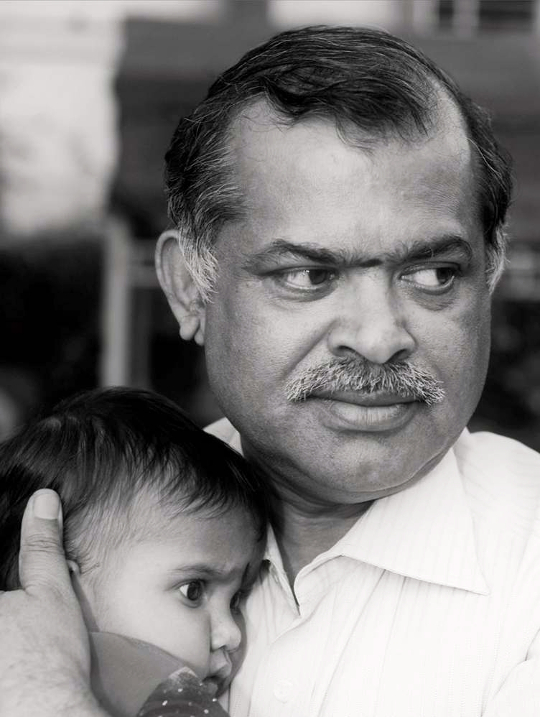 Pappa Vidyaakar, founder of Udavum Karangal. Pic: Uduvam Karangal
Vidyaakar's career as a social worker spans three decades and is deeply inspired by Mother Theresa whom he worked with for some time. "The day we have not helped somebody is a wasted day," he says and as a true man of action, he proves his conviction with his deeds.
While he was completing his graduation in social work, he also worked with the Institute of Mental Health in Chennai and at the Gremaltes Leprosy Hospital. The story of how Udavum Karangal was born is no less than a fairy tale.
"When I was 13, I helped an accident victim in Kollegal, Karnataka.. His name was Ramakrishnan. I took care of him till his relatives came to take him back to Chennai. A destitute myself, we bonded very well, though I was in awe of him. A few years later, I ran away to Chennai to meet him. He took me under his wings, saw after my education and ensured that I got a masters in social work. He took other orphans like me under his wing. That sowed the seeds of the Udavum Karangal journey," Vidyaakar reminisces.
Then one day in 1983, someone handed him a baby that had been abandoned outside a cinema hall in Chennai. As he took the baby in his arms, Vidyaakar decided to take care of it, Thus Udavum Karangal was born. Till date, Udavum Karangal has helped over 2000 children and houses around 1880 residences in Chennai and Coimbatore.
Udavum Karangal provides food, shelter and educational facilities for its residents regardless of their age, sex, religion, nationality, caste or mental capacity. It is a classless society of people taken care of by a single man and his growing mass of volunteers, most of whom have grown out of Udavum Karangal. The organization is an internationally recognised non-governmental body built brick by small brick and mortar through his dedication and faith in the goodness of human beings.
Offshoots
In 1986, Udavum Karangal created Boys Town, a students' home for adolescent boys between ages nine and 18. "Our aim is to help them attain a bright future and groom them to become contributing citizens in their respective communities. The home houses around 77 boys living within an environment that gives them infrastructural support in sports and gaming equipment.
Among them is Arun, referred to the organisation in 1994 by someone who found him roaming the streets of Chennai with his sister Abinami. They were orphans. Arun was 6 then and Abinami was 2. Today, Arun is studying mechanical engineering at the Sree Sastha Institute of Engineering and Technology and after getting a job, wishes to stay back to help other children in Boys Town.
Pasamalargal is another home set up by Udavum Karangal for taking on the care of orphaned or abandoned infants aged between six and 18 months. Most of these babies were born to mentally sick women who were not able to take care even of themselves. House mothers who volunteered their services took on the rearing and care of these infants.
"I do not do this for money or out of personal motives but only to nurture these children. It gives me great satisfaction to watch them blossom and to know that they have a future that perhaps might not have been possible otherwise," says Thiruveni who joined the organization as a volunteer in 1998. She has looked after more than 100 babies after she joined as a volunteer with her mother.
Among these babies is Ravi Shankar found abandoned in a bush with a large ulceration on his stomach. It was discovered that he had been born without a rectum and therefore could not control his bowel movements. Udavum Karangal organized three surgeries for him followed by extensive physiotherapy and he now leads a healthy, normal and productive life within the organization.
Sishu Bhavan founded in 1983 at Thiruverkadu in Chennai is another branch that shelters children between four and ten who have either been transferred from Pasamalargal or have been rescued from different parts of the country These children are divided into groups of eight to ten based on their age and level of education. Each group is looked after by one trained house mother, two caregivers and one helper. The aim is to teach them basic skills and to give them a holistic environment within which they can evolve into healthy and good human beings.
Among these children is Bhanumathy born to an alcoholic father who often abandoned her on the streets throughout the day. The sole meal she got was only at night and this led to severe malnutrition. When a small news report appeared in a national daily, Udavum Karangal sought her out and nursed her back to good health. Today, Bhanu has blossomed into a cheerful and healthy girl being treated with physiotherapy and speech therapy to improve her speech skills.
Yuvaraj was just six months old when his mother threw him out on the railway tracks. As part of Udavum Karangal, he is now a topper at school and his nightmarish infancy is forgotten for good. Both Bhanumathy and Yuvaraj are among the 160 children who live at Shishu Bhavan. They are all taken care of by a trained house mother, two care givers and one helper.
1992 saw the birth of Gokulam, exclusively to offer shelter to destitute female children and provide them with education and an independent and secure future. Gokulam currently provides shelter to around 120 girls living in groups of ten under the caring guidance of a loving house mother. Among them is Aadhira who came to Coimbatore from North India with her mentally sick mother, and was discovered roaming the streets of Coimbatore. Aadhira was raised at Gokulam from the age of four and went on to score 95 percent in her school clearing examinations.
Then there is Aathmashanti, which, as its name suggests, aims to bring peace to the soul of its inmates. Founded in 1983 in Thiruverkadu in Chennai, it is an exclusive home and rehabilitation centre for female psychiatric patients. The organisation was shocked to discover that 80 percent of these girls and women, picked off the streets, had been victims of sexual assault. So for some of the inmates, even the voice of a man sends them into a state of panic and terror.
These women are taken care of by medical and psychological experts and attempts are made to unite them with their families. This, however, is not always possible but till now, more than 1200 such girls and women have been placed back with their families.
A similar home called Dignity Home is exclusively for mentally deranged male patients. Asian Age featured a story on a youngster named Basvaraj because his story was too incredible in its cruelty to be true. He lived a life tied to chains for around 15 years at his home in Bangalore!
Someone who read this story informed Udavum Karangal which then contacted his family. But the family resisted all attempts to relieve him of chains because they insisted that he was prone to acts of violence. So Udavum Karangal approached the local police and rescued him. After going through the rehabilitation process, Basvaraj became normal and healthy. Today, he works with Udavum Karangal helping them provide treatment to those who suffer the kind of trauma that he did.
Karunai Illam in Chennai is for ageing and aged women, discarded and thrown away by their families and left to look after themselves. At Karunai Illlam they are given facilities for healthy and hygienic living, good toilet and bathing facilities, medical and psychological treatment, counselling and nutritious food.
Sarvasakthi was discovered to be suffering from Alzheimers, memories of her near and dear ones washed away. The house mother took personal care of this woman, given to angry outbursts and taught her to take care of the garden in this home. She then took great joy in showing off the flowers in the garden till she passed yonder. "Each time we see those flowers bloom, we know she is smiling at us," says Vidyaakar.
The counterpoint for senior men is Malarvanam in Velappan Chavadi in Chennai. There are stories of even couples having been thrown out by their adult children who have got succour at Malarvanam.
Assimilation
Asked how he and his team make the children in their homes feel one with the mainstream, Vidyaakar says, "We bring out their hidden potential and give them opportunities to develop. We make them compete with mainstream children in all fields, academic and non-academic. We get them to help others by involving them in our outreach programmes so that they can understand which directions life can often take." Udavum Karangal took the children to a Tsunami Relief Camp and they saw for themselves that those disaster-scarred children were in a much worse situation than they were.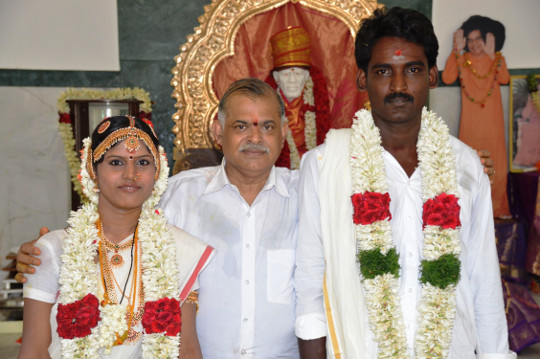 Kamakshi Vidyaakar and R Srinivasan with Vidyaakar. Pic: Udavum Karangal
"We also organize get-togethers and group outings and movie screenings regularly. We celebrate the birthdays of all the children. We give a small allowance to boys over 12 to make them learn the use and value of money to become independent. Girls however, can step out only with an escort," adds Vidyaakar.
The organisation, however, has stopped taking in abandoned children from 2004. "But we refer them to other agencies with provisions for placing them for adoption, says Vidyaakar, adding "We took this step because as a male social worker and with mostly male volunteers pitching in, it is not always possible for us to work with women and girls the way women social workers can. Girl children need a different approach and a different way of communication in their growing years. The child needs a mother first and last, though I do not believe that being a mother is necessarily defined by gender."
Udavum Karangal does not receive any aid from government. "Our mission runs purely on donations and public contributions," reveals Vidyaakar. "I have never conducted events or fund-raising programmes. We have regular donors and contributors from across the world. My strong belief is that since the problems are created by the society it is the responsibility of the society to solve them. I am merely providing the opportunity to them."
The organisation does sell handicrafts made by our people but we do not go out to market them. "People who know about us come to the campus and pick them up. I believe that our funding will search for us knowing our work and not the other way round. It has worked till now; the future will be taken care of by my children," he sums up.
The word 'orphanage' suggests vulnerability and evokes associations of charity more than anything else. But Udavum Karangal is nothing like an orphanage. It is like one large family that has grown like a huge banyan tree, spreading its branches far and wide with roots digging below the earth.
The children, teenagers, street orphans, destitutes are picked up and adopted by this organization and are given a new life through training, education and finally, marriage. In August this year, two residents of the organisation namely Thulasi Vidyaakar and Abitha Vidyaakar, residents of Udavum Karangal, were married at Shantivanam in Chennai. Present on this auspicious occasion were donors, friends and relatives of the groom, staff volunteers and residents of Udavum Karangal who showered the newly married couple with blessings.
An orphanage usually takes care of its inmates till they are 18 years old. But for Vidyaakar's children, caregiving is not constrained by age, sex, class, caste, religion, or even mental and physical challenges. It is that ideal world in miniature that takes care of its people.
MILESTONES
When 7000 people lost their lives and 1.5 million families living along the coastal areas of Tamil Nadu lost their homes and livelihoods following the massive tsunami on 26 December, 2004 in 10 South Asian countries, Udavum Karangal provided relief materials, clothes and utensils to three fishing villages located in Kanchipuram, Tamil Nadu.
It also adopted Kanathur fishing village in Kanchipuram district inhabited by 87 fishing families. Udavum Karangal provided these families with the three basic needs of food, clothing and shelter. It constructed 72 permanent houses under the name of Prashanthi for tsunami victims living in Kanathur, Angalamman Kuppam in Kancheepuram District.
In December 2006, Udavum Karangal allotted these residences to the intended beneficiaries. The disaster-proof houses were made possible by the selfless, unceasing and painstaking efforts of the volunteers, the gift of land by a generous philanthropist, the initiative taken by the Government of Tamil Nadu, contributions by well-wishers, and the good work by the architects and the contractors.