Bhubaneswar - (WFS) - For a decade, Mukta Jhodia, 49, hitching a ride on her husband's bicycle, would go into remote tribal villages of Kashipur in Orissa's Rayagada district to dissuade people from giving up their farmland for bauxite mining. In 2007, Mukta received the Chingari Award instituted for Women Fighting Corporate Crime. Then there is Sumoni Jhodia, 60, who was the unofficial advisor on tribal development from 1993-95 to the erstwhile chief minister, Biju Patnaik. That's not all: Among the 12 tribals killed in police firing at Kalinganagar in Jajpur district in 2006, two were women.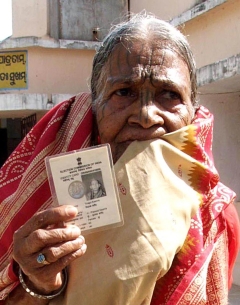 Traumatised by continued violence in Kandhamal, women voters' there still came out in large numbers to vote. Pic: Manipadma Jena\WFS.
Mukta, Sumoni and those killed in the firing are from the Scheduled Tribes (ST), which make up 22.21 per cent of Orissa's population. It is women like them who form the backbone of people's movements. In terms of leadership qualities, they generally do better than their more economically prosperous counterparts from the 'general castes'. Yet, they do not get equal opportunities to contest elections and be a part of the law-making process so crucial for their communities.
Even the nomination of Padma Shri Tulasi Munda, 61, to the Rajya Sabha in 2006, was blocked by the Adivasi Mahasabha comprising several tribal organisations. It was a surprising case of tribals pitting themselves against other tribals, but it reinforced the fact that when it comes to political power sharing, the deeply entrenched G-Factor, or gender factor, kicks in.
The G-factor has clipped the wings of many women interested in contesting elections. Only a minuscule percentage has made it and the fact that the Women's Reservation Bill has remained in a limbo since 1997 has not helped. So what one has here is gender disempowerment within the larger disempowerment of tribals as a community. Of the 157 candidates contesting the Lok Sabha (LS) elections this time, only six per cent were women. The situation was replicated in the polls to the Orissa legislative assembly: Only 10 per cent of the total 1,397 contestants were women.
Orissa has 33 seats out of the 147 in the legislative assembly reserved for tribals. At the parliament level, five of the total 21 seats are reserved for ST candidates. Historically, political parties have never fielded more than an insignificant number of women from these seats. But when women candidates have been given a chance, they have won - not just once, but twice and thrice - proving that they too can master the 'winnability factor'.
Saraswati Hembrum, 60, starting as a Sarpanch (village council head) and went on to represent the Congress Party from Kuliana in Mayurbhanj for three terms in the state assembly from 1980 to 2000. She was also the first tribal woman to be given ministerial charge. Frida Topno, 84, a gazetted state government officer, won the LS seat in 1991 and again in 1996 from Sundargarh district. Sushila Tiriya, 52, went to the Rajya Sabha twice (in 1994 and 2006) from Mayurbhanj and once to the LS. Interestingly, Frida and Sushila, both graduates, are deeply committed to social work and have chosen to remain single.
BJD Chief Naveen Patnaik, although he claims to be committed to the empowerment of women and tribals, fielded only eight women for the 130 assembly seats the party is contesting.


• Jumping into the fray themselves
• Irula heads push for change

Two high profile women from tribal communities contesting elections from Orissa this time (LS and assembly elections in the state were held simultaneously in two phases on April 16 and 23) are Draupadi Murmu and Hema Gamang. Draupadi, 50, a Santhal and a graduate, is a two-time Bharatiya Janata Party (BJP) MLA from Rairakhol, Mayurbhanj. This time round she is contesting the LS seat from Mayurbhanj. She started her career as part of the government clerical staff, and went on to become a minister.
Hema, 48, from the Saura tribe of Rayagada, was the youngest entrant in this lot. She was only 38 when she entered the LS in 1999 from Koraput district on a Congress ticket. Although there were local politicians in her family, it was her husband, Giridhar Gamang, who was instrumental in opening the portals to mainstream politics to her. He was the Orissa Chief Minister at that time and had won in six consecutive LS elections. He needed Hema to keep his LS seat safe, while he dominated state politics. Hema readily acknowledges this, "I was acquainted with politics and knew grassroots party workers well, having campaigned for my husband. But I was not keen to jump into the thick of the fray at that point."
Once in, though, she not only learnt the ropes but also developed a taste for power. In 2004, she fought a furious and very public battle with her husband to retain her Koraput LS seat, which her husband wanted back. The Congress sided with Giridhar and Hema had to settle for the Gunupur assembly seat in Rayagada. History repeated itself in 2009 as well. She gave up the Gunupur constituency, which she had nurtured because both her brother and son wanted to contest from there. This time she fought from the Laxmipur assembly constituency in Rayagada. Observes Hema ruefully, "The men try to push a woman around in politics as well!"
What does it take for a woman from a tribal community to get a foothold in national politics? "Family political background, personal qualities, exposure to the world outside one's own community, education and adequate funds - in that order," says Hema promptly.

Hema Gamang on a hectic election campaign in Laxmipur, Rayagada. Pic: Manipadma Jena\WFS.
In sharp contrast to Hema, Draupadi Murmu does not come from a political background. Today, after eight years as a legislator and after heading two ministries, her nomination affidavit reveals that she has no house to her name, only a modest bank balance and some land. What works for her? "Showing results," Draupadi quips. She concedes, however, that being in the right place at the right time and having access to the right people helps, although that did not get her the LS ticket in 2004, which she had badly desired. The selection committee doubted whether a woman would be able to fight Jharkhand Mukti Morcha's strongman, Sudam Marandi. So her male colleague, Bhagirathi Majhi, was fielded instead. He lost and this may have forced the party to do a re-think: Draupadi was pitted against Marandi this time.
Sahadeva Sahu, a former Chief Secretary in the state government and Convener of Orissa Election Watch (OEW), a civil rights organisation, agrees that tribal women don't stand a chance when it comes to getting tickets. "They cannot even speak up for themselves," he observes.
Laments Tapasi Praharaj, a Bhubaneswar-based activist from the Left-leaning All India Democratic Women's Association (AIDWA), "Women participate more in the election process in every way. But, they are given a raw deal at the time of ticket selection." This despite the fact that women figure high among voters: It was the women of Malkangiri and Koraput this time who bravely exercised their franchise despite boycott calls given by Naxal groups.
Neither the Congress nor the Biju Janata Dal (BJD) have fielded a woman in these LS polls. As for the assembly elections, BJD Chief Naveen Patnaik, although he claims to be committed to the empowerment of women and tribals, fielded only eight women for the 130 assembly seats the party is contesting. Sonia Gandhi's Congress has not done much better: Only 15 out of its 147 candidates are women. None of the Left parties - CPI, CPI (M) and CPI (ML) - have fielded a woman candidate. Significantly, out of the total 140 women candidates in the assembly elections this time, 37 - or roughly one-third - are contesting as Independents. The figure reflects the high level of frustration among women candidates at being denied party nominations.
If the status of women in these neglected tribal communities is to change for the better, political parties across the board in tribal-dominated states like Orissa will have to do a serious re-think on their ticket distribution strategies. (Women's Feature Service)