On 9 April, 2013, the Bombay High Court, in response to a PIL filed by Mohol Taluka Shetkari Sangh ordered the Water Resources Department (WRD) of the Government of Maharashtra to release 'sufficient' water to Ujani Dam (the largest dam in the Bhima Basin) within 24 hours to meet the drinking water needs of drought-stricken villages downstream Ujani.
In the 24 hours that followed, WRD zeroed in on the release of 3 TMC (Thousand Million Cubic Feet) water from Bhama Askhed and 1 TMC from Andra. The water releases from both the dams were ongoing as on 1 May 2013, when I visited the Bhama Askhed dam. By then, 2 TMC water had already been released. There are no credible reports about how much water from this release has reached Ujani, or how much will eventually reach. When the water was released on 10 April 2013, the Chief Engineer, Bhima Basin had reportedly said that it will take 6-7 days to reach Ujani backwaters, without mentioning the rate of release. 26 days later, the release is still on.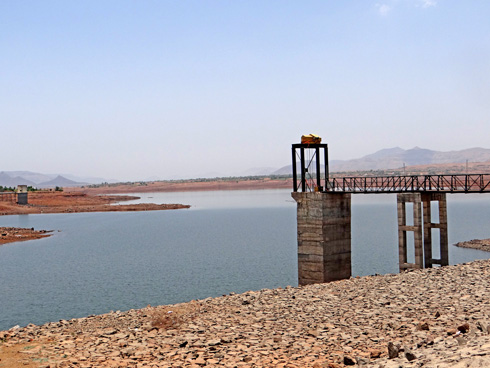 Bhama Askhed Reservoir Pic: Parineeta Dandekar
While water releases from a distance of over 205 kilometers for a region like Solapur, which has mismanaged its water to the hilt by using all its water for sugarcane and sugar factories even in this severe drought year, as well as the merits of the High Court decision can be debated, it is important to see the implications of such decisions from the perspective of those at the source: around Bhama Askhed Dam. The choice of Bhama Askhed and Andra Dams was not based on any participatory process, but was a closed-doors decision taken by the WRD, allegedly because it will be politically impossible to release water from dams reserved for Pune's drinking water (Although Pune dams are still releasing water for downstream sugarcane).
How come the Bhama Askhed dam had 124 million cubic metres (57 per cent of live storage capacity) on April 8, 2013 (practically the end of the irrigation season) in a drought year? In fact, the live storage of the dam was filled up to 66 per cent on the same date in 2012 and 74 per cent in 2011. It seems the dam remains hugely underutilized. One key reason is that Bhama Askhed has no canals built for irrigation, as per the original plans even after 18 years of construction initiation.
When the High Court was hearing this case related to water releases for Ujani, it had first ordered the MWRRA to look into the allocation. But the HC was informed by the government lawyer that MWRRA is dysfunctional as none of the posts of Chairperson or two expert members have been filled. The post of the Chairperson of the MWRRA has been vacant since August 2011!


• Drought politics in Maharashtra
• One state, divergent demands

Away from the media attention, the project-affected people of Bhama Askhed Dam were on a protest fast at the Dam wall for four days after the release of water from it for Ujani started. Their demand: they have not been rehabilitated even after 13 years of initiating dam filling in the dam. They should be rehabilitated first, should receive water for drinking and irrigation on priority and only then should the water be released for the downstream.
Let us take a look at Bhama Askhed as a representative of dam-centered water management in Maharashtra, a state with maximum dams in the country, to see the extent of fulfilment of the stated objectives of a dam and other underlying realities.
The Dam
Bhama Askhed Dam on Bhama River, a short tributary of Bhima River, received administrative sanction in 1992 with the explicit objective of providing irrigation to 37 villages in Khed, 18 villages in Haveli and 9 villages in Daund talukas of Pune district with a total command area of 29,465 hectares, as per the White Paper on Irrigation Projects brought out by the WRD. It was to have two canals: a right bank canal (RBC) of 105 kilometres and a left bank canal (LBC) of 14 kilometres. Construction on the dam started in 1995.
According to its last administrative sanction in 2012, the cost of the dam has now risen to Rs. 575.84 crore from its initial Rs 112.96 crores in 1992. The dam has a live storage capacity of 7.6 TMC. Canal-work has not been done even according to the claims of the WRD. Right Bank Canal is barely 18 kilometres complete, in patches. Left Bank Canal work is not even initiated. Of the intended 30,000 hectares to be irrigated, not a single hectare receives irrigation through canals, since the RBC work stops just about 200 mts from the dam site, before resuming after a distance, but this discontinuity means water cannot be taken to any of the command area.
Tragedy of the displaced
Bhama Askhed Dam submerged 2,259 hectares of land, affecting three villages completely and nearly 20 villages partially, displacing 1414 landholders, approximately 7000 people in all. When we had a meeting with some of these affected people, the Sarpanch of Roundhalwadi (a fully affected village) said that of the 1414 landholders, till date only 56 landholders have been rehabilitated in the command area of the dam. When affected people were paid compensation, there was a clause that they have to pay back 65 per cent of the compensation amount within 40 days to be eligible later for land in the command area of Bhama Askhed. When a majority among the people signed the compensation papers, this clause was not pointed out to them and most of them being uneducated were unable to read this.
Even among the 111 landholders who paid 65 per cent of the amount, only 56 received land in the command. In every village, there are nearly 20 per cent people who neither received land, nor money for the land and livelihoods that they lost. They eventually moved to the High Court in 2007 and the case is still pending. We met farmers who had lost all their land: fields as well as homes without receiving land compensation till now, and have sent rehabilitation claims four times or more, but have received no response.
As in the case of most dam projects, the rehabilitated villages such as Roundhalwadi, Parale, Anawale, Waki lack basic amenities, do not have fully functional drinking water sources, irrigation schemes, assured electricity or proper roads. Some villages like Kasari are surrounded by water on three sides without a proper road.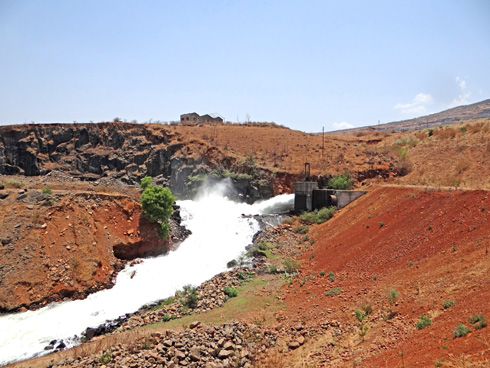 Releases from Bhama Askhed dam into Bhama river Pic: Parineeta Dandekar
Affected villages also supported 25-30 settlements of landless tribals: Thakars and Katkaris who mainly depended on the forests and fishing for survival, without owning any land. They received no compensation for losing their livelihoods from fishing and forests. Once the dam was built, fishing contracts were awarded to a city-based contractor in five-year cycles and locals were not allowed to fish in the dam. No one knows what happened to these tribal settlements; they just vanished in thin air!
18 years from initiation of dam construction, the problems of project-affected communities are far from solved. Local farmers have organised protests in 2009, 2010, 2012 and now in 2013. Every time they are given assurances, but the problems remain. In the words of Devidas Bandal, an affected villager fighting the HC case, "We do not say no to releasing water to Ujani, we only ask that we, who lost our lands and livelihoods, also be given water for drinking and irrigation and basic amenities in rehabilitated villages. Is that too much to ask for?"
Water to the industries
In 2005, Chakan MIDC started coming up in a part of the command area of Bhama Askhed Dam, we were told. This was also the same land promised to farmers for resettlement. Now, the land prices here have skyrocketed and affected farmers say that administration will never resettle them here, though this area lies in the command. Letting MIDC encroach upon the command area of a dam already underway, that too on land which has been promised for rehabilitation, is unjustifiable. In addition, Chakan MIDC lifts water directly from Bhama Askhed Dam. This water allocation was never planned. Now, with expanding MIDC and a huge real estate boom in Chakan, the development moves closer and closer to the land reserved for the canals, which should have been ready many years back.
So, for whom has this dam been built?
When quizzed about canals, the WRD officials say that there is resistance for land acquisition for building canals. Some of the farmers in the downstream are lifting water from 26 KT weirs built by the WRD on Bhama and Bhima Rivers for utilising water releases from Bhama Askhed Dam. They seemed to have been encouraged to use the water from the weirs built by the same irrigation department that has not built the canals. Now some of them are naturally resisting land acquisition for canals, since they already have irrigation from the KT weirs, and the irrigation department is using this as a reason for not building canals in the planned command area. In the regions irrigated by weirs, sugarcane flourishes, increasing inequity again. A large part of the area now irrigated thus was not even part of the original command area.
Water for Pune Municipal Corporation
A huge reservoir storing 7.6 TMC water without canals is an attractive proposition for many. According to a Government Resolution (GR) dated December 2011, 1.2 TMC water from Bhama Askhed has been allocated to Pune Municipal Corporation (PMC) for drinking water purposes. In its explosive growth, Pune city wastes and pollutes water with impunity, has unchecked leakages and huge inequity in water supply. But having a source like Bhama Askhed makes it easy for Pune to forget these worries and simply buy water from the water resource department.
According to the same GR, PMC is supposed to pay Rs. 48.76 crore to WRD for re-establishing irrigation infrastructure. This is at the rate of 1 lakh rupees per hectare, which means that irrigation for 4876 hectares of command area is losing this water. Again, this has been an entirely non transparent and non-participatory decision. While the White Paper laments the funds crunch to take up canal work, it does not mention these unplanned diversions or this added revenue and how it plans to use this for either rehabilitation or the command area.
A dam, which was sanctioned on its claimed potential to irrigate nearly 30,000 hectares in a semi-arid area, is already built at a huge economic and social cost and is storing water earmarked for the command area that should receive this water. But the reasons behind the delay in starting canal works of Bhama Askhed are incomprehensible. The contractors, engineers, politicians, industrialists and even fish contractor have profited, but no benefits accrue to recognised or unrecognised affected population or intended beneficiaries as per the original plans. While unplanned sugarcane, Pune Municipal Corporation and Chakan MIDC have emerged as the unplanned beneficiaries of these dams, the farmers in command, for whom the dam was justified, and the project-affected people have been the losers in this game.
Bhama Askhed is not an isolated example showing water diversions from irrigation projects to non-irrigation uses. Notable examples are Hetawane Dam in Pen and Surya Dam in Dahanu, among many others.

Ujani Dam Pic: Parineeta Dandekar
HC Decision and the functioning of WRD and MWRRA
The High Court decision of ordering water release may be debated for its merits (will the water flow again for sugarcane cultivation?) and its practicality. However, the institutions entrusted to the task of equitable water distribution were sleeping for too long and refused to wake up. Equitable water distribution was the primary objective for setting up the Maharashtra Water Resources Regulatory Authority (MWRRA) in 2005, with 325 million dollars funding from the World Bank under its Maharashtra Water Sector Improvement Project (MWSIP).
In April 2011, allegedly under the influence of the then WR Minister Ajit Pawar, the final right to allocate water was given to the Cabinet Committee. When the High Court was hearing this case related to water releases for Ujani, it had first ordered the MWRRA to look into the allocation as it was MWRRA's duty. But the HC was informed by the government lawyer that MWRRA is dysfunctional as none of the posts of Chairperson or two expert members have been filled. The post of the Chairperson of the MWRRA has been vacant since 16 August 2011!
Thereafter, on 15 March 2013 the HC urged the Maharashtra Govt. to reconstitute the Authority expeditiously. Despite this, till 9 April 2013, no action was taken! The HC in its order states that "we are therefore left with no alternative but to direct the respondent to release water to Ujani as expeditiously as possible". Some of the MWRRA posts have since been filled following HC's time bound orders, but it is once again clear that MWRRA, the so called solution pushed by the World Bank, has completely failed to achieve any of its stated objectives.
So while Sharad Pawar, the Union Agriculture Minister and Head of NCP, which held the irrigation portfolio for more than 14 years may comment sarcastically on the HC decision saying "WRD will consult the court about water if monsoon is delayed beyond June-July", it is evident that the Court's decision is another significant proof of mismanagement of water resources in Maharashtra by the administration and politicians.
High Court order to release water for Jayakwadi Dam
A similar decision has come from the Aurangabad Bench of Maharashtra HC on 27 April 2013 to the effect that WRD should release water expeditiously for Jayakwadi dam in Godavari basin from upstream dams.
Again dams in the upstream have been selected by the WRD in a completely non-transparent and non-participatory way. One such dam is Karanjwan Dam, more than 200 kms from Jayakwadi, which also supplies water to the parched Manmad town. Manmad gets water once in 22 days and when this author visited Manmad on 10 March 2013, it had received water after 51 days from Palkhed Dam, which is downstream Karanjwan dam. People of Manmad may not accept the decision of water releases from Karanjvan dam quietly. President of the Manmad Municipal Council has taken objection to it already. For another dam, Nilwande, which is to release water for Jayakwadi, the project-affected people who have not been rehabilitated fully are opposing water releases before rehabilitation, just as in the case of Bhama Askhed.
It seems as if the dams have become pawns in the hands of engineers, bureaucrats and politicians, to be used as and when required for whatever ulterior motive they might serve - anything but their stated purpose. It is not a coincidence then that despite spending 70,000 crore rupees on irrigation in Maharashtra for ten years, the irrigated area is showing no net increase and thousands of villages are parched despite building multiple dams in the vicinity.
While participatory, transparent and accountable water management is crucial in all years, its importance is particularly highlighted in a drought year like 2012-13. Let us hope that all concerned, including farmers, media, civil society as well as the High Court look at the complete picture and are able to take collective action on this.