"Now we can't even commit suicide in peace," laughs Digambar Agose's neighbour in Malwagad village. "Not without reading those forms the officials have created to see we get it right." Another pipes up: "There are some 40 clauses on their inquiry list. All these must apply." In short, if you must kill yourself, make sure you adhere to the pro forma.
Malwagad's graveyard humour aside, the implications are scary. Vidharbha has seen more debt-driven farmers' suicides than any other region in Maharashtra. This, despite the counting process being suspect and often simply wrong. "Our methods," admits one senior official, "work from the point of view of assessing compensation. That's all. Not to learn why the suicides happen." Which means under-counting is built into the process. Governments do not like paying out compensation.
Flawed figures
So a lot of suicides are not recorded as being debt-driven. Yet, even the flawed numbers are startling. In Yavatmal district alone, farmers' suicides went up from 17 in 2001 to 132 last year. An almost eight-fold increase in four years. Most occur between July and November. But there have already been 29 till May this year. This means there have been more suicides in the off-season this year than in all of 2001.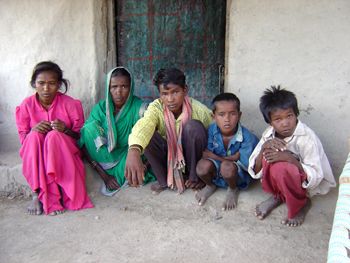 The family of Digambar Agose - trapped in poverty but without a BPL card. They have received no compensation after his suicide. [Picture by P Sainath]
What numbers would a more honest process show? Sadly, even sensitive officers - and Yavatmal has a few - are trapped by the format. So while the ongoing agrarian crisis has spurred several hundreds of suicides across Vidharbha in a short span of time, we will never know their full extent. The counting process stands too corrupted.
Adivasi farmer Digambar Agose (debt: Rs. 70,000) killed himself this January in Yavatmal. His family got no compensation. Agose's suicide "did not meet the norms" set up by the Government to determine which is a "farmer's suicide" and which is not. The norms are baffling. Most local officials cannot say what they are. And the final judgment is often subjective.
It is the same in Buldhana district. "We had 84 farmers' suicides here in the last year," says journalist Narendra Lanjewar. "Just 14 of these have been compensated." That is one in six. Also, only those 14 will be counted as "farmers' suicides."
A survey by The Hindu of 10 suicide-hit households in three districts found major discrepancies. Families with more than twice the landholding of Agose - and fewer members - received compensation. The Agose household, sunk in misery, did not. In some cases, caste played a role. In others, elections. Polls were around the corner when some farmers died but were over when others did. Those affected before voting day were more likely to get help.
But other factors worked, too. At the top, says Yavatmal Collector Harshdeep Kamble, "we want to know: was the victim a farmer? Are there loans against his name? Did the banks issue him notices? What is the general condition of the family?"
Valid concerns. But the problems are many. The Government only takes note of bank and cooperative loans, though the vast majority get their credit from moneylenders. So very large numbers get excluded in the counting. The Government knows this. "First the banks give the farmers no loans," says an official. "And then their suicides are not counted because they have no bank loans. It was lack of bank credit that sent them to moneylenders in the first place."
`Who is a farmer?'
Next: who is a `farmer?' In every case, the suicide was that of the main breadwinner. But the land may not have been in his or her name. "My son ran the farm," says Sriram Jharekar in Isoli village, Buldhana, "I am 80 years old. However, the land is still in my name." So when his son Ganesh took his own life this January, there was no question of compensation. Ganesh, by the "norms," was not a farmer. He did not own land. Never mind that he was the only working farmer in the household. His infirm parents can do no work. But are "farmers." That is why when Prabhakar Katale took his life in Wardha, his aged father Shamrao settled his land on his remaining sons at once. Likewise, suicides by women farmers won't be counted. There is no land in their names.
The official inquiry checklist has some 43 indicators. Of these a few are routine. Name, age, sex, caste, address and the like. But there are over 35 others that also have to be gone through. When a suicide takes place, the local Talati reports it to the Tehsildar and assists him inquire into it. The latter reports to the sub-divisional magistrate. The SDM in turn reports to the Collector. In practice, subjectivity rules.
"They can decide this man died of `ill-health' or was a drunkard, or anything," says D.B. Naik in Bham village, Yavatmal. "Anything but debt." Naik, a kisan sabha leader here, mocks the process: "They want a signed statement from the victim that debt and [the] Government drove him to suicide."
A local official might also rule out aid to a family not "below the poverty line." The BPL process itself is bizarre. Digambar Agose's family lives in utter poverty. But it has no BPL card. As we leave the Agose home in Malwagad, we meet the new "Man of the House." Madhav Agose is 12 years old and in the eyes of his village "responsible for the entire household." Madhav works from 6 a.m. to 8 p.m. every day tending livestock. For Rs. 20 a day. Digambar's debts have to be paid. "And they got nothing as compensation," say the neighbours, "not even free seed in his father's name."
In the Pandher Kavada office of the Vidharbha Jan Andolan Samiti, another name is about to enter the "Register of Deaths." Abhay Shamrao Chavan, June 16, 2005. Independent groups, rejecting government figures, are tracking the tragedy. They know there will be many more. Ritesh Parchake, a leading journalist here who has reported the suicides for years, looks on sadly. "This is the season," he says wearily. "It's only just begun."