Creative resource-links on Bhopal Tragedy
A compilation of news, opinion, and activism



A Breath of Fresh Air
Amulya Malladi tells a story of survival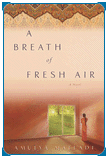 Teesri Duniya Theatre's "BHOPAL (Zahreeli Hawa)"
A Play by Rahul Varma Bhopal Express.
A feature film by Mahesh Mathai is a human drama set against the gas tragedy in Bhopal in 1984. The film examines the irresponsible methods of large corporations and the effects of their actions on common people. The story unravels through the eyes of a newly wed couple and their friend. Five Past Midnight in Bhopal
A book by Dominique Lapierre and Spanish writer Javier Moro. A detailed fact sheet released by Bhopal Gas Pidit Mahila Udyog Sangathan on 13th Anniversary of the tragedy.