Manushi: A journal about women and society
Issue 1, January 1979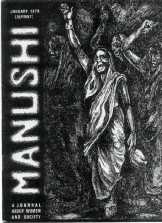 A sketch by Ira Roy, inspired by a procession of Dalit women in Bombay, May 1977.
Editorial:
Towards Redefining Ourselves and the Society We Live In

WHY MANUSHI?
MANUSHI hopes to provide a medium for women
to "speak out"
to raise questions in their own minds,
to generate a widespread debate,
and move towards a shared understanding
- for a common struggle.


MANUSHI wants to
Bring women's organisations and activists in touch with each other.
Reach women everywhere who want to break out of their passivity and isolation.
Enquire into and re-evaluate the historical experience of women all over the world.
Counter the systematic distortion of the life, situation and
image of women, and trivialization of women's issues carried on by mass-media.
---