Manushi: A journal about women and society
Issue 121, November-December 2000, Table of Contents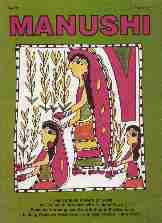 The invisible workers
Aasha Kapur Mehta: Women's unrecognised contribution to the economy.
From folk wisdom to scientific research
The curative powers of neem: Paige Passano talks to Prof. Ranjit Roy Chaudhury.
Poem : The night she left Lahore
Shauna Singh Baldwin
In a league of her own
Madhu Kishwar: An exclusive interview with Sushma Swaraj.
Poem : I long to come running to you
Meena Alexander
Baking a bigger pie
Rami Chhabra Linking women's reservation with delimitation.
Short Story : Against the current
Durga Devi Mukhopadhyaya: Translated from Bangla by Subodh Kumar Basu
My vision of the future : State-supported Utopia!
Asha Kachru
Responses to Manushi
Readers' Forum
---