Manushi: A journal about women and society
Issue 143, Table of Contents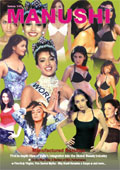 On the plus side
Madhu Purnima Kishwar: A review of the NDA regime's performance (Part II).
Battling for education
Chetna Gala Sinha and Michelle Rosenthal: The challenges of educating girls in rural Maharashtra.
Five holy virgins, five sacred myths (Part III)
Pradip Bhattacharya: "One in herself": Why Kunti remains a kanya.
Know your rights
Do's and dont's in adoption law.
Short Story: Grand Expectations
Rita Nath Keshari
Responses to Manushi
---