Manushi: A journal about women and society
Issue 144, Table of Contents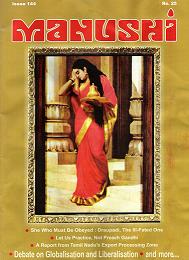 Debate: Unfair criticism
Prithvi Sharma: Rejoinder to Madhu Kishwar's critique of anti-globalisation brigades.
Respecting people's choices
Madhu Purnima Kishwar: Response to Prithvi Sharma's defence of AGBs.
Five holy virgins, five sacred myths (Part IV)
Pradip Bhattacharya: She who must be obeyed: Draupadi, the ill-fated one.
When women take on wage work
Padmini Swaminathan: A report from Tamilnadu's Export Processing Zone.
Keyboards of desire
Ashwin Mahesh: Where identities are carefully concealed, attitudes are more plainly revealed.
Short Story: Nairoberry
Rasik Shah
Responses to Manushi
---