Manushi: A journal about women and society
Issue 145, Table of Contents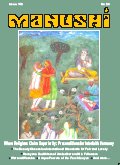 When religions claim superiority
Madhu Purnima Kishwar: Preconditions for genuine interfaith harmony.
New Buddhism for new aspirations
Virginia Hancock: Narayana Buddhism of Ambedkar and his followers.
War and wombs
Shirin: Lessons from Pakistan and Burma.
Still a male preserve
Pradip Kumar Panday: Women in Bangladeshi news industry.
Short story: Shanti! Shanti!
Fatima M. Noronha
Five holy virgins, five sacred myths - V
Pradip Bhattacharya: Unique powers of the panchkanyas.
Responses to Manushi