Manushi: A journal about women and society
Issue 147, Table of Contents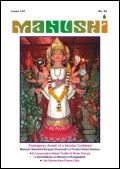 A conservative rebel
Ira Pande: Memories of an unusual mother.
Emergency avatar of a secular goddess
Madhu Purnima Kishwar: Manushi Swachha Narayani descends to protect street vendors.
Apradhini
Shivani: Stories from prison cells: Part I
A new wave of violence
Elora Chowdhary: Acid attacks on women in Bangladesh.
Short story: The diamond earrings
Sakuntala Kadiragamar
Responses to Manushi
---