Manushi: A journal about women and society
Issue 148, Table of Contents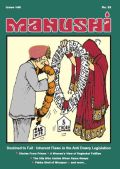 Destined to fail
The present day dowry system symbolizes the disinheritance of women and the resulting desperation of parents to push their daughters out of their homes after marrying them off. Madhu Purnima Kishwar points to inherent flaws in the anti-dowry legislation, and argues that equal inheritance is the way forward.
Apradhini
Shivani: Chhi, Mummy, Tum gandi ho! (Part Two)
Translated from the Hindi by Ira Pande.
A woman's own space
Aparna: Pakka Ghat of Mirzapur.
Kumidini's Ramayana
Paula Richman: A woman's view of Raghukul politics.
Sorry state of women's health
Diksharajvanshi
The Sita who smiles
Ruth Vanita: Wife as goddess in the Adbhut Ramayana>.
Story: Devaki
Sangeeta Bhargava
Responses to Manushi
---