Does the geo and historical backdrop of a Bollywood masala flick justify its dubbing in the language that its history may be traced back to? Is it culturally right for the original Hindi, undubbed version to be simultaneously released in theatres of the same state – West Bengal? The context can be found in Yash Raj Films' Gunday, which released recently across the state of West Bengal in both Hindi and Bengali versions.
There is a difference between a dubbed film, a film shot simultaneously in two language versions, and a film with sub-titles in the target language or in English. The debate about Gunday arises around the perceived threat that dubbed releases pose to Bengali cinema, which has a marginal identity within the larger framework of Indian cinema dominated by Bollywood on the one hand and South Indian cinema in four languages on the other.
People in the Bengali entertainment industry are restless about this encroachment into their language territory by a film like Gunday produced under Yash Raj Films, perhaps the biggest banner in Hindi cinema.
At a crowded meeting at the Bharat Lakshmi Studios in Kolkata, almost the entire Bengali film industry came together to voice their fear about the dubbed version of Gunday releasing across the state. They sought to protest against what they consider a severe threat to Bengali cinema that is just finding its way back into the hearts of a predominantly Bengali audience. The film fraternity ranging from superstar Prosenjit through noted filmmakers like Haranath Chakraborty, Sudeshna Roy, Srijit Mukherjee, to popular present-generation actors like Jeet, Dev and Parambrato Chatterjee were present.
Prosenjit Chatterjee said, "We have nothing personal against Bollywood producers and their films and have high regard for filmmakers like the late Yash Chopra. But bringing Hindi films dubbed in Bengali for release in the state will create an unfair competition for us." He added that the industry will boycott any Bengali artiste from the local industry who participates in such dubbing ventures.
YRF's local line producer, noted actor and director Arindam Sil, who is also line producer for Gunday in West Bengal, said that he could guarantee that no actor from Tollygunge did the voice-over or dubbed for the film. Ashok Dhanuka of Eskay Films voices his fear that this might spell doom for Bengali cinema.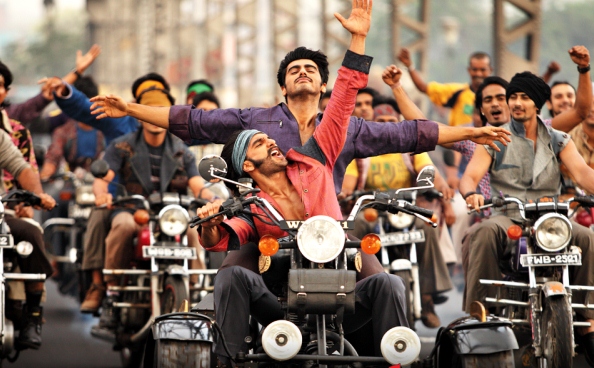 But will this really spell doom in Bengal? Not if one takes noted filmmaker Aniket Chatterjee's views on this subject. Chatterjee, known for his distinct genre of satire heavily cloaked in humor in films like Chhoye Chhuti, Bye Bye Bangkok, Goday Gondogol and Mahapurush O Kapurush, says, "In principle, I am against the dubbing of other language films in Bengali. But I really do not understand what the hoo-haa is all about because commercially, all dubbed films have failed miserably."
The filmmaker points out that the Bengali film industry right now is filled with Bengali films which are copyrighted versions of Southern and even Punjabi hits. The other reality is that actors from Bollywood and the South are acting in Bengali films with their voices dubbed in Bengali by others. The Bengali dubbed version of Gunday has hardly had any takings at the box office.
"Making a film in two versions in two languages is a different thing. But dubbing is something I, as a Bengali filmmaker making Bengali films on Bengali scripts, will never support. But there is little reason to fear that it will harm Bengali cinema because the Bengali audience will go and watch the Hindi version, and not the Bengali dubbed version," says Aniket.
A common sentiment
The issue, however, is not one that is specific to the state alone. In January this year, the Karnataka film industry too rose up in arms against dubbing Hindi films in Kannada. In fact, the spectre of dubbing other language films and television serials in Kannada has been haunting Kannada film industry for decades and resurfaced with renewed energy, as an expert committee formed by the Competition Commission of India (CCI) submitted its report favouring dubbing.
The practice of dubbing is opposed by the film industry in other states as well because the collective feeling is that such moves reflect an attempt by big multinational corporate entertainment to gain control over the regional market. To give expression to the prevalent resentment against dubbing, Kannada activist Vatal Nagaraj called for a strike on January 27. He thanked actress Tara for taking up the issue in the Legislative Council.
In an article published in The New Indian Express, actress Umashree, who is also the Minister of State for Kannada and Culture, was quoted as saying, "We oppose dubbing of other language films in Kannada and will not accept it. We have to give prominence to the people who are working in the Kannada industry."
Bigwigs who participated in the protest rally included Shivarajkumar, Sudeep, Darshan, Puneeth Rajkumar, Yash, Vijay, Tara, Sa Ra Govindu, Umesh Banakar, Dinesh Gandhi, Yogi, Srinagara Kitty, Prajwal, Suri, Prem, Leelavathi, Dr Jayamala, Vinod Raj, Kumar Govind, Hema Chaudhari, Amulya, Shruthi, Satish Neenasam and others.
However, the dubbing row ended in a divided house in Karnataka where some significant personalities from the Kannada film industry refused to join the bandh.
The general sentiment against dubbing is shared by big players in the Tamil and Telugu entertainment industries too, and that includes television. Their contention is that this will lead to a sharp decline in the number of original television serials and big screen films, negatively impacting employment in the near future. YRF last year released Dhoom 3 in Tamil (100 screens) and Telugu (700 screens) along with the Hindi version. Earlier, Chennai Express – set in Tamil Nadu with Tamil characters – was dubbed in Tamil, and this edition did extremely well in a state where Hindi is still not easily spoken. YRF is now planning to remake Band Baaja Baarat in Tamil.
One question, however, remains: How is it that the same producers who are so vociferous against the practice, especially from Southern cinema, allow their films dubbed in Hindi to be telecast across channels on the small screen every day?
While the regional furore over dubbing rages, it is strange to discover that Bollywood is trying to convince the Ministry of Information and Broadcasting to ban dubbing of English films in regional languages. There seems to be little to fear about English films dubbed in Hindi eating into the market of original Bollywood films, considering that both Hindi films and films from the South have a steadily rising footprint across the world today.
Beyond profits
One aspect which has perhaps not received adequate attention in this entire debate is that of cultural specificity. It is not the financial security of the Bengali film industry alone that is at stake here, though actors such as Parambrato Chattopadhyay are worried about this. It is also a challenge to transfer cultural items from the source language – Hindi into the target language – Bengali in this case.
Language is not just a geographical issue. It is also a cultural issue. The fact that Gunday has been largely shot on the streets of Kolkata, and features two protagonists who run away from Bangladesh as boys and grow up to become leaders in a coal mafia in Dhanbad, running their 'gunda' affairs in Kolkata, does not justify its being dubbed in Bengali alongside the Hindi release.
The actors are top-ranking Bollywood stars oozing sex appeal through their rippling muscles and trying to woo a bar dancer in their own crude way. How does this fit into the 'Bengali' mode? Ranvir Singh, Arjun Kapoor and Priyanka Chopra look ludicrous speaking Bengali within an extremely non-Bengali environment. The backdrop of the Howrah Bridge, the tramcars that are uniquely Calcutta (in the 1970s) do little to capture the soul and the spirit of the city and its people.
Dubbing a lavish-budget, loudly-mounted Bollywood production with its usual quota of song-dance numbers, action scenes and fights from Hindi to Bengali also raises questions about the dubbed film's aesthetic and cultural values. In a well-informed essay on dubbing and translation, Paulina Burczynska writes "A huge compilation of translation studies has been published that accounts for the notion of culture and elaborates on various ways of its transfer into the target language reality. Over the last few years, numerous eminent scholars have approached the issue of culture defining it from various points of view." (Translation JournalVolume 16, No. 4 October 2012.)
Paulina argues that apart from two languages, dubbing also translates between two diverse cultures. This is extremely significant in a country with ethnic and regional cultures as diverse as India represents.
To be able to effectively translate or dub various cultural references, profound knowledge of the norms and conventions of the target-language region is a necessity. There are bound to be issues around humorous phrases, word play, allusions, irony, or idiosyncratic metaphors. Humour, for example, contains a wide array of linguistically and culturally based expressions, which make dubbing from Hindi to Bengali difficult -- some elements just cannot be dubbed.
This becomes more problematic given the technical need of effective lip-syncing, where the Bengali lines have to be composed to match the lip movements of the actors speaking in Hindi. The language used in dubbed versions is usually scripted with more focus on the lip-sync requirements than on cultural and linguistic requirements.
Can one imagine watching a classic like Pather Panchali in a version dubbed in Hindi? Hindi-dubbed versions of Hollywood action flicks just fail to work on satellite television networks in India. This is where sub-titling could be expected to come in handy. But it does not help in India where the literacy rate is extremely low and sub-titles only end up distancing the less-lettered or unlettered audience from these films. The rural audience however, is known to be thrilled about being able to watch films like Life of Pi, Avatar and the like in their Hindi dubbed versions!
It is true that a free and democratic society should have no issues with dubbing of films from one Indian language to another; however, if a Hindi film is dubbed in a regional language and played alongside its original Hindi version, the potential negative impact on the regional cinema of the state must be carefully weighed. It could also unwittingly either distort or misrepresent or mutate the specific cultural and linguistic elements of the target region. Any debate on this issue must take these nuances into account.
REFERENCE
The Great Dubbing Debate: Sandalwood Remains Divided, The New Indian Express (13 January 2014)