Gil Penalosa is an indefatigable evangelist for public transit who takes a holistic view of urban planning, encompassing public spaces and citizens' engagement. However, he may not be as well known in India and elsewhere in the world as the charismatic Enrique Penalosa, the former Mayor of Bogota in Colombia who introduced the Bus Rapid Transit System (BRTS).
Bogota is world-famous for its amazingly efficient bus Transmilenio system. In 2009, Enrique Penalosa was elected President of the Board of Directors of the Institute for Transportation and Development Policy (ITDP). It turns out that Gil is his younger brother, so it very much runs in the family.
A couple of years ago, Enrique Penalosa gave a public address in Mumbai at a meeting which this writer chaired. He had one unforgettable observation. With a heavy dose of sarcasm, he asked, "I'm not that well-informed about the Indian Constitution, but as far as I know, there's no fundamental right to drive or park?" Two activities which we treat as rights are actually privileges – particularly in the country's commercial capital where real estate prices can touch Rs 1 lakh a sq ft. Cars occupy valuable space, whether in motion or stationary.
In March 2014, Penalosa Junior addressed meetings organised by the Indian arm of the global NGO Embarq, a subsidiary of the Washington DC-based World Resources Institute -- first in Bangalore and then another, accompanied by Embarq staff, at the Observer Research Foundation (ORF) together with the Mumbai Transport Forum in Mumbai. The first thing that strikes one about Gil Penalosa is his holistic vision: it isn't only about providing superlative public transport, but livable cities in every sense of the term.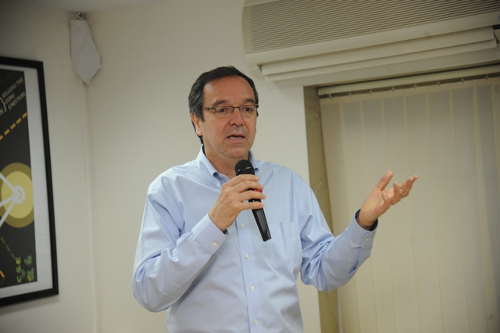 Gil Penalosa in Mumbai. Pic courtesy: Observer Research Foundation
He now works with 8-80 Cities (http://www.8-80cities.org/), a Toronto-based NGO which promotes walking, cycling and urban parks, trails and "other public spaces as great places for all". He seems to be permanently jetting to different cities across the globe, rather like a hyperactive grasshopper which has the passion of a messiah to bring about much-needed change in cities.
Penalosa opened his talk with a provocative statement: there is no such thing as bad weather; there is only bad clothing for getting out in the open to walk or bike. In Copenhagen, they told him that it was too cold; in Mumbai, they said it was too hot. However, a great many bicycle in Indian cities, despite the weather, not to exercise but to go to work. If one examines all modes of commuting, motorised and otherwise in Mumbai, an amazing 56 per cent of Mumbaikars walk to work, according to World Bank data.
Cycling in developing country cities is extremely hazardous, with no amenities at all. In Scandinavian countries, despite the earlier observation, people bike even in blinding snow or rain – mostly as exercise. If one is appropriately clad, other things like safety being assured, people everywhere in the world, from the youngest to the oldest will walk or cycle. Younger teens and below, as well as the aged, the latter disproportionately large in developed societies, cannot drive cars.
Examples trip off the tip of Penalosa's tongue: in Copenhagen, streets have been cleared to make way for cycles and pedestrians, and cars removed. Elsewhere, in a city in South America, citizens organise around potholes and there is a TV show where a popular presenter measures such holes in the roads periodically and forces the authorities to repair them, with even the Mayor lending a helping hand.
There is a huge public outcry when there are potholes in our streets, because these inconvenience middle and upper-class motorists, but no one bats an eyelid when children's playgrounds have broken swings and other damaged infrastructure like benches in parks, a terrible dichotomy. Non-motorists, whether too young or old, are entirely dispensable, it would seem, as far as city planners are concerned.
Whose streets are these anyway?
"Streets are the biggest public spaces in our cities," he said, pointing out that they are almost universally reserved for motorists. He cited Mumbai's anomaly: if one takes the proportion of people who use motorized private transport to commute, only 7 per cent use cars, belying public perception.
It takes 10 metres to park a car; in India, this would amount to 38 million metres or 38,000 km. This is the equivalent, in length, of flying from Bangalore to Delhi 18 times during the year. And, to reiterate, parking is inadequately charged though it is by no means a right. To add to the inequity, pedestrians are pushed off the road and are often maimed or killed.
There is currently a great deal of public attention on the plane that disappeared on its way from Kuala Lumpur to Beijing. Come to think of it, every day five plane loads of people are killed in road accidents around the globe. The annual toll is 1.2 million, of which 270,000 are walkers.
If traffic moves at 30 kmph, the likelihood of a fatal accident is 5 per cent. At 50 mph, it is as high as 85 per cent. In the US, where driving is a fatal attraction, 80,000 people are hit by cars every year.
In Aarhus, Denmark, a river running through the city was covered by a road. With public opinion weighed against this planning travesty, it has now been removed and the river restored to its pristine glory. Exactly the same has happened in Cheonggyecheon, in Seoul, South Korea: the $900 million project was initially criticised but has proved popular with citizens and tourists as a recreation centre bang in the middle of the capital.
"Streets should be for communities," Penalosa averred. "Parking lots suck the life out of the city." He illustrated how a religious institution in a city – say a church -- is only used once a week, on Sunday, and lies idle the rest of the time. These could be converted into a farmers' market on other weekdays, which will invigorate these otherwise dead spaces.
Melbourne, till recently an unattractive city, was given the choice of pedestrianising its riverfront or allowing cars to park and traverse through it. Shop and restaurant owners demurred, believing turning the waterfront over to people and keeping out cars would ruin their business. Ultimately, the public viewpoint prevailed and cars were declared verboten. The result: Not only a more vibrant space for walkers, but the business of shops and eateries multiplied manifold.
Dubai has a Roads and Transport Authority (RTA), but has not given up its love-affair, with some 189,000 cars. Despite the Metro, there are innumerable clover-leaf and other highway junctions, which actually clog traffic, as cities all over the world should recognise. Rishi Agarwal, a transport activist with ORF in Mumbai, cites a telling parallel: if someone is obese, the solution is not to keep buying trousers with ever-expanding waistlines, but to reduce. One only hopes such reasoning dawns on transport planners in Mumbai and other Indian cities.
Mumbai's powers-that-be are off to Dubai, Singapore and Shanghai at the drop of a hat to learn how these achieved "world-class" status despite being Asian cities. Only Singapore deserves that appellation for promoting public transport even as it penalizes motorists.
Gil had done his homework on India, so he rattled off how it has 3.8 million cars. In Mumbai, he had spent the earlier part of the day talking to IIT academics, many of whom provided innumerable excuses for inaction. IIT experts, somewhat like bureaucrats, believe that India differs from other countries and that they have a better idea of what works than a foreign campaigner. However, a controversial second Metro route proposed in Mumbai, which was endorsed by an IIT consultant, was opposed by citizens who finally forced it to go underground.
Reclaiming the streets
Penalosa called for leapfrogging technology in reorganizing cities, just as the cell phone has rendered the digging of roads to lay cables superfluous. Incidentally, this echoes the Centre for Science and Environment's 2006 tome, The Leapfrog Factor: Clearing the Air in Indian Cities. The research was coordinated by Anumita Roychowdhury, CSE's resident expert on air pollution and urban transport. The reference in the title is to how we should jump the queue in introducing Euro emission standards, instead of plodding through them stubbornly.
Cities as quintessentially American as Atlanta and Los Angeles (LA) have taken the leap and improved public transit. The latter was an urban nightmare, home to hailed planners Wilbur Smith & Associates, now back in Mumbai and Chennai, who advised what was then Bombay in 1962. LA was a bad example to emulate, because it has lost its soul to the motor car. The LA architects advised the state government to build coastal highways -- Manhattan-style projects still in the making despite overwhelming global evidence to the contrary.
LA, notorious for its clover-leaf intersections and a city where local rail lines were demolished by the automobile lobby, is today, amazingly, taxing cars to provide funds for public transit. We swear by cities like New York, London or Paris but are loathe to follow what they have done to improve mobility. Enrique Penalosa has a wonderful saying that a city can be considered truly developed when the rich take public transport, not when the poor drive cars.
In yet another example, New York's Janette Sadik-Khan was the Commissioner of the New York City Department of Transportation from 2007-2013, appointed by New York City Mayor Michael Bloomberg. Under her dynamic leadership, the Big Apple got its first-ever bikeway clearly separated from traffic. When she first suggested this, planners said they would have to undertake an environmental study. Asked how long this would take, she was told: "Two years." Shades of India's babus!
Janet then found a small clause in the rules which permitted a pilot project to be conducted without such scrutiny. Ultimately, she shepherded through as many as 125 pilot projects. Even Park Avenue has on certain days been thrown open for people's fun activities and the most iconic precinct of all – Times Square (which is not a square really) – has been pedestrianised. No one would have imagined in their wildest dreams that the day would come when you would see yoga and taichi being performed in Times Square!
8-80 Cities looks to transforming urban areas into vibrant spaces. Penalosa got passionate, almost evangelical, when he asked his Mumbai audience to think of a child or an older person whom they really loved. "Would you send the child or the aged relative unescorted across the road to a park," he questioned? The answer, especially in India, is all too obvious. "Cities are built for 30-year-old athletic people alone," he joked.
India would be witnessing an additional 300 million people in another 20 years – equal to one present-day America or ten Canadas, he pointed out. The sheer pressure of urban growth was a challenge, but also an opportunity. In the 1800s, an Indian expected to live only till 25 (for newly-arrived Britons in Mumbai in the 17th century, it was three years, mainly due to malaria). In 1900, it was virtually the same. But by 2012, it rose dramatically to 66 years. Thus population would grow not only due to a high birth rate, but extended old age.
In a characteristic sweep across continents and, indeed, subjects, he noted that car mobility was only 80 years old, although it was difficult to imagine cities without these vehicles. In other words, there was an era, even before cars, where cities all over the globe grew and prospered. So, there is nothing really fundamental about possessing cars. Every city in the world is unique and this calls for unique solutions to provide public transport, although there is much to be learnt from others' experiences.
"Everyone is a pedestrian," says Penalosa; a variation of this theme is that walking is also a form of transport. "Every trip begins and ends with walking – even if it is to a car and from it." Similarly, he says "Cycling is only a more efficient way of walking. Public transit should comprise what is walkable and bikable." On his exit from Bangalore, he noticed that in each direction of the highway to the airport, there were six lanes but no footpath. Clearly, not everyone is listening to him, yet.