Displacement is today a prime cause of discontent and impoverishment in India and many other developing countries. In the case of vulnerable groups such as tribals, the burden and impact of displacement is perhaps the most pronounced.
Dr. Walter Fernandes, director of the North Eastern Social Research Centre, Guwahati, and former director of the Indian Statistical Institute, Delhi, estimates that between 1947 and 2000, over 60 million people in India were forced to move from their natural habitats. Odisha has been one of the worst in this respect, with the mining sector proving to be a great source of distress for forest folks in the state.
Of the 5,813,700 hectares of forest area in the state, mineral reserves have been identified on some 350,000 hectares, which is more than 60 per cent of the total forest area. According to government records, from the 1980s and till 2007, the area of forest diverted for non-forest activity was close to 35,000 hectares! And this does not include the vast tracts of forest promised in MoUs but not yet transferred by the state to industry.
But it is not mining alone that dislodges people from their homes, as the following instances illustrate.
It's not just about having a piece of land
Dudunchuan, a village of Padepadar Panchayat of Thuamulrampur block in Kalahandi district of Odisha represents a settlement displaced by the Indiravati Hydro project, launched 24 years ago. The project displaced around 18,000 forest dwellers and 11,000 hectares of virgin forest in Southern Odisha – one of the most diverse wildlife habitats in Asia. A total of 97 villages, including 44 villages from the undivided Koraput and 53 from the Kalahandi district, had been affected by the dam project.
There are 36 households in the village, out of which 31 belong to the ''Penga Paraja'' adivasi community and the rest to ''Jhodia Paraja''. Forced to evacuate from their homes with a meagre compensation, their existence continued to be vulnerable even after resettlement.
As agriculture had been the mainstay of their livelihoods, it took several years for them to develop the new land for agriculture through stone and earth-bunding, fencing, and labelling. Moreover, every year, they were required to pay Malgujari (or land tax), as they did not have legal ownership of the same.
It was only after a series of awareness camps on the Forest Rights Act, 2006 (FRA) were conducted by Agragamee, a grassroots NGO functioning in the Padepadar panchayat, that villagers' awareness levels increased. This resulted in 28 claims being filed under individual forest rights (IFR) to the Sub Divisional Level Committee of Kalahandi in 2008.
After over two years of regular follow-up and discussions with the line departments, only 12 IFR claims were settled. Even so, each beneficiary got a meagre 20 decimal of homestead land amounting to 0.40 acre against the claimed agricultural land of 84.45 acres.
Baru Majhi of Kumudasil village in the Panchayat explains: "It took many years to develop the soil and its fertility. Over the years, we have understood our soil and its behaviour. If you give us a different soil, it will take years for us to understand the nature of the soil and readjust ourselves to that particular soil."
This statement clearly validates that it is not just the soil, but years of carefully nurtured relationship with it that makes someone a good farmer. Policymakers at the top and indeed modern society in general, have lost the ability to relate to nature with respect. It is only through interaction with the people who work on soil that one can understand the depth of attachment people have for their land and all the reasons for it.
The loss of peace and self sufficiency
Pukijal is yet another displaced village under Padepadar panchayat, with a predominantly tribal population. Life has become so hard here that people have lost their faith in the government.
Padman Majhi, a 48-year old woman of the village laments, "Life was so beautiful in the forest. We had access to abundant fruits, roots, honey and firewood from the forest. No one ever went hungry. We also ploughed the land and harvested a good yield from the lands that had been developed over generations. But the Indiravati Project threw us out, and took away everything."
Majhi also points out that while the government claims to have compensated them fairly for displacement, in reality they hardly have any assets. Poverty and unemployment are chronic realities.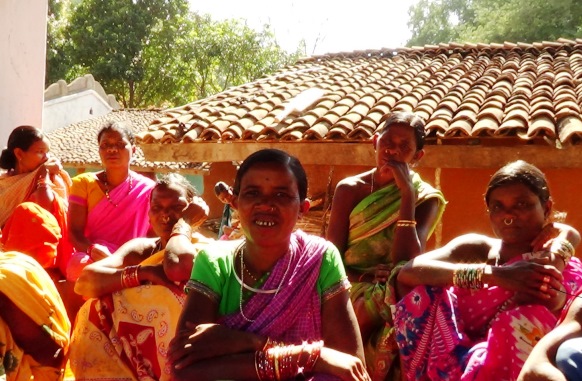 "It is only when people like you spend some time with us and try to understand our struggle and pain, that we feel a little relieved. It reminds us that we are still a part of the country, and that the government should do something for us! While we may not be able to get an adequate response in our lifetime, we pray to God, that our children will not have to go through what we have experienced," she says.
When one visits Pukijal today, out-of-school, underweight and visibly undernourished children roaming here and there present a common sight. The only tube well of the village has been lying defunct over the last couple of years and girls as young as seven years are seen carrying pots of water on their heads, from a perennial stream located at around half a kilometre. Others lend a hand to their mothers as they wash pots and pans.
The scene stands as a testament to India's stunted realisation of the MDGs, a set of poverty eradication targets set by the United Nations, whose timeframe expires this year.
A boatman who ferries across what was his home…
Kesa Jhodia lives in Sikatuji, a village of Gopinathpur panchayat in Thuamulrampur block. He sustains himself and his family by transporting people and goods in a small country-made boat though never in his life had he thought of becoming a boatman.
According to Jhodia, his family had a house, four acres of productive land and livestock in the earlier village, all of which was submerged by the reservoir. The family was used to a good harvest from the field which proved sufficient for them round the year. But the reservoir project changed everything in the blink of an eye.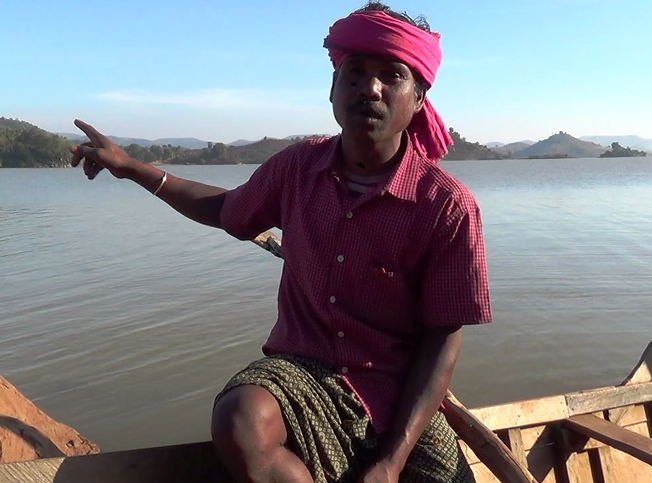 Jhodia laments, "When I am ferrying across the water, and know that around 100 feet below me, at that very point, lies my village, my home and my fields, lost forever, my heart breaks and I cannot bear the pain…"
When the government declared Jhodia's village as one among those that came within the reservoir project area, Jhodia left his village and started building a new house some 5 kilometres away, just as many of his neighbours did. This village eventually came to be called Sikatuji.
The government did compensate the displaced people then. Rs 5000 had been paid for each acre of agricultural land, while homestead land had fetched Rs 2500 per acre. However, the price of both agricultural and homestead land was several times more than this compensation amount.
Jhodia further recalls that while the government had initially said that every displaced village would be provided with basic amenities such as school, drinking water, irrigation, roads and bridges as well as employment opportunities, there has been nothing to show for it till date. "Now, we are living on the top of the hill adjacent to the reservoir – life has become so hard, even wild animals seem to be leading a better life than us," says a distraught Jhodia.
What makes the situation worse is that in the government maps, the resettlement too falls within the reservoir area, which means there is no such village known as Sikatuji in the records. It is thus deprived from all basic government services and schemes.
Jhodia irritably says, "Perhaps we all have turned into ghosts, and therefore no one can see us or feel our existence. We hear of vast tracts of grey land that have turned green in Kalahandi and Nabarangpur districts thanks to water diverted by the Upper Indiravati Hydro Project. The socio-economic conditions of the farmers may have improved in such districts - but that is at the cost of our happiness and sacrifices. There is plenty of water in the reservoir, but we cannot divert it to our fields for agriculture, or use it for drinking."
Displaced villagers such as Baru Majhi, Kesa Jhodia or Padman Majhi have neither the experience nor the temperament and culture to negotiate their lives amidst the ruins of their overturned existence. Various studies have recorded how cash compensation is exhausted soon, due to the inexperience and lack of education among the ousted: through fraud, for repayment of old debts, or squandered on liquor and conspicuous consumption.
It has been also observed that many individuals cannot use their earlier skills at the new location; human capital is therefore lost or rendered obsolete. Economic marginalisation and a consequent drop in social status among the resettlers lead to a loss of confidence, in society and in themselves, fuelling a feeling of injustice and deepened vulnerability.
For the people, the displacement is not merely from their lands, but also from their livelihoods, culture and the larger social environment. Compensation for land cannot compensate these deeper losses, making it an imperative to come up with an alternative thinking of development.