'Ye duniya abhi auraton ke befikr rehne layak nahi bani hai
Woh zyada zokhim mol leti hai, woh dohra khatra uthati hai…'
(In this world, women cannot yet live a carefree life. They face great risk and dangers.)
Hidden in these lines by Hindi writer Kuldeep Kunal is a truth that has not changed course since life was divided on the basis of gender. Equality is something women have always been deprived of and in a country like India, their struggle for rights and empowerment opportunities has, in fact, been unrelenting. In this scenario, if women have to bear the brunt of conflict and climate change as well, then it can literally result in the ground shifting beneath their feet – as has been the case with Naseem Akhter.
Around five years back, Akhter, a resident of Behrooti village, located near the Line of Control (LoC) in Balakote block of Mendhar district in Jammu and Kashmir, was walking two kilometres away from her home on her way to collect grass for her cattle, when she accidentally stepped on a landmine buried in the ground under a heap of leaves. The locals rushed her to the district hospital at Mendhar from where she was referred to the hospital in the neighbouring Rajouri district. There, her right leg was amputated.
Although disability has only increased her problems, Akhter, the sole bread earner of a family consisting of a widowed mother, younger brother and sister, has always lead a difficult life. After all, it's not easy surviving in a village that is often in the news for cross firing at the border, is surrounded by a very daunting barbed-wired electrified fence (technically called the Anti-Infiltration Obstacle System) and marked by extensive antipersonnel mines. Purportedly meant to check illegal infiltration, the fence and landmines have been a cause of mental and physical distress to the villagers for several decades now.
This cordoned-off village, where "outsiders" are not allowed to enter without an elaborate process of obtaining permission, has its own share of unheard miseries. Soon after entering the huge fenced gate, one begins to notice the unusually large number of disabled people on the roadside, some with a limb missing while others walking with the support of crutches. Landmines do not discriminate between women and men. But the after-effects definitely have a more marked effect on women's mental and physical health.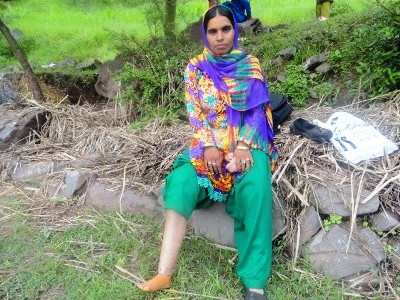 Zahida Parveen, 19, shares Akhter's grief. In 2009, she had stepped on a landmine, having taken her cattle for grazing in a forest land, just a kilometre away from her house. She too lost her right leg in the accident. "I was in Class Nine and had just started dreaming of becoming a teacher. But soon after this incident my father passed away, leaving me as a burden on my mother, brother and sister," says Parveen who has fought against all odds to take admission in Class 10 in a private academy.
For the last several years now social activist Nazam Din Mir, who hails from another fenced village, Keerni, has been demanding compensation for landmine victims like Akhter and Parveen from the security forces and/or the government. He points out, "One cannot guess where the landmines have been positioned. They were strategically placed in dense areas to check infiltration from across the border but due to decrease in forest and grazing land, the landmine areas have become more accessible. Since the resources are now pushed more towards the border - be it forests, grazing land or 'chashmas' (water springs), villagers have become more vulnerable to landmine blasts."
Clearly then, if conflict has adversely impacted these women, so has environmental degradation. According to a research done by the Kashmir Environmental Watch Association, in the last 50 years, deforestation has accelerated as a result of poor government control (and in some cases, corruption), lack of local awareness and increased military activity. Indeed, the sustained depletion of the green cover has begun to have a severe effect on the environment in the entire state.
For the present, deforestation has contributed fatally to the menace of landmines. Decrease in the number of trees has led to soil erosion, which in turn has been responsible for frequent flash-floods. Due to heavy rains, flashfloods and snowfall, the landmines laid along the border get dislodged from their original position, making it difficult to detect and deactivate them. They slide into areas frequented by villagers, causing untoward damage and loss of life.
Women affected by landmine blasts are, in many cases, forced to sit at home to avoid the social stigma of disability. On the other hand, men can be seen traversing through fields, involved in some menial job or passing their time with fellow villagers. If the female victim is unattached, her chances of marriage become very slim, pushing her further into a life where she has to face the bias of an unsympathetic society forever. And if the victim is married, she still has to fulfil all her household duties, giving birth, raising the children and other responsibilities towards the family, despite the diasbility.
Razia Kosar, a resident of village Qasba, another hamlet located near the LoC in Haveli tehsil of Poonch district, lost her left foot in a mine explosion while she was cutting grass for livestock in 2008. At the time of the blast, she had only one child but gave birth to another in 2011. Her husband, Mohammad Rashid, works as a labourer in Poonch town. Since they do not have any other source of income, Rashid cannot afford to stay back to help with the children, thus putting the entire responsibility of the household and childcare on Kosar. This is likely to take a great toll on her health.
According to Irene Feika, Deputy Chairperson of Underrepresented Groups, Disabled People International, "Women with disabilities are the most marginalised in Indian society. They are deprived of political, social, economic and health opportunities. Their problems become very complex when combined with other factors such as social stigma and poverty."
Unfortunately, this group has been largely neglected when it comes to research, state policies, disability and women's movements, and rehabilitation programmes; this has become a widely accepted fact in recent years. "In addition, due to numerous societal standards, they continue to be left out of the decision-making processes. This reality is especially true of women with disabilities, in cultures where the role of wife and mother is considered to be the primary role of a woman," she observes.
The different shades of conflict that have dominated this border region for several decades now have seeped into the lives of women more than that of men. Their everyday life has been affected in numerous ways. This cross border conflict has unfairly biased nature against women. With no compensation received from any quarters, the women landmine victims continue to suffer the prejudices of an unjust society. © Women's Feature Service
(This article is part of the writer's work under a National Media Fellowship awarded by the National Foundation of India.)