As election fever caught on in 2014, West Bengal Chief Minister Mamata Banerjee surprised everyone by picking names from her 'candidate-basket' to unfold a list of glamorous celebrities from the film world in West Bengal. The CM already has stars from the film world in the legislative assembly such as Chiranjeet and Debasree Roy. Now veteran actors Moon Moon Sen and Sandhya Roy, singer musicians Indranil Sen and Soumitra Ray are some of the celebrities set to join the fray in the imminent Lok Sabha polls.
Footballer Baichung Bhutia and Harvard professor Sugata Bose - who also happens to be the grand-nephew of Netaji Subhash Chandra Bose - are also in the running this time. Then, there is the incumbent batch, comprised of the likes of Satabdi Roy and Tapas Pal, sitting members of the Lok Sabha from West Bengal.
The electoral sky in West Bengal is thus glittering with stars. But Mamata's biggest catch, perhaps, has been Dev who is the numero uno in Bengali cinema today. With the recent success of Chander Pahar behind him, Deb is the darling of Bengali filmdom. The actor will fight from Ghatal against CPI's Santosh Rana.
The lure of politics for celebrities, and the other way round, is not a new phenomenon. However, the outcome has not always been encouraging. In 2008, southern actor Chiranjeevi's Praja Rajyam was decimated in the polls and was almost forced to merge with the Congress Party. Shekhar Suman lost and so did many others such as veteran actor Madhabi Mukherjee who contested the legislative polls in West Bengal on a TMC ticket.
A study of history also reveals some dark realities behind the shimmer of glamour. The Citizen's Report on Governance and Development, prepared and presented in 2010, evolved a method to rate MPs based purely on their performance in the House. The study included four parameters, namely attendance, participation in debates, number of questions asked and the number of Private Members Bills proposed.
These parameters were chosen based on the perceptions of the committee preparing the report about the vital role of the Parliament in governance and development. The aim was to do this in a way that made evaluation as objective as possible, and to review the performance of all 545 MPs to see where they stand in such evaluation.
A report released in September 2011, entitled Policy Brief on MPs' Composite Index and based on the same four parameters threw up interesting revelations. Over 100 MPs were given points and the top 25 MPs were shortlisted for popular ranking. The final result proved beyond doubt that the performance of MPs inside the Parliament had little or no bearing on their popularity (or otherwise) among the electorate. Only four of the top ten performers in terms of these four parameters were re-elected in the 15th Lok Sabha.
In such a scheme of things, what value can the shining stars of the celluloid world or from sports, music, literature, art or academia add to politics? Well, if it is a question of merely winning a certain number of seats to increase representation in the Lok Sabha, the answer is perhaps 'yes, they can', as the above report shows. But in terms of performance and true representation, the conclusion is less in the affirmative, given the performances of a good number of celebrities from cinema, theatre, literature and culture.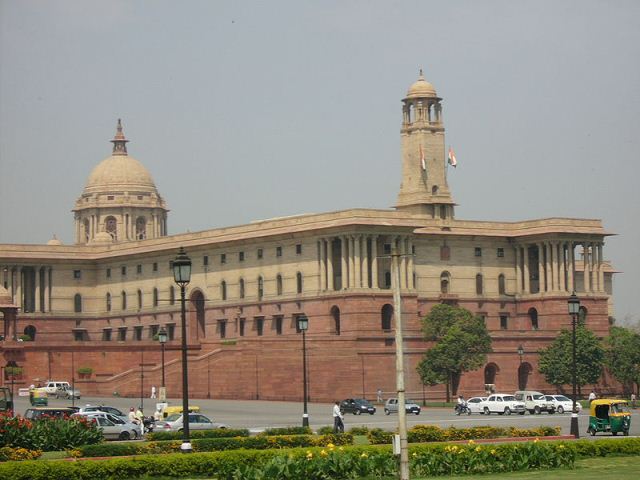 Star MPs in recent history
The Citizens' Report on Governance and Development 2008-09 highlighted the lack of interest in Parliamentary proceedings of these celebrity members. None of them turned up for more than 20 per cent of its 34 sittings in 2007.Bollywood star and Mumbai-North MP Govinda did not attend the Lok Sabha at all during this period. Actor Dharmendra did not ask a single question or participate in any debate and his attendance was a shocking, or rather, not so shocking 1.5 per cent.BJP's Lok Sabha MP from Punjab Vinod Khanna, a topper among Bollywood heroes at one time, had just four questions to ask the government and spoke only twice in the discussions while his average attendance was 5.5 percent.
Navjot Singh Sidhu's attendance on a particular year was as low as 6 per cent and his attendance was marked by his complete silence in the debates. Besides this, he used only Rs.9.45 crore of the sanctioned amount of Rs.19 crore during the 15th Lok Sabha from the developmental funds he was entitled to under the MPLADS. If this was not enough, Sidhu in a desperate attempt to capture headlines targeted his own BJP-SAD Government in Punjab for "ignoring development works in his parliamentary constituency of Amritsar"! Flamboyant and arrogant to boot, he must have been shocked when the ruling Akali Dal government refused to back his candidature for the 2014 Lok Sabha elections from Amritsar.
Reports from other parts of the country are not too encouraging either. The tables turned against one of the biggest stars of Kannada cinema, M H Ambareesh when he was defeated by over 24,000 votes by former health minister Cheluvaraya Swamy in the 2009 elections in the Mandya constituency, though he had won the Lok Sabha seat from the same constituency thrice earlier.
However, it may be said that he was an exception in that he was one celebrity among a handful who was truly appreciated for his work in the development of his constituency. So his loss was really a loss for his constituency. It was reported that he was initially reluctant to contest because his commitment to public work had dwindled in his third term, but the Congress had cajoled him into running again.
Commenting on an article in The Times of India published in April 2012, Vijay Gautam of Chandigarh gave voice to what many feel about our celebrity politicians: "Most of our elected politicians do not know what Parliament is or what Legislative Assemblies are. The basic reason is that they are elected purely because of mathematical equations, whereas in India we need politicians and not by-products of mathematics. Poor parliamentary attendance means there are not enough politicians."
Take the case of Raj Babbar who represented the Agra constituency in the 14th Lok Sabha (currently, a member from Firozabad UP). Babbar's first term commenced in 1999, but he was busier with his film assignments and his involvement in the careers of his two children Juhi and Aryan in entertainment, both of which incidentally flopped miserably inspite of their father's star and political power. During the winter session in 2001, Babbar attended Parliament only for five days.
Since reigning film stars and celebrities from other spheres are usually busy in their chosen professions, is it fair on their part to allow the parties to exploit them purely for their glamour value? More pertinently, when they already know that they will not be able to measure up in terms of the four parameters outlined above, should they themselves agree to contest these elections at all?
A FEW CELEBRITY PERFORMANCES IN THE 15TH LOK SABHA
| | | | | |
| --- | --- | --- | --- | --- |
| Name of MP/State | Attendance* | Questions** | Debates*** | Private Members' Bill**** |
| Navjot Singh Sidhu / Punjab | 28 per cent | 99 | 3 | 0 |
| Raj Babbar / UP | 72 per cent | 10 | 3 | 0 |
| Md. Azharuddin / UP | 75 per cent | 5 | 2 | 0 |
| Ramya Divya Spandana / Karnataka | 81 per cent | 0 | 1 | 0 |
| Tapas Paul / West Bengal | 72 per cent | 0 | 6 | 0 |
| Satabdi Roy / West Bengal | 75 per cent | 0 | 6 | 0 |
| P. Jaya Prada / UP | 39 per cent | 395 | 27 | 0 |
| D Napoleon / Tamil Nadu | 4 per cent | 0 | 0 | 0 |
* National Average: 76 per cent ** National Average: 300
*** National Average: 37.9 **** National Average: 0.8
(Data corresponds to the period 3 Jun 2009 to 21 Feb 2014. Source: www.prsindia.org)
Agreed that many stars such as Bappi Lahiri have lost their shimmer in their respective fields, and may welcome this sudden leap to newspaper headlines. More importantly, it also brings in a sudden brightness of sunshine in the form of financial and real benefits - often known as MP Chai - that some of them might eagerly lap up at once. But for shining stars like Dev in Bengal, is it really a huge pull?
In fact, it could be a critical situation for a really successful star at his prime. With around three to four big banner productions in different stages of production, Dev, for example, has currently put his films on hold because he is busy campaigning in his constituency Ghatal. Once the elections are over, with continuous and direct ground-level contact with a large slice of his fans, will the star charisma maintained through distance and aura not be exposed to a high degree of risk?
Representation, response and responsibility are three magic words. How can a film star like Raj Babbar or a cricketer like Sidhu, the latter now famous for his participation in a comedy show of debatable quality, be true representatives of their respective constituencies? Their fans look at them as stars, not as their representatives pleading for their cause or furthering real agendas on the floor of the Lok Sabha.
The likelihood of adequate response is questionable too. Not being acquainted with the people of their constituency or the problems and issues they face on a regular basis, these celebrities and stars would rarely understand their voters' response except in terms of mathematics, and thus will not be able to respond to their problems. Jaya Prada like Mary's Little Lamb, keeps following her political mentor Amar Singh from recognition to anonymity and from one party to another. As for responsibility, the less spoken of, the better.