The panchayat elections have just gotten over in U.P. Because of Asha Ashram's role in the right to information campaign first in Hardoi district and then in Varanasi district, it was quite natural that when it came time to re-elect the pradhans (heads of elected village committees which are responsible for undertaking development works as well as for selecting beneficiaries for various schemes of the government) volunteers of Asha Ashram would play an important role. During the RTI campaign information related to income and expenditure of funds coming to village panchayats under various heads and schemes were demanded by the villagers.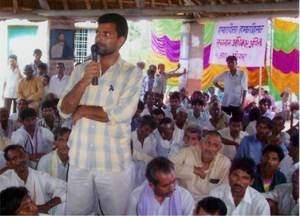 Sushil Kumar Singh, Pradhan of Gutaiya village panchayat taking the oath of office and transparency on 20 September. Pic: Asha/Sandeep Pandey.
In addition to RTI campaigners themselves who wanted to contest the elections, there were others, who did not participate but were interested in Asha Ashram endorsing their candidature as it would improve their standing in the eyes of the electorate. Ashram supported aspirants were asked to commit themselves to transparency and accountability, honesty and not using any illegitimate means during their campaign.
Dalit volunteers associated with Asha were really enthusiastic as they could take on the more powerful vested interests due to some immunity arising out from their association with the Ashram. Rajeshwari, Baijnath's wife, was a candidate from Jamunipur, Sajiwan's mother Ramkali was a candidate from Purwa Maan and Neelkamal and Guddu had put in everything to ensure that Harkaran Nath Dwivedi, who had been a proxy pradhan in the name of his dalit servant, was defeated in Sikroriha. (Dwivedi ultimately won, see note at end of this article.) Meanwhile, Keshav and Jaishankar, volunteers who were not natives of Hardoi, were overseeing the entire two blocks of Bharawan and Sandila to campaign for candidates with cleaner images. Women candidates were clearly told that they would have to campaign for themselves without letting their husbands dominate.
For the first time, Asha Ashram volunteers campaigned in their work area and asked people to vote for candidates supported by the Ashram. There were candidates - corrupt, feudal and criminal - whom the Ashram was opposing and they did not like it. They did everything to foil Ashram's campaign for a cleaner politics. Voter rolls were tampered with, code of conduct for campaigning were violated. Whenever, people brought any of these discrepancies to the notice of the Asha volunteers, the District website Lokvani would be used to lodge a complaint and the District Magistrate would be informed. The present DM Abhishek Singh took prompt action in most of the cases to rectify the situation.
On polling day, people feared booth capturing and rigging. However, Asha volunteers Keshav and Jaishankar moved around on their motorcycle in the area of influence of the Ashram and kept a close watch on the proceedings. And with the cooperation of district authorities and the local police station, they ensured that there was no bungling. Similarly, during counting, which is another stage where things could be rigged, vigilant Asha volunteers ensured that powerful vested interests did not have their way.
The awareness created by the earlier campaign for the right to information had a definite role in fair polling and counting of votes. A cooperative District Magistrate has been a big help.

The results were announced. While most of the candidates directly associated with the Ashram lost, ten pradhans in Hardoi District and another four in Varanasi said they would like to work with the Ashram. Mukesh, an active volunteer at Mehdiganj working with Nandlal's anti-Coca Cola movement, was the new pradhan of Village Panchayat Nagepur. He happens to the youngest pradhan in Varanasi district.
A ceremony was organized at Asha Ashram, Lalpur on 20 September 2005 with about 200 people attending. Those who attended included the District Magistrate (Collector), and several pradhans and panchayat members from Hardoi, Varanasi, Chitrakoot, Ballia, Deoria and Rae Bareli. They participated in a workshop for better governance and took an oath of 'office and transparency' as opposed to the oath of 'office and secrecy' delivered for any public office.
The pradhans and members of panchayats attending this meeting committed themselves to (1) taking all decisions in open meetings of the panchayat, (2) keeping all their financial accounts transparent and all important information public, (3) not pay or accept a bribe, (4) not keep a weapon for their security and (5) not taking decisions influenced by caste considerations except when there is a provision for reservation on the basis of caste. The women pradhans and members took an additional, oath of not letting their husbands or any other male member of the community run the show for them.
A similar exercise was repeated for more pradhans and members only from Varanasi District at Nandlal's Ashram in Mehdiganj on 28 September, 2005. This meeting was attended by the Member of Parliament from Varanasi, Rajesh Mishra, belonging to the Congress Party. Mishra also committed on this occasion that he would support the people's campaign for rights over water resources against Coca Cola bottling plants. Both the panchayats containing the bottling plants in Mehdiganj, Varanasi and Sinhachawar, Ballia now have pradhans who are supporters of the anti-Coca Cola movement.
Asha Ashram may not have returned a number of candidates as pradhans or members but candidates it endorsed put up a tough battle for opponents. But the awareness created by the earlier campaign for the right to information had a definite role in fair polling and counting of votes. A cooperative DM has been a big help.
So, the campaign of Asha Ashram for empowerment of people continues. Asha volunteers and members of the Ashram will settle down to ensuring transparent and good governance in panchayats, whether the pradhans are sympathetic to the Ashram or not.