According to Wikipedia, kiosks were common in Persia, India and in the Ottoman Empire from the 13th century onward. They're a common sight in much of continental Europe. In English-speaking countries, a kiosk is a booth with an open window on one side. Broadly, carts and kiosks fall under the branch of retailing called 'Specialty Retail' which refers to businesses targeting a niche audience - on the basis of geography, gender, tastes and the range of products sold. In the USA, malls, airports and other pubic places have specialty retail programmes under which they select and run carts and kiosks. Speciaty leasing has therefore become a multi-million dollar industry of its own, exciting both mall managers and retailers.
Kiosks and carts in the US and India
While kiosks and carts dot the mall landscape all over Europe as well, it is in the USA that they developed as arguably one of the best platforms for entrepreneurship. As low-cost, low-risk avenues for testing the retail waters, these are ideal small business incubators. In fact in the USA, carts and kiosks also work as avenues of 'creative entrepreneurship'; those engaged in handicrafts, art, crafts or other hobbies and collectibles sell their self-produced goods at these outlets. And almost always, they personally man their kiosks. According to the leading kiosk consultant and trade magazine publisher Patricia Norins, quoted in the Washington Post, in the USA about 25 per cent of the more than 50,000 carts and kiosks in shopping malls are owned or operated by recent immigrants - thereby giving them a low-risk option for establishing themselves.
In India, however, they present a different picture altogether. There is little of the creative entrepreneurship seen in kiosks in American malls. Instead, kiosks and carts in shopping plazas and malls in India are used by companies as small retail outlets to sell goods procured from elsewhere, or as franchises. The typical kiosk in these places is run by a food and beverage (F&B) company like Hot & Juicy, Hot Dog, Mr. Orange, Coffee Day Express, Baskin Robbins, Nescafe, Candico, Sweet World, etc, using hired staff. Recently one also sees a mushrooming of express outlets and take-aways. For instance, just outside many restaurants in malls, McDonald's has opened take-away ice-cream kiosks.
Outside the malls, we find more of the entrepreneurial kiosk operators, selling ice-cream on tricycles in places with high footfall - public parks, schools, public buildings and residential colonies, and also doing the rounds of a selected area. In addition, we have the neighborhood stand-alone outlets operating out of carts and kiosks selling fast food - omelettes, tikkis, chaats, noodles, and momos - and even full-fledged Indian meals.
Neither the F&B franchises nor the neighbourhood vendors use the kiosk/cart as an avenue for entrepreneurship, for testing the waters with their products and eventually making enough profit so as to afford a full-fledged store.


• Enterprising labour
• A weekly struggle
• Livelihood on the roads

There are noticeable differences between the Indian and American kiosk worlds. In India, the two major formats of kiosks and carts which are found inside and outside the malls are driven by two sets of motivations. First, the franchise model (where a large company like Café Coffee Day or Mr Orange sets up kiosks/carts as franchises in malls and other public areas) is driven by the desire to build market share and enhance profits through an already established brand. In the second case, vendors running carts and kiosks in the neighborhood are typically driven by the need for survival. This group of informal sector workers lacks capital and skills, and is highly vulnerable to risk. Their push-carts or kiosks provide a low-cost, low-risk means of securing a livelihood.
Ironically, what the two motivations have in common is in what they lack - neither uses the kiosk or cart as an avenue for entrepreneurship, for testing the waters with their products and eventually making enough profit so as to afford a full-fledged store.
Fingers crossed at Cross River
Kiosk owners at malls themselves confirm this indifference towards entrepreneurship. Take for instance the kiosks at East Delhi's Cross River Mall, which opened in 2006. Most of the kiosks and carts here fall under the Food and Beverages category. Ravikant, along with two others is manning a kulfi kiosk. "The investment is not really low even if you set up just one small kiosk. After all, we have to make sure that this automatic ice-cream making machine keeps running. Whenever we run out of ingredients, we have to send someone back to the storeroom to replenish the raw material," he says, indicating that maintaining a storeroom and employing people to do the running around adds up to the costs. The person who owns this kiosk himself 'hardly ever comes', since he has other businesses to look after.
Kavi stands next to his candy kiosk, polishing the plastic shelves containing chocolates, fruit-candy etc. Much like the other young men of his age running kiosks, Kavi knows little about the kiosk. "My boss owns it, and tells me what to do. I have to only sell, collect money and give it to him - anyway there is not much money to be collected here," he says coldly.
Somu and Viney are idling away at their momos kiosk on the first floor. "The sale is not very much, this mall is not attracting crowds, but may be that's because this mall is relatively new and will take more time to establish," he analyses. The kiosk selling sunglasses and watches on the opposite side began operations about a month ago. Rajiv Gupta, who manages the kiosk along with two other colleagues fears that the kiosk will close down soon. "The rent for this small place is so high. The customers are few. This place is certainly not making a profit," he rues.
These kiosks have many things in common - for the owners of these kiosks, this is only one of the many options they are trying out simultaneously. Their carts/kiosks do not represent a growth avenue for them, where they will test the strength of their products in the hope of making a huge profit and eventually rent a store. Rather, their approach is more of a trial. If the present product and kiosk model does not work, then they can switch to a completely different product overnight, or even drop the kiosk entirely and start something totally different.
All the kiosks above did not have any customers when approached or even during the time of the interview. Compare this with Hari's busy push-cart on Delhi's Panchkuyian Road. Hari's corner is famously loaded with things we all need just about everyday - biscuits, bread, eggs, buns, shampoo, soap, candy - which makes him a favourite of the entire Railway campus, on one of the main gates of which he has been parking his cart for the past 22 years. "I have been coming here from 6:30 to 12 in the morning and 4.30 to 10 in the evening for a long time, even before my son was born," he says pointing to his son who takes charge of the cart as Hari is interviewed. A few years ago, to add to his income and to engage his son meaningfully, Hari started a 'travel business' now managed by his son.
He bought a small RTV bus, a Maruti Omni van and 2 CNG autorickshws through bank financing and started a pick-up and drop service for school students (run by drivers he employs). Hari does not compain about the Municipality and police officials. "Sometimes they come and confiscate my goods. Everyone knows that hardly any vendors have licences. I go and pay the fine and often get my stuff back. It is not something I lose my sleep over," he says confidently.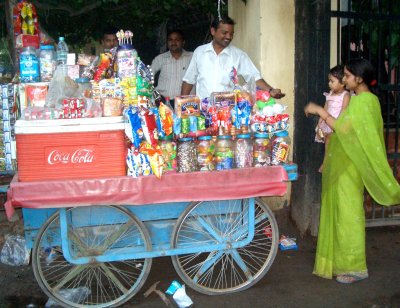 Carting a livelihood - Hari cheerfully serving the customers at his cart
Picture by Varupi Jain.
Hari's case is similar and different from those of the kiosks at the malls. Similar because for Hari too, his push-cart has not been an avenue for entrepreneurship to blossom. While it has fetched him a living for the past 22 years, it has not catapulted him towards financial or social success. He is different from the kiosks at the malls because his cart is the main source of sustenance for his five-member family. He cannot call it quits and take his time to think of his next project. And yet, he is a 'natural entrepreneur' - he has spent a lifetime selling generic goods which many others around him also sell, made enough profit to afford quality education for his children and eventually started a 'travel business' in which he even provides employment to others.
Different traps for different kiosks
Carts and kiosks are a huge part of the roughly 12 million units of kiosks, pushcarts, open-air markets and country shops which, according to estimates generate half of India's Gross Domestic Product. Still, the going for the roadside cart and kiosk owners is hardly easy. For years they have been harrased by municipal and police officials, who imfamously charge 'haftas' or weekly rents which are not their due. Partly, protective legistlation is in place to protect the interests of street-vendors, and model colonies have also been established. However, for the majority, favourable implementation of laws and state support are things that dreams are made of. Many vendors have to struggle for their very physical existence at a particular place - which only aggravates their struggle to secure a livelihood. Given this, they are left with little time and capacity to think of expanding their business and unlocking their entrepreneurship potential.
As for the carts/kiosks inside and outside the malls - are they leasing at the wrong malls at the wrong time? Do they happen to sell products which are not in demand? Or food which is pricey? Can they learn to be entrepreneurs and more crucially, do they want to? Can the neighbourhood push-cart owner ever make the transition to renting a small shop in the local market? These are some of the questions which might hold the key to unlocking entrepreneurship in India and influencing Indian retail - in greater expanse and magnitude than Walmart and Big Bazaar ever can.