A powerful blast on a black Saturday morning of June 23, 2007 robbed them of their youngest brother Safiq and their father Rofiq Ahemd - owner of a road side tea stall at Machkhowa, a commercial hub of Guwahati. The ghastly scene of their brother and father lying in a pool of blood left such a deep imprint in the minds of the two surviving brothers Mafij, 15, and Toufiq, a year younger to him, that even a month after the attack, every time they open their textbooks they only see the lifeless bodies of their brother and father.
"It was so sudden, and pushed us to such confusion that we could not work out what to do or how to react. Even on the day of the explosion, the brothers were so disoriented that they began to put on their school dresses to leave for school for half yearly examinations," says Hasina Begum, their widowed grandmother. And ever since the blast, the three surviving children - the two brothers and their sister Rumi - have been behaving abnormally, she says. While Rumi, the eldest, repeatedly talks about the incident, the boys have become silent.
Has any psychological expert visited them to counsel the traumatised children? No, she says. However, their teachers had visited their house and donated Rs.2000 for the janaja (last rites) of the little child, she added.
Pranjal Kalita in upper Assam's Eradhal Nagakheliya village in Dhemaji district was in Class VII, when he witnessed a bomb blast on 15 August 2004, while hundreds of school children gathered to celebrate the official Independence Day function organised by the district administration. The blast claimed 13 lives, most of them school children, and injured several others.
The magnitude of the trauma on Pranjal was so tremendous that he became speechless. Though he did not sustain any physical injury, he could not speak for several months and refused to attend classes even after undergoing a month-long treatment in the psychiatric ward of Assam Medical College in Dibrugarh. Two years after the incident, when I interviewed him on 3 August 2006, he still could not speak fluently, and stammered. Though he started to attend his classes again, he could not concentrate on his studies, and would suddenly become violent at times, says his mother Mamoni Kalita.
Pranjal was, however, fortunate enough to have some kind of psychological counseling. Dr. Gayatri Gogoi, a doctor from the district, personally took the initiative and wrote to the then President of India A P J Abdul Kalam, seeking his help to provide psychological counseling to these traumatised children. Accordingly, with the initiative of the then President, Dr. N P Singh, a counseling expert of the Defense Institute of Psychological Research, New Delhi had visited Dhemaji to provide psychological counseling. While Pranjal himself did not fully return to a normal state, nearly all the other victim children in the Dhemaji bomb blast incident were helped by the intervention, says Gogoi. After attending the counseling sessions, they began to behave more normally and gradually returned to school, she adds.
Unfortunately, the Dhemaji experience is the exception; psychological counseling is uniformly unavailable to children in the state. The approach of the state government is merely one of announcing ex-gratia to the next of kin of those killed or injured; anything more than this occurs only in rare instances, such as through Gogoi's intervention. As a result, even after 27 years of armed conflict in the state, the government is yet to formulate a policy to address the tremendous trauma faced by children as a result of the violence. To compound this, even those who have been working extensively on issues of child welfare in conflict zones seem unaware of the need for providing psychological counseling to children so that they can lead normal lives once again.
Impact on education
With the insurgency and counter-insurgency more or less rendering the entire state a zone of endless conflict, there has been a tremendous negative impact on children's education. Repeated clashes between various ethnic groups have uprooted lakhs of people from their homes. Deprived of all basic amenities, these people have lived in makeshift relief camps for prolonged periods; a huge number of them - Karbi, Kuki, Dimasa, Hmar, and many other tribes - still live in sub-human conditions in such camps. The most deprived of these displaced people are undoubtedly the children.
The state government had decided to open primary schools under the Education Guaranteed Scheme of the Axam Sarba Siksha Abhiyan Mission in the year 1999, in every relief camp. Accordingly the government had appointed teachers with a fix pay of Rs.1,500/ a month. Free text-books have been provided to the students. However, inmates at the camps face acute livelihood risks, as the state government has no effective rehabilitation policy, and this has in turn meant children cannot really go to these schools regularly.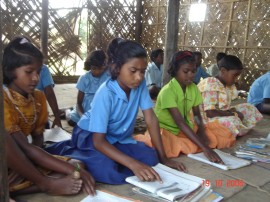 Picture: Displaced adivasi children in Jaypur Mangalajhara Regional ME School at the makeshift Jaypur relief camp in Kokrajhar district.
Each day, parents leave the relief camps in search of small daily-wage jobs, from which they can earn Rs.40 or so. As the number of people in camps has swollen, finding jobs regularly has also become increasingly difficult, and they must spend more time away from the camps looking for some opportunity. One fallout of this struggle is borne by the children. Fetching drinking water, cooking, looking after younger siblings, collecting fuel-wood, locating wild leafy vegetables, fishes, snails, rats, and arum roots - these and other numerous responsibilities simply leave no time for them to attend school, although many are keen to do so. Also, children are sent to different places to work as domestic help by their parents from the age of seven or eight.
All this means that a child with any small capability to help the family economically or in chores is quickly forced into such roles, and only the youngest children can go to the schools. Thus, while the enrollment rate in lowest grade is high, the drop-out rate quickly becomes evident. For instance, at the Jaypur Mangalajhara Regional Middle English school, in Jaypur relief camp, while 120 students were enrolled in Class I, only one-fifth as many (24) were enrolled in Class IV.
In Karbi Anglong relief camp, which I visited on 18 December 2006, I found that three schools have been running under one tin-roof shed. The buildings for these schools - Santi Langso LP School, Lorob Langso LP school and Lang Mili LP school - are all located in the original villages of camp inmaets. On this day, Deepsoan Terong, the teacher of the Santi Langso LP school, was distributing result sheets of annual examinations to the students; not a single student could muster an 'A' or 'B' grade. "In such devastating human conditions, bringing all the children to the floor of the school itself is a great success. One can hardly expect better results," he said. There is also an acute shortage of teaching-learning materials, he informed us.
There is also serious lack of dedicated non-government organisations in the state to look at the concerns of children's education. In Kokrajhar, while almost one-third of the population of the district came to the relief camps during the 1990s, only Lutheran World Service (LWS) has been providing teachers to the schools, and imparting training to such teachers. Till 2006, it had provided 62 teachers to 61 such schools; LWS also helps in constructing school buildings in some relief camps. The mission's education initiatives among camp children, however, are only a part of its total rehabilitation package for the riot victims, and do not cover all the displaced children.
Education of children of militants
The state government also lacks a policy for education of children of militants killed or arrested by security personal. Children of militants, who are equally effected by the conflict situation, become victimised doubly as people almost desert such families for fear of possible harassment by security personal.
A child with any small capability to help the family economically or in chores is quickly forced into such roles, and only the youngest children can go to the schools.


• Guns and widows
• Sex trade in conflict zone
• Women in the line of fire

After the crackdown on the two militant outfits - United Liberation Front of Asom (ULFA) and National Democratic Front of Boroland (NDFB) by the Royal Bhutan Army, Assam chief minister Tarun Gogoi had made a promise, when captured wives and children of the militants were handed over to Assam Police, that the state government would take up the responsibility of educating the children of rebel leaders. However, it has not lived up to this promise. Children of a number of ULFA leaders and cadres who were either killed, arrested or went missing during Bhutan operations now stay with their relatives.
Inevitably, some of the children face social stigma in their new circumstances. This is especially true for children whose parents have been captured by security forces and have since gone missing - they do not know whether the missing adults are even alive. "Government of India, tell me where is my father" was scrawled across one poster that Debasis Kausik - son of ULFA leader Nilu Ckakrabarty and Kabita Chakrabarty, who studies in class III in Central High school in lower Assam's Nalbari district - carried with him when he came to Guwahati to join his mother during a fast-unto-death she was participating in.
Kabita and the wives of other senior ULFA leaders captured in Bhutan - Ashanta Baghphukan, Prakash Gogoi, Naba Sangmai, and Benning Rabha - have no idea where their husbands are. This means that in school, little Debasis cannot give a simple reply to his playmates who ask who his father is, or where he is - a situation that takes a heavy toll on his willingness to go to school, or learn well there.
Determined community efforts
But here and there, one can find small signs that people have not entirely given up. In Saron Basti, a tiny village located in Mahur in North Cachar Hills district, community efforts have produced tremendous results in restoring education to violence-hit children. The Hmar-dominated Saron Basti was attacked twice by Dima Halam Daogah, a militant outfit of North Cachar Hills District, during 2003. The militants killed some villagers, and burnt several houses in the village, forcing residents to stay in relief camps for months together. The militants also set fire to the Saron Lower Primary School, the only educational institute in the village.
However, with the community effort and at the initiative of Bimola Hmar, a teacher of the primary school, classes for students were held regularly even when the entire village folk was taking shelter in relief camps. Fortunately her house in the village had been untouched by the attacks, and she decided to start regular classes in her house. For seven months, classes were held in her house, on the floor. The results of annual examinations were highly encouraging. Later villagers approached Department of education for money to construct a new school building. Now the village has a fully concrete, tin-roofed school building. Thus, not a single student of the Hmar community in Saron Basti lost a single academic year, while in most conflict areas children lose academic years for prolong period.
But such community-supported efforts are uncommon, and cannot be counted on to keep most children in school. The Bimolas of the state are the exception, and their intervention helps only a small minority of the affected children. What is needed to help the others is a comprehensive policy and system of protecting the children's interests amidst the conflict, so that their futures do not become hostage to events that they have no control over.