The urge to safeguard his neighbourhood forest and ancient temple, which he used to visit as a child, drove Prabhuswamy S to become a forest guard, and he is extremely proud of it. The 32-year-old, who has been working as a forest guard for the last six years says that no two days are the same in his life. He works in the Kollegal wildlife range in Biligiri Rangaswamy Temple (BRT) Tiger Reserve, Chamarajanagar circle.
Prabhuswamy was recognised for his bravery and courage on 24 July, 2013 by the B Marappa Memorial Trust and Karnataka state Forest Department. He was one of the 14 who were honoured for excellence in forest and wildlife protection. The award came for the alertness and zeal he showed in searching for jaw traps, and coordinating thereafter with his team to nab a team of four poachers from Haryana.
On 6 July 2012, when Prabhuswamy was out on his beat, he found a jaw trap near Gundal dam in the wee hours of the morning. He contacted his team and higher-ups using his walkie-talkie and mobile phone. On combing the area he found three more jaw traps. Then once the team (comprised of rangers, forest watchers and anti-poaching watchers) arrived, they combed the whole area and eventually found the four poachers hiding.
On preliminary investigation, the officials ascertained that family members of these poachers resided in the nearby villages. Another team was sent to search for them and check their whereabouts. This second team found their family members staying in tents, disguised as daily wage labourers. Three leopard nails were recovered from them. The poachers have been in judicial custody for a year now.
This is just one example. Forest guards have to be on their toes always, as poaching and demand for wildlife articles is always high in the illegal market.
Prabhuswamy, a 12th standard pass-out, is the third of four siblings from an agricultural family. He started working as a physical education teacher in a private school. He was good in sports, and played kho-kho at the district level. He also trained his students to participate in the state level kho-kho and kabaddi competitions in 2002. However, he was not satisfied in his job. At the same time, he felt an urge to do something to save the neighbouring Doddasampangi reserve forest. He had grown up in its neighbourhood and wanted to ensure that the forest patch was not lost to encroachment, and that its wildlife did not die a pathetic death at the hands of poachers.
It was with this aim that he wrote the forest services examination in 2007, and was selected. Now he asserts that this is his only life, and he will never let go of the uniform till his last breath. He proudly says, "On some days my job is to just patrol the forests, and on others I am assigned the duty of keeping a tab on the movements of suspicious people; sometimes, I also have night duty. Whatever it is, I love my job."
A day in the life of a forest guard
Like any other forest officer, Prabhuswamy starts his day at 6 AM each morning. In the guise of a morning walk, he does an early morning patrol of the area, just to keep a check on the movements of people. He is alert to notice whether villagers are entering the forest with their cattle for grazing, animals are straying out of forest areas or if there are attempts by any intruders to enter the forest. After that, he reports for official duty at 8.30 AM at his field office. From there, along with his team of four more watchers, he walks through the forest covering their regular beat.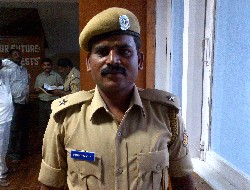 The biggest challenge facing any forest officer today is to protect the areas from encroachment and even mining. Rapid urbanisation, lack of open space, and demand for land have put a lot of pressure on forest areas and consequently, on the staff to protect the green cover. (Pic: Prabhuswamy S).

Prabhuswamy and his team carry their simple lunches in small steel tiffin boxes with them; he says that they do not have the time or the luxury to eat at leisure as they have to stay alert always. They eat wherever it is possible - sometimes near a stream or under a tree or just standing behind bushes. "We have to be watchful of elephants and tiger movements always. We do not want to disturb them or attract attention," he says.
After patrolling the area, the team gathers at 5.30 PM to discuss the sightings of the day. They discuss the movements of animals, herds, reports of any humans moving suspiciously, and even details of dry grass and weeds growing (to be alert to the possibility of forest fires, especially during summers). They send a detailed daily report of the animal sightings, tiger pug marks with photographs, geographic location and GPS reading and other findings from the daily patrol to the Conservator of Forests.
"We have been given Samsung tabs and mobile phones which have the e-Hulli software installed." This is an e-notebook fitted with GPS, which tracks the movement of guards. The guard has to note all animal sightings - of tigers, leopards, sloth bear, elephants, gaurs and other wildlife - and then send it to the conservator immediately via email. "While walking through the stream belt we scan the area and keep a tab on animals. We observe animals at waterholes and note their strength," he adds. The team also visits anti-poaching camps to take notes from the watchers staying there.
On average, a forest guard and his team of watchers (three to four in number) should patrol an area of 22 square kilometres on foot each day. Though practically it is not possible for every guard and watcher to cover the whole area every day, they cover sensitive areas like waterholes, border areas and some intersection points daily. The rest are scanned once in two or three days.
This is also perhaps what tires most forest department officials in the field. Since they are forced to patrol almost 22 square kilometres each day, they opt to work in non-wildlife areas, which in turn makes the forests more vulnerable. To overcome this problem, the government has now made it mandatory for all new recruits to work for at least five years in the wildlife habitations, after which they can opt for a transfer.
Despite the hardships, Prabhuswamy says he is proud of what he is doing and stands tall with his head held high in self esteem. Each time he wears his cap, his face brightens with pride and pleasure.
Woman power
Another awardee this year is Sunitha Mallikarjuna Nimbargi, a range forest officer in Kakathi range of Belgaum forest division. Sunitha was recognised for evicting encroachers from 275 hectares of forest land in Gujunad range. She convinced local villagers and farmers by sitting across the table and talking to them, hearing their problems and coming to a consensual agreement. Her dedication, convincing power and the ability to listen to farmers have helped her win not only the hearts of her staff and superiors, but also of the locals.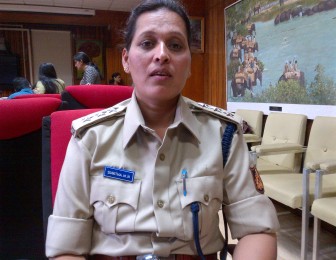 "I was very impressed by the police forces," says Sunitha, "I always wanted to wear an uniform and salute. I also wanted people to salute me." But she had never applied for any police training nor heard of the forest services. "Soon after completing my MA, I got to know of the forest service examination. I wrote the examination and got selected." Sunitha was first on duty at Dandeli where she was training, and after that got posted in Kakathi. "Wearing this uniform is my pride and my identity; I will not part with it. Even if I am transferred and posted to any remote forest area, I will guard it like my home," she asserts.
Life as a forest officer is not easy, of course, especially when one has a 12-year-old daughter and a husband working full-time as an architect. But Sunitha says that her family has been very co-operative and understanding. "Being a woman is never a disadvantage, it is rather an advantage, as people listen to you. It has happened in my case. People realised that I am a woman standing in the field and ready to fight. I am polite when I can be and stern when I have to be," she says.
According to her, the biggest challenge facing any forest officer today is to protect the area from encroachment, and even mining. Farmers and local villagers often are not aware of the legal boundaries that separate forest land. With advancement of science and technology, the forest department has been able to demarcate these boundaries, and wants to keep the forest lands strictly off-limits to encroachers. Rapid urbanisation, lack of open space, and demand for land have put a lot of pressure on forest areas, and consequently on the staff to protect the green cover.
"It is very difficult to reclaim land once it has been taken, and convince people. Regular surveys, holding talks with people, explaining problems, coming up with practical solutions, educating them on the pitfalls of solar fencing or electrical fencing, and urging them not to take their cattle for grazing into forests - all these make for a difficult task," adds Sunitha.
As a range forest officer, Sunitha has to take care of an entire range, which includes the beats of 13 forest guards and five foresters. She starts her day at 5 AM in the morning, to attend to home chores before she gets ready for office. She ensures that she is at office everyday by 8.30 AM to brief her staff on the operations of the day. Even though the schedule for the next day is planned in advance, daily developments often change everything.
"Normally after briefing the staff, I visit the field and make a note of things myself. After that, I return to my desk to do office work. There are times when I have to go to the court or visit other government offices like the tahsildar.s. I also have to keep aside some time to meet people who come every day with their grievances in the evenings," she says.
Being a forest officer is a 24-hour job, and there is no fixed time to end the day. There are days when Sunitha has to patrol the nights or even be away from her family for a couple of days or more. But, like Prabhuswamy, she too says, "At the end of the day, when I see that the forest is safe, wildlife is safe and my family is happy and smiling, I am satisfied."
Taking care of those who take care of the forest
Passionate officers such as Prabhuswamy, Sunitha and others like them may swear by their profession but the human resource challenges for the sector cannot be emphasized enough. According to wildlife experts, the biggest problem revolves around regularising daily wage contractual workers, and resolving conflicts related to loss of life and crops. Retired forest department official and President of Wildlife First, K M Chinnappa says that even as talks are on and measures are being taken to regularise the 20,000 contractual staff, they should be taken care off better.
Keeping in mind the menace of poaching and the threat to wildlife from growing urbanisation, involving the locals by employing them as permanent employees will help in protecting wildlife in the long run. Another long-pending demand has been that of higher salaries and provision of free education to the children of employees.
Chinnappa also points out that forest departments, although they have money, don't know how to use it effectively for conservation. Often, they indulge in unscientific and unnecessary practices such as digging wells, laying roads and creating artificial water bodies that serve no purpose in the long run.
In the opinion of retired principal chief conservator of forests Avani Kumar Verma, however, things in the wild are improving overall. He agrees that those who are from urban areas are not happy working in these areas, and want to shift to urban forestry at the earliest. It is also true that there is a lack of resources and the staff, in addition to conservation, has to take on more responsibility in relation to upkeep of plantations and nurseries, village forest committees, encroachment prevention and so on. This stresses them, and the focus on conservation is diluted. The staff is also unhappy with the old jeeps and fuel they are given.
But Verma points out that measures of modernisation are underway. Young people are being hired in forest services everywhere to improve the strength of the force. Senior officials are now seen patrolling on foot with subordinates to motivate them. Modern ammunition is being purchased. Proposals for mining and other energy and power plants are being rejected.
The biggest challenge still is maintaining buffer zones everywhere (an area of 100 metres to a kilometre just outside the forest area and between urban areas, left untouched as no man's land so that it acts as an extended boundary for animals, especially elephants) and keeping wildlife like elephants, leopards and sloth bear inside the forest area. As forest areas are shrinking and developments on the periphery are on the rise, human-animal conflicts have become more frequent. Attending and resolving these issues is a huge challenge the staff faces, points out Verma.
As forests become increasingly vulnerable, the protection task forces need to be strengthened. In Assam, for example, para-military forces are being assigned for protection; similarly, innovations should be thought of for other areas as well. This can be achieved when the staff is happy and the area well-protected.
Verma accepts the complaint that in monsoons the staff have to walk without waterproof coats, gum boots and even umbrellas. But he adds that this is only temporary. "Everything is there, sometimes it just gets delayed in reaching the people in remote areas," he says. Continuous supply is affected by factors including economics and logistics. But to woo forest officials and keep them happy in their jobs, they are now being provided with free quarters and free lunch on duty.
While for self-driven, dedicated professionals such as Prabhuswamy and Sunitha, these may come merely as add-ons, such steps can in general encourage more people to consider an arduous but thrilling career in the forests.