The global recession may have paled the sparkle of Indian jewellery with massive decline in its employment, but in Assam things are very different. Here, traditional jewellery is sparkling more brightly than ever, and attracting more youth in the state to take up jewellery-making as a remunerative profession.
And helping them in the endeavour is an innovative training programme by the Indian Institute of Entrepreneurs (IIE) based in Guwahati. The instittue has has helped the new entrepreneurs in their quest to develop this market, by blending tradition with modernity and in the application of numerous unexplored indigenous motifs, designs and other traits of Assamese culture to their jewellery.
Fostering new entrepreneurship
Debojit Baruah and Asha Pathak, two entrepreneurs trained by the IIE in jewellery designing and manufacturing, are all set to open their showroom in Guwahati shortly. Prior to opening their showroom, they have improvised a variety of indigenous designs in addition to those already existing, and also conducted a market survey in the entire state engaging a group of local youths. The response to the survey was very encouraging, they say.
"We have made an extensive catalogue of those designs that we already developed. The catalogue has received tremendous response among the buyers in the state," says Baruah. "My background in computer designing and Asha's background in fashion together have resulted in a unique output of experimenting in jewellery design, to catch the eyes of the fashion world." He was formerly a computer instructor of APTECH while Asha was a model and fashion designer. Apart from undergoing IIE training in jewellery-making, both of them have also completed a training course in gemstone cutting and polishing.
W Ranjit Singh, a senior official of the IIE, says the institute has a state-of-the-art training campus with latest gemstone cutting and polishing and jewellery manufacturing equipment, an up-to-date curriculum and a host of experts. Additionally, it offers an incubation facility, so that trainees can avail the equipment of the institute for at least one year after completion of the training. Another advantage of the IIE programme is that entrepreneurs can start new businesses with a very low initial capital of Rs.20,000; the institute has linked up a number of its trainees with different financial institutions, to help them get off the ground.
The international market for gems and jewellery is about US $40-45 billion a year, and India is a major exporter. The country's export of gems and jewellery is estimated at Rs.44,000 crores (about US $11 billion), almost 1/7th of total exports. The industry employs more than 3 lakh people.

"The course mainly focuses on traditional Assamese ornaments, because they are exquisite and unique. There is still a lot of unexplored market demand for them. We're hopeful that the young entrepreneurs from the institute will be successful in popularising them outside the state too," says Singh.
A rich history
The state's rich tradition of manufacturing gold jewellery dates back to several centuries. Some of the popular traditional Assamese jewellery include earrings with exquisite Lokaparo, Keru, Thuriya, Jangphai, Long Keru, Sona or Makori; an array of necklaces including Golpata, Satsori, Jon biri, Bena, Gejera, Dhol biri, Doog doogi, Biri Moni, Mukuta Moni, Poalmoni, Silikha Moni and Magardana, and diversified rings including Senpata, Horinsakua, Jethinejia, bakharpata and others. Some designs are exclusively found in this region only.
The jewellery is typically hand-made, and the designs mostly depict floral and faunal treasures of the region. Traditional designs of Assamese jewelleries are simple but decorated with vibrant red gemstone, ruby or mina. Black, red and green colours on gold jewellries are most favourites among the buyers; these colours also dominate the traditional dresses of tribes and communities of the northeastern states.
Some designs of traditional Assamese ornaments are directly derived from the elements of tribal culture. These designs and motifs sometimes have found space in these ornaments directly, and sometimes by blending. The Jangphai Keru and Gamkharu for example, were originally tribal ornaments. Lokaparo, which is an ornament with two sets of twin pigeons placed back to back in gold, mina or ruby was originally worn by high profile male dignitaries of the royal Ahom dynasty. Gamkharu, a pair of gold bangle, originally used by male only, now has formed an essential ornament of the Bihu dance costume of girls.
References to traditional Assamese ornaments date back to the time of Mahabharata at least. During the seventh century, Bhaskarvarma, the King of Barman dynasty of Kamrupa or ancient Assam, had sent a handsome quantity of Assamese ornaments along with other valuable gifts to king Harsavardhana, the great Indian emperor. Bhaskarvarma inherited some of these ornaments from his predecessor Bhagadatta, who fought on the plains at Kurukshetra.
The manufacture of gold ornaments, as well as gold-washing flourished in medieval Assam during the reign of the Ahom dynasty. Gold dust was abundantly found in the sands of different rivers of the state, but mainly from the river Subansiri, one of the major tributaries of the Brahmaputra. During the rule of the Ahom Kings, gold-washing on the banks of the Subansiri (meaning: "flow of gold") was a major profession of the Sonowal Kacharis.
Jorhat and Sonari in Upper Assam, Nagaon in central Assam and Barpeta in lower Assam have been major hubs of manufacturing of Assamese jewelleries throughout the centuries. The jewellers are called "sonari" in Assamese language. Their technique of making jewellery bears resemblances to the traditions of South East Asia, much more than to other nearby parts of India itself. There are also similarities with the Kundan jewellery art of Rajasthan. During 1853, there were four gold-washing mahals in the state.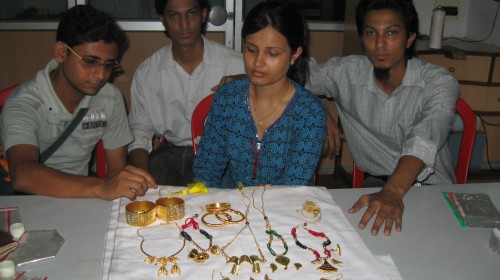 IIE trainees making traditional Assamese jewellery at the training centre.
Success, against the tide
Significantly, a number of IIE trainees foresee a better future for themselves in the gemstone and jewellery industry, at a time when elsewhere in India the industry is facing tough times. The Economic Survey of India 2009 has identified huge job losses in the gems and jewellery sector during the ongoing recession. The Labour Bureau of the Ministry of Labour and Employment in its report on Effect of Economic Slowdown on Employment in India which is based on a sample survey of 2581 units, has reported that during October-December 2008, there was decrease in employment of about half a million workers. The report says "the most affected sectors were gems and jewellery, transport and automobiles where employment has declined by 8.58 per cent, 4.03 per cent and 2.42 per cent respectively during the period".
How is traditional Assamese jewellery faring so well amidst this downturn? Baruah attributes the factor behind the popularity of traditional Assamese jewellery to its low cost and innovative designs. "We have offered lot of options to consumers of different economic status based on the same design. These ornaments may be of pure gold, gold plated on silver or mina, according to consumers' choices. However, the end products always remain attractive, having same glaze, dazzle and look in all the metals," he says. Prices of jewellery set on the same design may range between Rs.4000 and Rs.35,000, depending on the metals used.
Asha Pathak says with the advancement of fashion technology, the design of traditional Assamese jewellery has received a boost. The increasing popularity of ethnic wears in the fashion world has fostered a new trend in designing traditional jewellery, and businesses are capitalising on this opportunity.
The cutting and polishing industry too has a steady and growing local market. Piyush Kumar Nath, a senior instructor at the IIE says that large quantities of raw gemstone - of both precious and semi-precious varieties - have always been imported from Myanmar to the northeastern states. In the past, these typically would go to places like Jaipur, Surat and Mumbai for cutting and polishing, and subsequent export. Now, however, the northeastern traders believe they can command higher market prices by taking up cutting and polishing themselves locally. Labour costs in Assam are also lower than in the cities of the west, and finished gems could be exported more profitably from here, they believe.
Nath says that most of the IIE graduates have taken up cutting and polishing in addition to manufacturing. "In manufacturing, it is volumes that matter, since the profit margins are relatively low. The margins in gemstone cutting and polishing are higher, and it is this business that we must bring to Assam."