104 Assembly constituencies in Karnataka went to the polls on April 26 in the second phase. The state's election watch committee -- an independent and non-partisan group of eminent citizens -- compiled information about candidates in 98 constituencies using candidates' own disclosure affidavits, mandated by election law.
91 constituencies had candidates with a criminal record. The BJP headed the list with 21 candidates, the JD(S) had 19, and the Congress, 12. The BJP ally, JD(U) had 1 candidate. Criminal offences declared by candidates are those that Indian Penal Code considers to be criminal offences, framed by Parliament and Legislators themselves.
Table 1

Violent crimes not including rioting
Violent crimes listed here include murder; attempt to murder; violent actions like assault, causing grievous hurt, use of dangerous weapons; criminal intimidation and death threats; robbery, theft and dacoity; provoking enmity on religion and caste, and defiling place of worship; house break and assault; attempted dacoity and causing damage by fire and explosives. Other crimes that come during analysis of mandatory candidate disclosures include cheating, fraud, and forgery.
Many candidates have more than one case against them. At the time of the polls, there were a total of 96 charges for violent crimes amongst the major parties alone. Adding the numbers from other party candidates and Independents, the situation is even more alarming. The level of criminal records amidst candidates here seems higher than some North Indian states like Delhi, Rajasthan and Gujarat.
Table 2 - violent crimes, candidates from the three major parties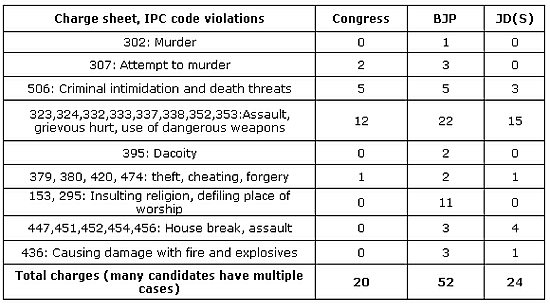 Rioting as a means of protesting?
The charges detailed in Table-2 do not include rioting crimes. Political parties routinely dismiss these as emerging from so-called political rallies, dharnas or rasta rokos and defying prohibitory orders, asserting the 'political' nature of such actions. Rioting charges against many candidates come under IPC 143, 144 and 147, and charges for rioting with deadly weapons under IPC 148. If these charges are added, the number of charges against candidates shoots up.
Opposition parties usually make another claim -- that ruling parties foist false cases on them. But if this were true, ruling party candidates ought not to have cases against themselves. This does not bear out in the evidence. Clearly there are other means of registering protest, and the parties have to consider those.
Candidates for Lok Sabha from Karnataka
13 Constituencies went to the polls in Phase 2 elections for the Lok Sabha. 8 candidates had a criminal record. 2 are BJP candidates, and charges included criminal intimidation and death threats, house trespass for assault, criminal force on public servants, and charges under prevention of Corruption Act. The other two major parties, the Congress and the JD(S) have none. 3 Independent candidates also have criminal records and 3 from the Kannada Nadu Party.
Table 3

Conclusion

The widespread background of criminal records in the state's candidates is alarming. Currently, Elections in India are largely fought on party lines and not so much on the basis of individual candidate performance. In this situation, party leaders are squarely to blame for the kind of candidates they put up. At present, the party leaders prefer money and muscle power, and more recently, glamour, to woo voters. But with better grassroots mobilization, they ought to be able to identify more capable and 'winnable' candidates.
A note on financial transparency. As mentioned in previous reports, candidates are not fully disclosing their financial record as required by the Supreme Court and the Election commission. This trend continued into phase 2 elections in the state. Overall, around 75% of all Karnataka candidates have not given their PAN (taxpayer identification) numbers. A total of 240 in Phase 1 and 58 in Phase 2 have either not declared any assets at all or not provided any monetary value of their assets. The Election Commission needs to take action on this issue.
Thanks to mandatory disclosure rules, there is now more public information than ever before on candidates engaged in the current contests. The onus is clearly on the party leaders to field cleaner and more capable candidates.