Child rights, we all know, are the responsibility of adults. But how does one go about making sure adults discharge these responsibilities when they are themselves unaware of what they can do, and all their energies are absorbed by just the daily grind of survival anyway?
The Socio Economic Development Trust (SEDT) has found one answer to this question: engage the children directly. Since 1994, SEDT has succeeded in drawing some 11,000 dropouts in 220 villages in nine tehsils of the impoverished Parbhani district of Maharashtra back to school through unique village-level children's organisations called Bal Panchayats. The Bal Panchayats have also successfully implemented some of the points on the agenda of Sarva Shiksha Abhiyan, and even roped parents into the network for improving the overall quality of education in villages.
In 1980, SEDT set up a home for orphaned children called Swapnabhoomi (dreamland) in the village of Kherwadi in Palam tehsil of Parbhani district. "Working with the 70 or so orphans in our home made us sensitive to the plight of children who were not actually orphaned but were living in no less desperate conditions," says Devrao Kale of SEDT.
But when the members of SEDT started working around the issues of child rights in ten villages in the tehsil in 1994, they faced a surprising amount of apathy from parents. The reason was not only the intense pressure of poverty, which is serious enough, but people's firm belief that schools and education were the business of the government. "If a child failed in a class," says Kale, "the parents would simply assume that the child 'did not have brains', cuff him over the head and send him to work."
Even as the activists tried to talk to elders and failed repeatedly, a new and interesting phenomenon began to take place. Groups of interested children began to gather around the activists, to chat, listen and ask questions. Soon the children also started taking an interest in education. Many confided their problems with school and education with the activists, and some even managed to bring parents along to join the talks.
"Unconsciously, we found ourselves depending more and more on the children to help us mobilise parents, obtain information about what was going on in school and homes and so on," says SEDT project in-charge Sheikh Musa, "We found we could not function at all without the children."
In their own voices
Realising that any work in education in the area was impossible without the help of the children, SEDT decided to organise the children into village-level groups. In 2000, the first such groups were created in 13 villages. Called 'Bal Panchayats', these groups of 12-30 children were trained initially to identify children who had dropped out of school and to convince the parents of these children to send them back to school.
"It was the children's sincere involvement which made it impossible for village adults to go on ignoring the issue as they had done earlier. In a way the children shamed the adults into action."


• A children's panchayat election
• For the children, by the children

The Bal Panchayats use a number of different strategies to convince parents to send children back to school. In Lohra village in Manwat tehsil for instance, Ayodhya Khating and her panchayat started a tradition they call the
bomb pheri
('bomb' in Marathi means 'shouting'), a session of shouting slogans against child labour in front of the houses of dropouts. "Two dropouts in my village returned to school after we did this."
But in most cases, such extreme measures have not been required. Meeting parents and talking to them is enough. Says Deepak Tandale of Tandulwadi in Gangakhed tehsil, "There were six child labourers in our village. We asked them if they wanted to go to school. When they said yes, we met their families and convinced them to send their children to school. Our village was the first to be free of child labour in the entire district."
"There were ten dropouts in my village," says 14-year-old Yogita Dhongade of Tivathana in Sonpeth tehsil, "All of them are intelligent and hard working, but had to drop out due to poverty. We went to their homes in groups and talked to their parents. Today eight have returned to school. The remaining two have to work because their parents are ill. We are trying to make evening coaching arrangements for them."
The case that children make for education is simple - it is free, and while it may not gurantee a 'naukri' (job: this, say the children, is adults' most frequent argument against sending a child to school), it will open up a world for him. "We tell them that if you do not educate the child, he will go on being a labourer, but if you do, he will at least have a better chance," says Ayodhya.
This pleading by children, say observers, has a definite psychological edge over other measures. According to the principal of a school in Pohetakli, in Pathri tehsil, "Parents may not be willing to listen to teachers, who, after all, do not belong to the village. But if the child's own friends plead for him, the impact is much stronger."
The Bal Panchayats also work with school teachers to organize a 15-day enrollment drive - one of the provisions of the Sarva Shiksha Abhiyan - at the beginning of each academic session. During the drive, the members visit every house, hold meetings in every street and organise a rally to deliver messages regarding the importance of education. They also submit a request to the gram panchayat, naming dropouts and requesting the panchayat to ensure their return to school.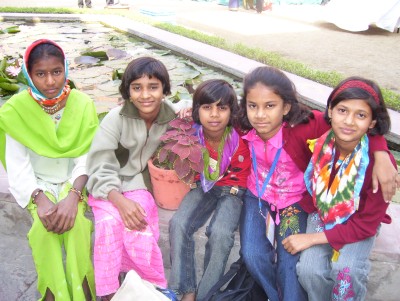 Bal Panchayat members .
Fixing the schools too
But drawing the children back to school is just half the job. The other, more crucial job is to make the school worth going to. This is an area where, Musa feels, the help of children is indispensable. "In any setting, it is virtually impossible for parents or anyone else to find out exactly what is going on in school without the help of the children actually going to school. In rural areas, the cooperation of children is all the more important because parents do not take any interest in school activities at all."
The activists of SEDT talked to both parents and children about their experiences with school, and zeroed in on the most important reason why dropouts happen - more important than even poverty - that school is simply not worth the trouble.
"Parents today are aware of the importance of education as never before," says Musa, "Even the poorest parents send their children to school if the state provides free education. Often in the process the family has to lose vital income. But if this parent finds that after four years of schooling the child can't even write its name, then he has every reason to withdraw the child from school and put him to more remunerative work." SEDT's baseline study found this to be the case with some 70 per cent of the school-going children in Parbhani district.
On their part, children too are not keen to go to school if the school is shoddy or is not run efficiently. "I myself did not like to go to school before I became a member of Bal Panchayat," says 11-year-old Mukta Govind Ingle of Sategaon in Palam tehsil, "There were just three classrooms for eight classes, the teacher was never there, and the building was crumbling and dirty."
"The Sarva Shiksha Abhiyan provides funds for classroom construction, school beautification, enrollment drives and many other purposes, but the reforms do not get implemented," says Sukeshini Chaudhari, a field worker with SEDT. To improve the condition of classrooms, the school and the quality of education, the children were first motivated to do voluntary work. The duty of cleaning the school compound has been taken up by the students. Children have also planted saplings around the schools and started kitchen gardens which supply vegetables for the school's midday meal. Working with limited funds, children made simple educational aids and decorated each classroom so that the atmosphere changed from dreary to colourful and inspiring. Today, each of the 220 schools with which SEDT is working boasts of clean campuses, decorated classrooms, 20-25 young trees and a functional kitchen garden.
"We sweep and clean the entire school compound every day, and water the trees," says Deepak, "Even during holidays we water trees. During summers we have to bring water from a distance of one km, but we still remember to water our trees."
More serious issues like absent or corrupt teachers, low quality of instruction, building repairs and new construction where required, cannot be handled directly by children. What helped was the fact that during their school-improving activities and talks with SEDT activists, the children had also started questioning things that were wrong, and taking the questions back to their parents.
Mukta outlines how the process worked in her village of Sategaon. "Earlier, when the teacher was absent - which was more than half the days - we would just go off to play," she says. "But when we started working to get dropouts back to school, parents asked us what was the use of sending children to school when there were no teachers." The children had no ready-made answer, but they talked to their parents, and within a month the panchayat issued a warning to the teacher who promptly corrected his ways. Six additional classrooms and some toilets were also constructed for the school after the bal panchayat raised a demand in this regard.
The process has been more or less similar in most of the villages. Most of the buildings, some pretty antiquated, have undergone repairs and in at least half of the schools, the requisite number of class rooms have also been constructed. In all the villages, parents' and village panchayats' involvement in school activities has also gone up.
Explaining this phenomenon, Kale says, "It was the children's sincere involvement which made it impossible for village adults to go on ignoring the issue as they had done earlier. In a way the children shamed the adults into action."
Government pays attention
Among others who could not go on ignoring this powerful process of change initiated by the children of 220 villages is the Maharashtra government. After listening to the stories of bal panchayat children at a convention in Mumbai in October 2007, education minister Vasantrao Purke promised that the government would support the establishment of bal panchayats in all villages of Maharashtra and a state child rights commission will also be established in the state. A resolution regarding the former has already been passed in the State Assembly during its winter session in December.
Asked how viable it is to involve children in development processes, the responsibility for which lies with adults, Musa says, "It is certainly not justifiable to relegate adult responsibilities onto children, but in an atmosphere where apathy and lack of awareness run deep, children's contribution in making adults aware of their responsibilities is of great importance. Once the adults start discharging their responsibilities properly, the children can go back to study and play."