The Union Budget 2021 laid out an elaborate financial package to develop metro rail lines across cities. While more metro lines are being envisioned with a focus on building the economy back, the post-pandemic mass transit infrastructure we now build must also be leveraged to sustain the growth of jobs and urban economies in the long run. One such clear opportunity lies before the Mumbai Metro.
Mumbai Metro line 2A (Dahisar – D.N. Nagar) and 7 (Andheri East – Dahisar East) are expected to be operational within the next few months, adding 35 kilometre of mass transit lines to the megacity. Before the pandemic, the 11.4 kilometre long Metro line 1 (Versova-Andheri-Ghatkopar) served around four lakh commuters every day. These lines are part of a number of metro lines currently being planned, or under implementation. This offers the city the opportune moment to realize the potential of new infrastructure and leverage it as a tool to enhance the competitiveness of Mumbai.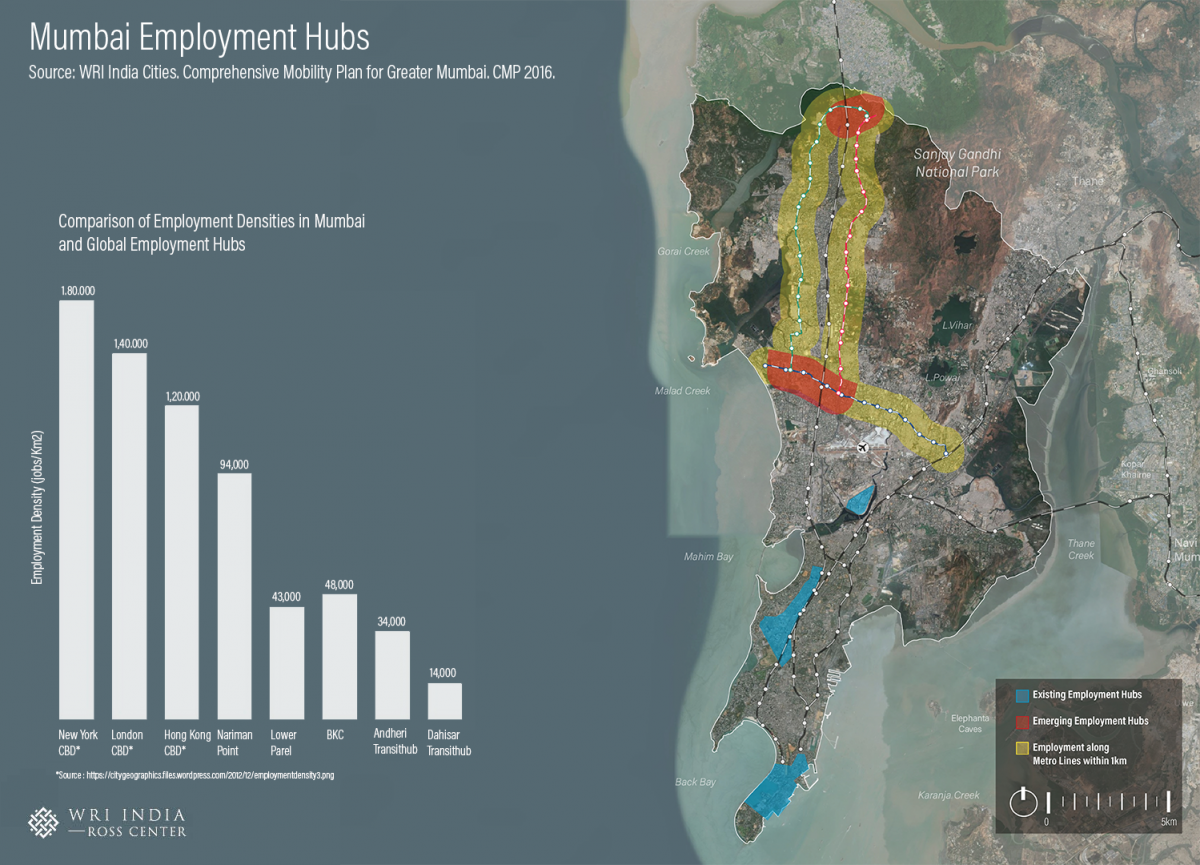 Metro rail and opportunity
There are around 5.9 million jobs in Mumbai city. Around 1.4 million of these are located within a 1-kilometre buffer (both sides) along metro lines (1, 2A and 7). If we consider a slightly broader catchment, of up to 2-2.5-kilometre buffer from the metro stations, then there are 2 million jobs along these corridors.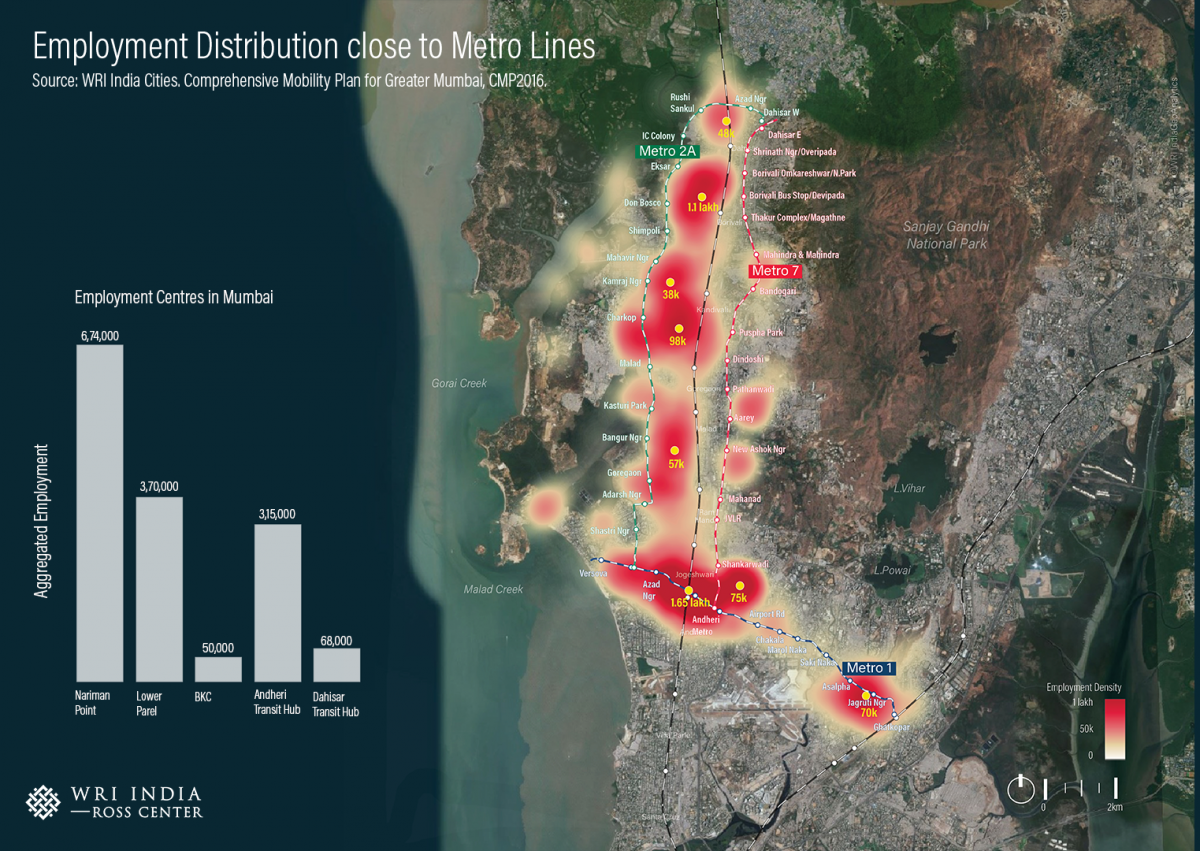 A quick look, along the Mumbai Metro line-1, reveal a job density of around 26,000 jobs per sq. km. The highest densities are observed in the Andheri zone from DN Nagar in the West to Chakala in the East — with 30,000 jobs per sq. km. The current job densities along Metro lines 2A and 7 are lower, as compared to Metro line. Therein lies the advantage of building spaces with higher job densities and hence ridership.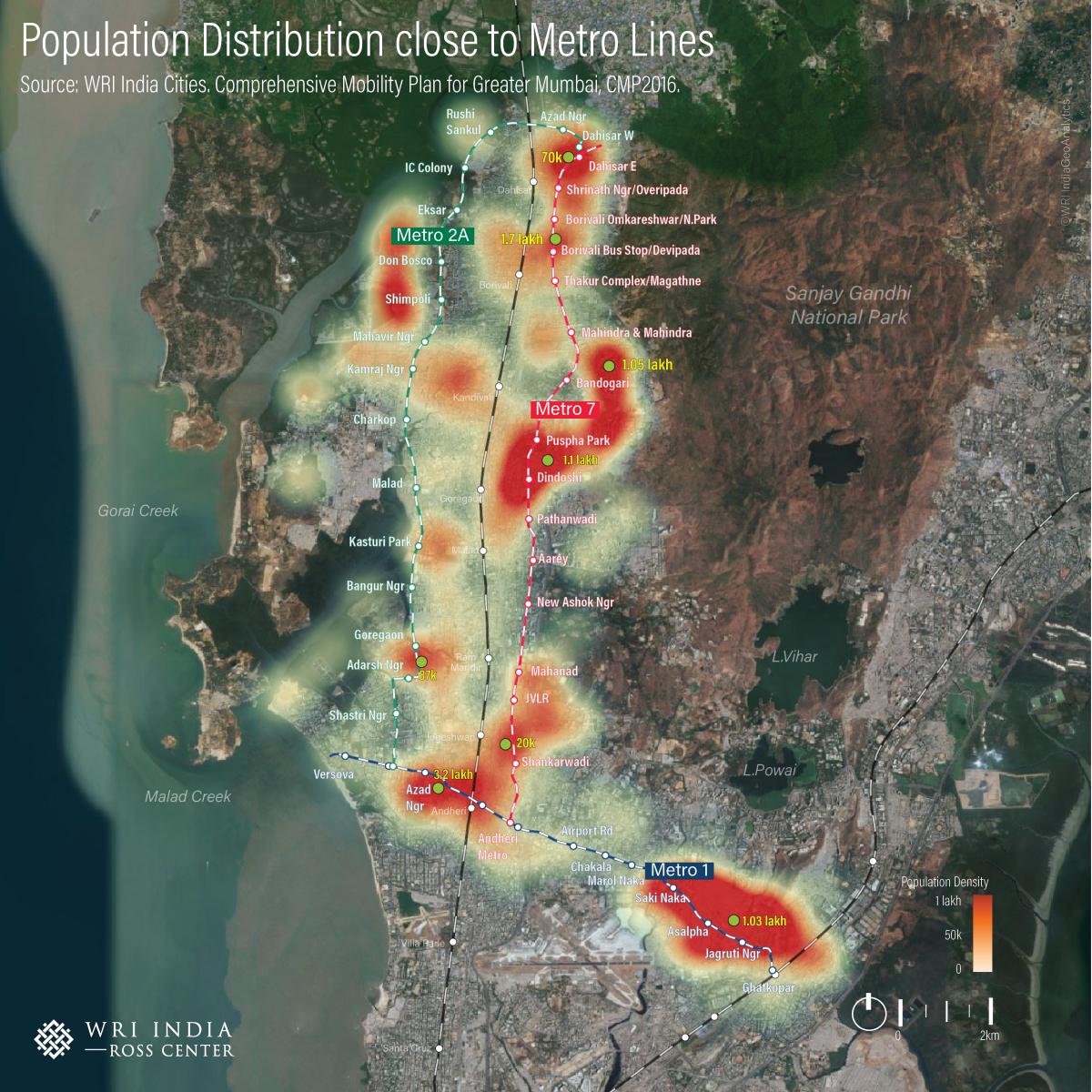 If we consider the average number of jobs per kilometre, located along the western suburban railway line, and assume a similar number of jobs could be accommodated along Metro lines 2A and 7, then an additional 1.1 million more jobs can be attracted in these areas alone. Thus, 2A and 7 have the potential to locate newer economies and jobs triggered by access to high quality transit connectivity. While we expect these areas to undergo a change, due to enhanced accessibility, this change must catalyse the desired economic development goals.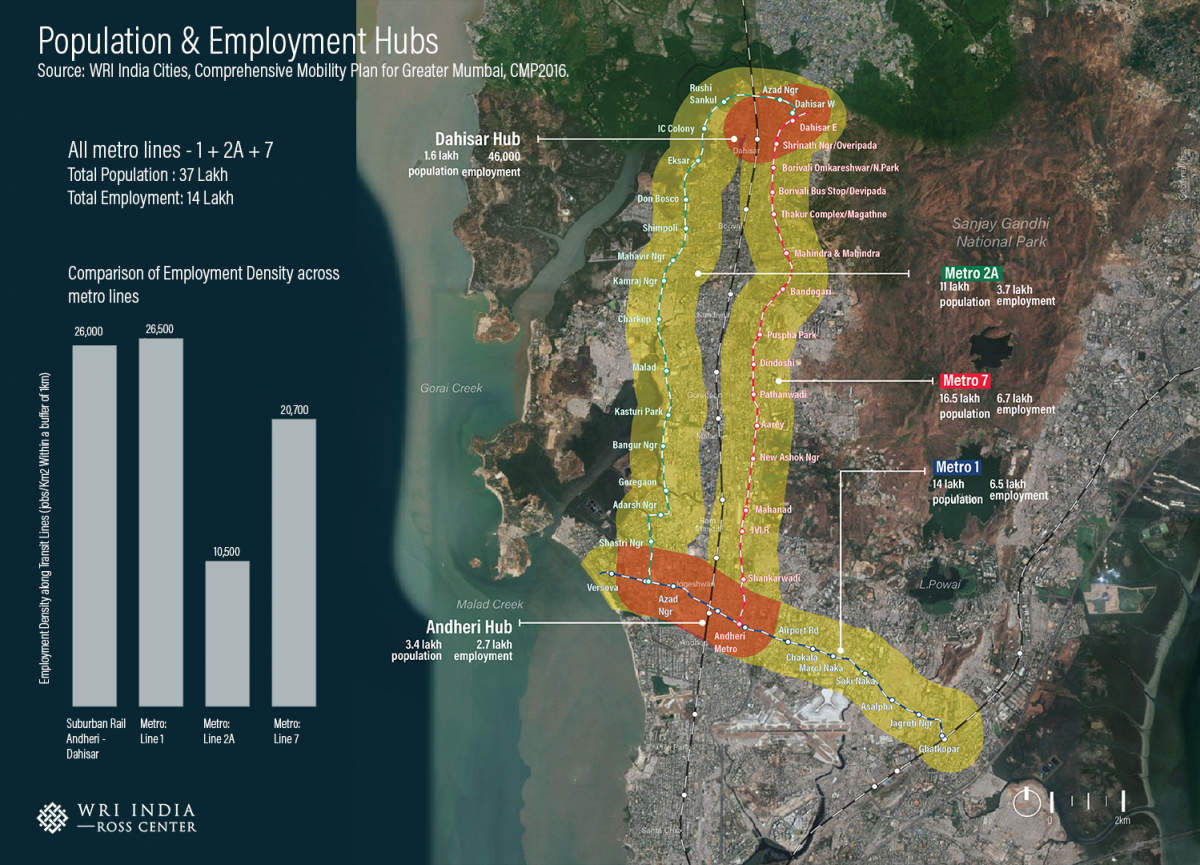 The way forward

Mumbai must consider planning the metro station areas and surroundings in greater detail, by applying transit-oriented principles such as a robust street network, transit supportive land uses and housing, amenities and facilities, and cultural institutions. Accessibility can be ensured with the creation of safe, pedestrianized and vibrant public spaces coupled with opportunities to walk and cycle along these areas. Streamlining of feeder services for last mile connectivity, to support quick interchange between travel modes, and integrated ticketing, scheduling and data integration will further smoothen out the commuter experience.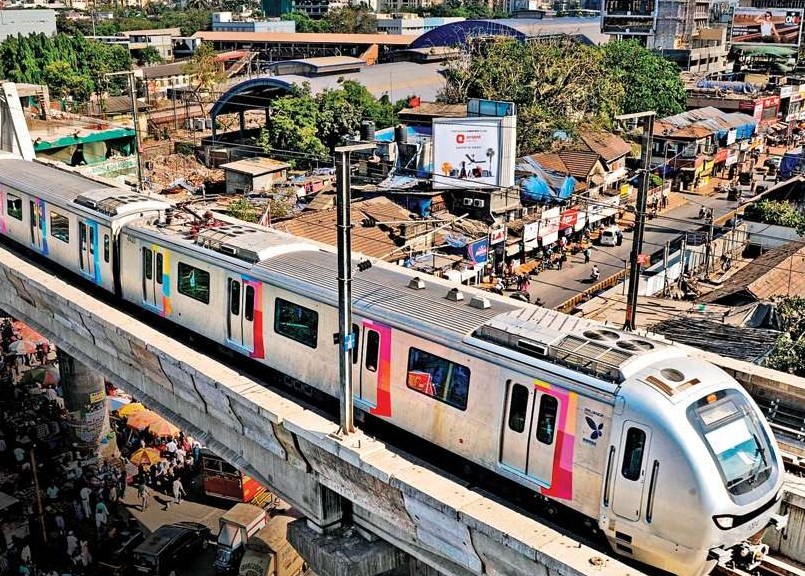 Photo Credit: Schedule.wiki
And last, but not the least, sufficiently provisioning the station areas with urban services must be undertaken. While some efforts on these lines are already underway by the Mumbai Metropolitan Regional Development Authority (MMRDA) and other agencies, this also requires concerted long-term coordinated planning and implementation. Applying an economic development lens would help in the planning of areas around these upcoming metro lines.
A knowledge-based economy along metro corridors
Globally, cities are moving towards a knowledge-based economy, by concentrating knowledge generation in sectors such as IT, research and development, newer technologies, finance and similar professional services. Investing in, and establishing, continuous learning and spaces for collaboration indeed plays a major role in boosting a city's economy. Mumbai needs to leverage this investment on its metro rail to make locations along these lines attractive to knowledge economy businesses such as university extensions, maker-labs, incubators, industry and other associations. To ensure the advantage of locational access and location of jobs, the following points must be met:
1. Identifying workers and their needs: Arrive at a clear, granular understanding of employees and other workers. This includes gig economy and informal sector workers, their location, and their job accessibility requirements.
2. Understanding agglomeration triggers of enterprises: This can be done by spatializing and visualizing already available job location data.
3. Establishing strategic triggers: Strategically plan to locate triggers in emerging hubs such as Andheri and Dahisar which are connected by multiple mass transit lines.
4. Encourage enhanced spatial density of jobs along the lines: Doubling of job densities can enhance agglomeration effects and can increase economic productivity by about 5-10% (some peg it even up to 20%) in metropolitan areas. This will also increase ridership and boost the financial sustainability of the metro lines.
Employment density is strongly associated with transit ridership. Mass transit infrastructure has the potential to attract jobs and trigger transformation that can achieve the desired socioeconomic outcomes. However, this need to be carefully channelized through policies, regulatory support and coordinated action by the government.