The need to implement steps to make rail travel more inclusive and efficient by focusing on the needs of people with mobility challenges has been stressed time and again. However, apart from physically challenged people, there are passengers who need special treatment during travel and it is time for Indian Railways to wake up to their issues as well.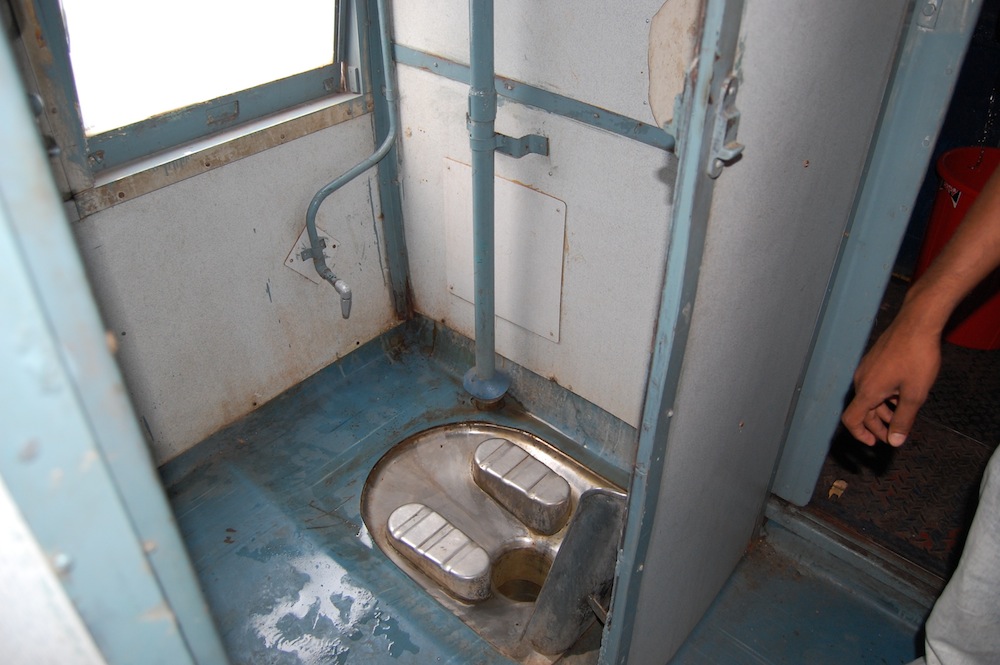 There are no western toilets in a number of short to medium distance trains in India. And there is not enough space for wheelchair bound passengers to wheel themselves into the train toilet. Photo credit: Malini Shankar
Consider, for example, terminally ill cancer patients who are referred to the Kidwai Memorial Institute of Oncology (KMIO) in Bangalore from all over the country. Although the cancer patient and his/her attendant gets 75 per cent fare concession for train travel, journey by train is not in the least comfortable or suitable for such patients.
Neither the Indian Railways nor the Kidwai Memorial Institute of Oncology offer ambulance transfer facilities for patients referred. Ambulances, even if privately deployed, cannot drive up to platforms in most railway stations for lack of facilities and infrastructure. I learnt this from a personal experience in February 2005. On 11 March, 2007 I had written an article for The Statesman detailing this tragic incident that I had myself witnessed. Portions of this article have been reproduced below:
"Sixteen year old Panduranga could barely board the train from Mysore to Bangalore. He had been injected with drip syringe and his mother was holding the drip bottle. Panduranga was suffering from acute leukaemia and was referred by the Govt. Hospital in Mysore to the Bangalore based Kidwai Memorial Institute of Oncology for further treatment. That prescription/reference for transfer qualified him and his attendant to travel at 75% train travel concession to Bangalore indeed. But boarding the train was exhausting for the frail lad. A tall boy, he could not be carried into the train by his weak and emotionally drained parents either. The railway staff in the Mysore railway station was looking helpless because the doorway to the train compartment was not wide enough to facilitate carriage of a wheelchair. How is the terminally ill boy expected to board a train from a platform three feet below the train steps, that too with the steps being vertical - one under / top of the other? The train doorway support / railing is not accessible from the ground level. We are normally used to climbing in a forward / sloping motion. But in the Indian trains we need to ascend vertically without supporting rails.
******
His arrival in Bangalore was even more dramatic. The platform at which the train arrived in Bangalore was far too low for even normal healthy / persons to toss off. Adding to the nightmare of having to jump off 8 feet from a set of 3 vertical steps one under the other, was the frailty of the situation. With tears in my eyes, I requested the law and order policemen present on the platform to facilitate an ambulance / wheelchair for the boyÕs transfer. The effect was enormous. All the well-built cops went up to the compartment, and literally carried the boy down. But he was in no shape to stand that hot afternoon. Seeing the commotion, people on the platform did make way and a bench was cleared for the boy and his mother to rest. It so happened that on that particular platform, cargo was often loaded and unloaded so there was a direct passageway unknown to the public, for cargo vehiclesÕ movement. The cops hailed a taxi driver and even pooled in money to offer for the taxi ride because Bangalore railway station does not have an ambulance service.
******
Three days later, the boy died because his blood count fell to 4. His exhausted parents hired a vehicle to take the corpse to their native place in Mandya for funeral. This incident happened on the 10th of February 2005. But even today the railway stations in Bangalore or for that matter anywhere in India, lack elevators, walkalators, escalators, luggage escalators, wheelchairs, ambulatory services and ramps. Exploitation of porters for carriage of luggage is unfair, but justified in the name of socialism É employment opportunitiesÓ.
- Reproduced from 11 March 2007 article in The Statesman
The PRO of the Bangalore-based Kidwai Memorial Institute of Oncology, Siddalingaswamy says "indeed there is a need for coordination for transit of terminally ill patients referred to KMIO. This needs to be taken up by the Railway Board at a national level, possibly based on the recommendations of KMIO. For us it is difficult to do this because only about 5 per cent of the patients referred to KMIO are terminally ill; moreover those who come here get themselves admitted only a couple of days after arrival in Bangalore. Those accompanying the patient often stay in their relativesÕ homes. When terminally ill patients are coming by train, on a humanitarian basis we do send an ambulance for transit from railway station to the KMIO hospital, but it does not happen oftenÓ he concedes.
Admitting that coordination is difficult, Siddalingaswamy suggests that the best way to help sick or terminally ill patients travelling by train would perhaps be to offer 100 per cent concession/ticket waivers for the referred patients. This is the space for NGOs to do their bit for society,Ó he adds. Attempts to seek a response from India Inc. through the offices of the Confederation of Indian Industry on existing or planned interventions in this regard only met with evasive responses. Repeated attempts to contact the Chief PRO of the Indian Railways Mr. Anil Saxena to get the RailwaysÕ perspective about referred patients also proved futile.
Neither the Indian Railways nor the Kidwai Memorial Institute of Oncology offer ambulance transfer facilities for terminally ill patients referred to the Institute. Ambulances, even if privately deployed, cannot drive up to platforms in most railway stations for lack of facilities and infrastructure.

It is not just terminally ill cancer patients coming to KMIO in Bangalore (or other cancer institutes), patients are often referred cross country to facilities like AIIMS, PGI Chandigarh, and NIMHANS all the time for different kinds of treatment. Those referred to private sector hospitals such as Narayana Hrudayalaya in Bangalore, Medanta Hospital in Gurgaon or Escorts Hospital New Delhi, are not eligible for fare concessions. This perhaps underlines the need for a dedicated train car at least to facilitate transfer of critical/terminally ill/severely handicapped /referred patients. That it needs to be staffed by trained personnel needs no reiteration.
As of now, "mentally retarded persons with an escort are eligible for concessions on both seasonsÕ tickets and 1st and 2nd class tickets in both mail and express trains (except in Duranto and Garib Rath trains) as well as on Shatabdi and Rajdhani trains,Ó says F.R. Michael, Senior PRO South Central Railway Vijayawada Division. (Though the term Ômentally retardedÕ is considered politically incorrect and insensitive, Indian statutes still use it, points out Mamtha Rajesh a Counsellor in Bangalore, perhaps revealing the official attitude towards such patients.) Passengers with certain mental health disorders could be prone to violent behaviour in stressful circumstances, justifying the need for accompanying passengers. They also get 25 per cent concession on the all-inclusive fares of Shatabdi and Rajdhani trains for travel in 3rd class AC and AC chair car.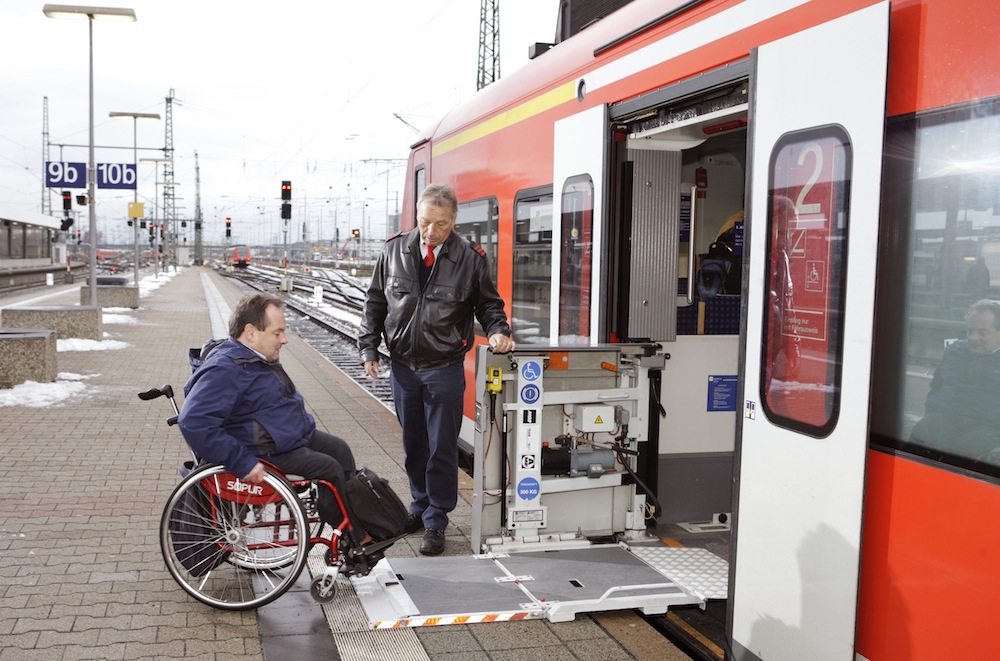 Infrastructure complements trained personnel on public transport in this German Railway station. Photo: Courtesy of Deutsche Bahn AG, facilitated through the offices of German Consulate General, Bangalore.
"In Duranto and Garib Rath trains, concessions are not available because the fares are low in any case,Ó says Michael. Concessions are also available for thalassemia and cancer patients, TB patients, and heart patients if they are travelling for periodic check-ups or admission in a recognised hospital/sanatorium. However, mental patients with disorders such as Schizophrenia or Bipolar Disorders, clinical depression etc. are not eligible for train fare concessions in India. In European and North American trains, people with such disorders having legitimate ID cards are eligible for 100 per cent fare waiver for themselves, accompanying passengers as well as a pet animal. Room is available for wheelchairs and cycles too.
For example, "All persons who have a "Schwerbehindertenausweis" (an identity card that proves that they are severely handicapped) can travel free on the entire network of Deutsche Bahn AG - the German National Train Service. Accompanying persons or pet dogs can travel for free as well,Ó says Julia Haas, Sales & Marketing Executive non-European Markets International Sales of Deutsche Bahn AG, in Frankfurt Germany in an email interview. Clearly Indian Railways has miles to go before it sleeps easy on its management laurels.